Key points:
Cheetah Mobile stock should jump 500% today
This will be a purely nominal price change
The real price change will be by whatever amount the price doesn't change by 500%
Cheetah Mobile (NYSE: CMCM( stock is due to jump 500% today. Well, in theory it should jump 500% today that is, even if it might well do less than that or more. The thing to know about this is that – even following the 66% decline in the Cheetah stock price year on year – that this 500% will be a purely nominal stock price change, not a real one. The real price change will be whatever is the deviation from that 500% move. Yes, that all sounds more than a little odd but that is the way these things work out.

Cheetah Mobile itself does internet and mobile type things in China, the US and Japan. Varied tools that improve performance, clean up drives, improve security and so on. Given the increasing competitiveness of those markets the underlying business just isn't doing well – the last results showed an EPS of minus $0.39 for example. All of which goes to explain that 66% decline in the CMCM stock price over the past year. Or the 86% over the past 5.
So, what's causing the 500% rise today? For it's not – obviously it'snot – a turnaround in the business prospects of the underlying operation. Those don't change that fast however much we'd sometimes like them to. What's actually about to happen is fashion, pure and simple. Fashion so deeply embedded that it has become not just the culture but a legal necessity.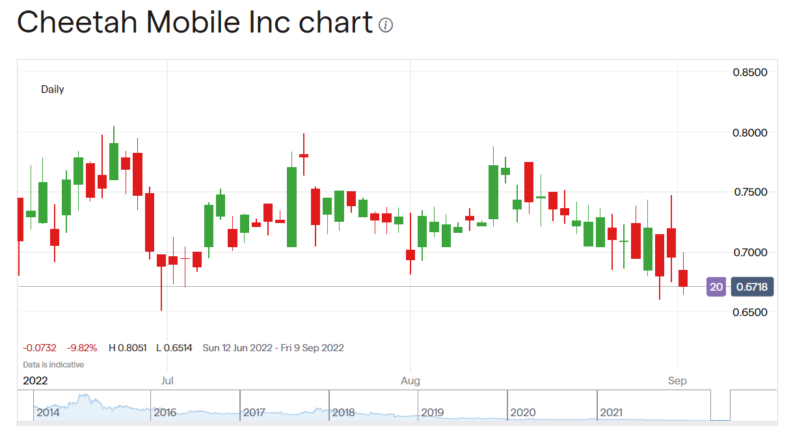 Also Read: 30 Global Stocks That Warrant Your Consideration
The specific problem that CMCM stock faces is that it's on the NYSE. This is a Big Boy exchange and yes, for all the levity, this matters. For the American markets have this fashion of thinking that a proper price for a serious and sensible stock is in the $10 to $100 range. Doesn't matter why, that's just what it is. That it's just fashion is shown by how London has £1 to £10 as the same range there. That's also why most London stocks with ADRs have 10 London pieces in one ADR – to be in that right range in both markets.
It's also true that the New York markets think that a stock price under $1 means a penny stock – which it is of course. But that comes with implications of not being quite right. So, if the stock price languishes below that $1 for a period of time – usually 180 days – then the NYSE (or NASDAQ, same rule) quotation is lost. Off to the OTC markets where penny stocks abound, banishment from the Big Boy markets.
The solution to this is to do a reverse stock split, what the Brits call a consolidation. Where there used to be 5 shares there will now only be one, for example. That would be a 5 for 1 reverse stock split. Cheetah Mobile actually has an ADS – American Depositary Share – listed on the NYSE. This is, currently, 10 of the underlying stock. That ratio will change to 50 pieces later today. That's a 5 for 1 consolidation or reverse stock split. So, the CMCM price should rise by 500%. For the valuation of the company as a whole hasn't changed, just the number of pieces of paper making it up.
That's a purely nominal price change of course. The real price change, if there is one at all, will be by how much the new price deviates from that 500% change theory tells us should happen.