Key points:
The Nio stock price fell 1.58% despite reporting higher deliveries.
Investors are expressing their doubts about China's economy.
Li Auto and Xpeng's deliveries were lower than expected.
The Nio Inc – ADR (NYSE: NIO) stock price fell 1.58% despite the Chinese EV manufacturer reporting a 6% increase in vehicle deliveries during August to 10,677 units compared to the 10,052 cars delivered in July.

However, NIO was the only Chinese EV company to deliver more cars in August than in July, as deliveries made by Li Auto fell 56% to 4,571 vehicles in August compared to 10,422 vehicles in July. Xpeng also delivered 9,578, representing a 16% decline from the 11,524 cars delivered last month.
Also read: The Best Electric Car Stocks To Buy.
Despite Nio eking out some growth in August, its shares fell along with those of its peers since investors feel that the entire industry is at a crucial inflection point. Hence, there is a significant chance that Nio's deliveries will fall in the coming months.
Investors are looking at the continuing lockdowns in China as the country continues to pursue a zero-covid policy ahead of a crucial Chinese Communist Party Congress that is expected to confirm Xi Jinping's third term as China's President.
Today's market reaction to the delivery numbers is a vital sign that the continuing lockdowns in China are having a significant impact on the output of most manufacturing companies based in the country, validating much of the criticism levelled against the Chinese government for its zero-COVID policies.
China is in a unique position since the country's central bank is pursuing easy monetary policies, unlike most Western countries that are rushing to raise interest rates to stem record-high inflation. Still, recent data indicates that consumer confidence has fallen due to the rolling lockdowns associated with the country's zero-COVID policy.
The country is also facing a significant power crisis that has impacted multiple EV charging stations, making it difficult for EV owners to charge their vehicles. The challenging economic environment may also lower demand for EVs in the country since they have premium prices that may be out of the reach of most consumers.
So, will NIO shares rally again? The answer is yes, Nio shares will rise again, maybe even later today. The stock is trading above a crucial support level that could trigger a rally in Nio shares at any minute.
*This is not investment advice.
NIO stock price chart.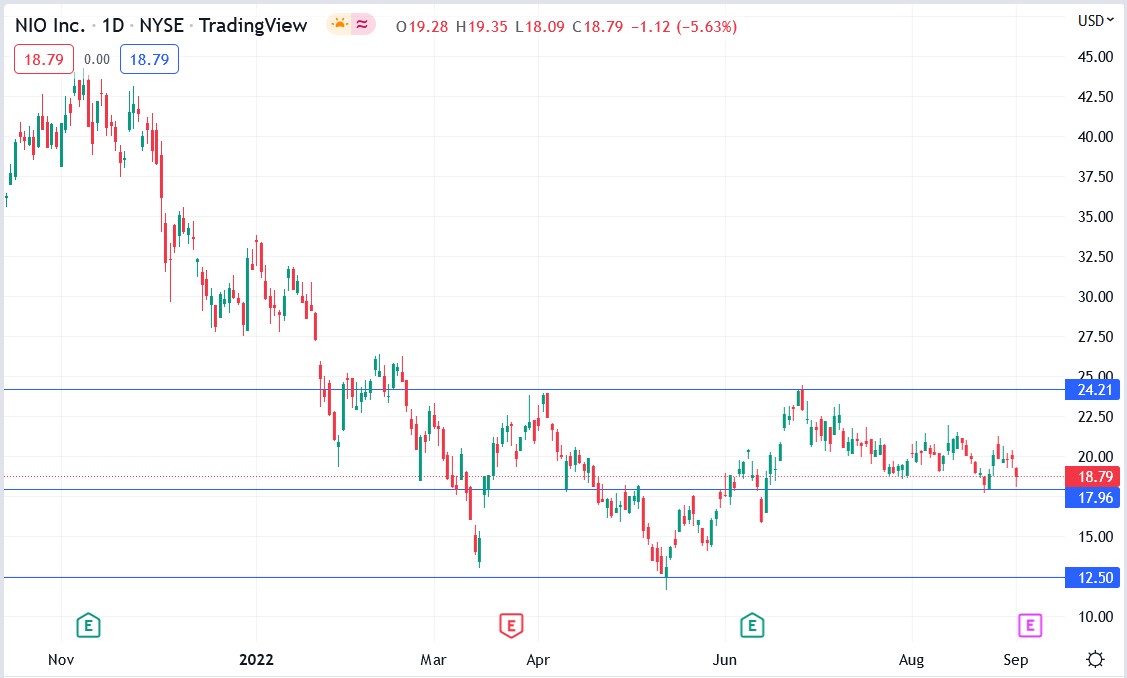 The NIO stock price had fallen 1.38% to trade at $18.53, from Wednesday's closing price of $18.79.