Key points:
NewAge in in Chapter 11 and yet the stock is soaring
If this is the new meme stock then how is it going to turn out?
Like Revlon, Hertz or Bed Bath and Beyond?
NewAge Inc (NASDAQ: NBEV) stock is up 77% this morning following the recent news of the filing of the Chapter 11 papers for the company. Given the meme stock status of several Chapter 11 and other retail stocks recently it looks like we might be seeing something similar gathering force here. Of course, at present this is merely a little pumpette, given the size of the market capitalisation. But what is likely to be the outcome of the Chapter 11 process for NBEV stock? For if we can predict the end game then we might have a good chance of working out what the pathway to getting there is.

As examples before us we've the recent stock price movements in Hertz (NASDAQ: HTZWW), Revlon (NYSE: REV) and Bed Bath and Beyond, (NASDAQ: BBBY). It's worth going through the stories here to see what might happen with NewAge. For the mixture of those three earlier stories could well be illuminating.
The grandaddy here, the one that changed views, was Hertz. It went into Chapter 11 because business slumped (lockdown) and so the value of the used car fleet also slumped. Hertz had financed that fleet with bonds, there was collateral that had to be posted to keep those bonds whole if the fleet value fell. Hertz didn't have that collateral, Hertz is bust and into Chapter 11. Then something weird happened – new car production fell on logistics and chip supply problems, used cars rose in value (sometimes to over new) and so the Hertz fleet was worth a lot more. Out of Chapter 11 and stockholders received something in the reorganisation.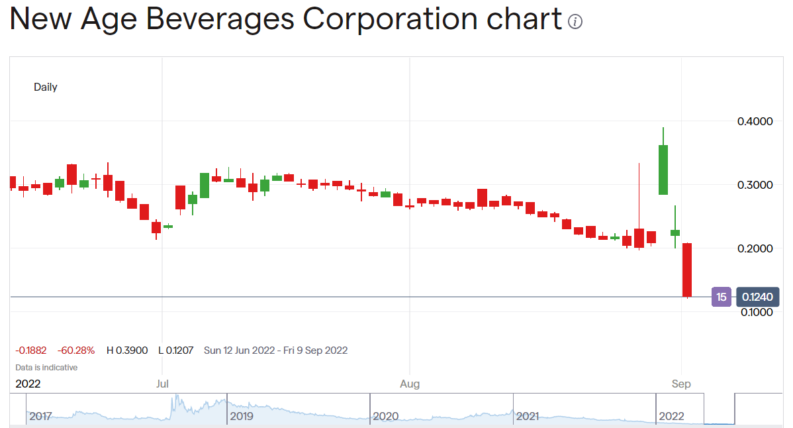 Also Read: What Happened To Meme Stocks?
It's that turnaround in the value of the fleet that made Hertz work. Since then we've had a series of run ups in shares either in Chapter 11 or looking like they might get there. For example, Revlon. How that's going to turn out is still unknown but the likely betting is that equity is going to get nothing. Revlon simply doesn't have the cash nor assets to pay off bondholders so equity will indeed gain nothing. It's just not hit the marketplace yet that there is no asset revaluation about to happen. Or there's that frenzy in Bed Bath and Beyond. Which could be seen as part of the same trend. But what happened when the stock price did start to soar? Those in early dumped their stakes and counted their profits.
Which leaves us having to decide upon these meme stocks and Chapter 11 frenzies. Yes, it is true, Hertz did come out of Chapter 11 with something for stockholders. But that was due to that very specific reason of the fleet revaluation. These other stocks simply don't have that. Nor does, by all accounts, NewAge. The asset value is lower than the debt burden, the betting should be therefore that equity will leave empty handed. Now, there might be some fun trading it between now and then but if we know the end game then we can assume that stock price pattern. As with BBBY, ride price rises if we can but recall that some might well be looking to dump stakes bought at the bottom.