Key points:
The Cineworld share price edged higher after its full-year revenues rose.
As a result, its losses shrunk to $565.8 million in 2021 from $2.65 billion.
However, investors are worried about the C$1.23 billion Cineplex award.
The Cineworld Group plc (LON: CINE) share price edged 4.61% higher after the movie theatre operator revealed that it generated $1.8 billion in revenues in 2021 compared to the $852.3 million generated in 2020.

Investors cheered the news, but the reaction was not as exuberant as expected. The cinema company is still fighting the C$1.23 billion in damages awarded to Cineplex by the Ontario Superior Court.
Cineworld told investors that it had delivered impressive performance in a challenging market environment given the temporary closures of its cinemas between January and April/May 2021 due to lockdown restrictions.
The company's losses shrunk to $565.8 million in 2021 from the $2.65 billion loss recorded in 2020.
The company revealed that it expects better performance this year, driven by a full slate of films starting in March. Despite starting the year slow in January and February due to the Omicron variant and lack of movie releases.
Cineworld shares had given up their gains at writing and were trading lower. However, investors will be happy once the company's appeal has been heard and resolved. Many hope that the firm will not have to pay the billion-dollar damages awarded to Cineplex.
The cinema operator saw its net debt surge by $492.7 million from $4.344 billion to $4.837 billion. Investors are concerned about the company's massive debt pile, but its management is confident that it can repay the debt as business conditions improve.
Mooky Greidinger, Cineworld Group's CEO, said: "Whilst our 2021 results still reflect the impacts of COVID-19, particularly at the start of the financial year, we are encouraged by the recent strong trading performance throughout the final quarter. It is clear that our customers remain loyal and have missed the big screen experience as well as the sociability of watching a movie with others. Our strong final quarter performance reflects the pent-up demand for affordable out-of-home entertainment and the record-breaking film slate, including "Spider-Man: No Way Home", which showcased the importance of cinematic releases."
Adding:
"The business is well-positioned to execute its strategy and capitalise on the highly anticipated movie schedule, which includes Avatar, Top Gun Maverick, Jurassic World: Dominion, Minions: The Rise of Gru, Doctor Strange in the Multiverse of Madness, Thor: Love and Thunder, Black Panther: Wakanda Forever, Bullet Train, Spider-Man: Across the Spider-Verse, Pixar's Lightyear, Fantastic Beast, Elvis and many more. I want to thank everyone across our team who make it possible for our customers to experience the best place to watch a movie."
Cineworld shares have risen by 17.2% in 2022 and have formed a double bottom pattern on the daily chart shown below, which is a bullish price pattern. Therefore, there is a high chance that the company's stock price will rise.
*This is not investment advice. Always do your due diligence before making investment decisions.
Cineworld share price.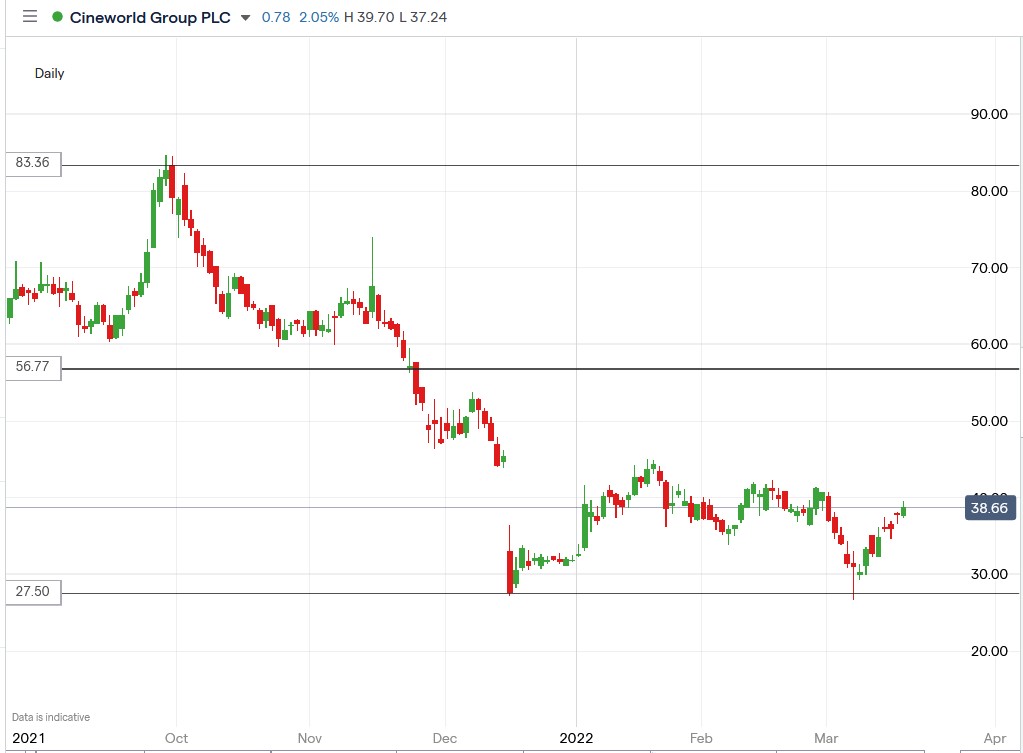 Cineworld shares edged 4.61% higher to trade at 39.51p, rising from Wednesday's closing price of 37.77p.