Key points:
Cineworld shares rallied 33.8% despite a top shareholder's stake sale.
New investors are jumping in, looking to trigger a meme stock rally.
Can Cineworld shares recover? Read on to find out.
The Cineworld Group plc (LON: CINE) share price rallied 28.83% higher as investors largely ignored the cinema operator's looming bankruptcy filing, even as one of its largest shareholders dumped most of its shares in the company.

According to documents recently filed with the London Stock Exchange, Jangho Group, a company associated with Chinese billionaire Zai Wang Liu reduced its stake in Cineworld from 11.6% to 1.6% in the past two days.
Also read: 12 Best Shares To Buy As A Beginner.
However, despite the publicly available news on many websites, Cineworld's shares had risen after the massive decline that started on 17 August 2022, when rumours emerged that Cineworld was considering filing for Chapter 11 bankruptcy protection.
Cineworld finally confirmed that it was considering filing for bankruptcy protection given the rough situation it finds itself in trying to service a debt pile worth $4.8 billion amid low customer numbers and a lack of blockbuster movies to drive people back into theatres.
The crash in Cineworld shares has seen its market capitalisation drop to 54.85 million, yet its debt burden is in the billions. There seems to be no way out for Cineworld other than bankruptcy, where it will hopefully restructure its debt and emerge a much stronger firm.
Luckily for Cineworld, despite the rise of popular movie streaming services, moviegoers are still interested in watching movies on the big screen, particularly trending blockbuster movies. Therefore, demand for its services remains high but is currently hampered by the lack of blockbuster movie releases.
Therefore, as large investors sell their Cineworld shares and jump ship, we have a group of investors and traders coming in and buying the cheap shares hoping to profit from a potential rally if the stock starts trending and turns out like AMC Entertainment, which became a meme stock and rallied higher to escape bankruptcy.
Only time will tell if the bet made by the new Cineworld shareholders will pay off or if the company will be liquidated by its creditors or sold to recover the massive outstanding debts.
*This is not investment advice.
Cineworld share price chart.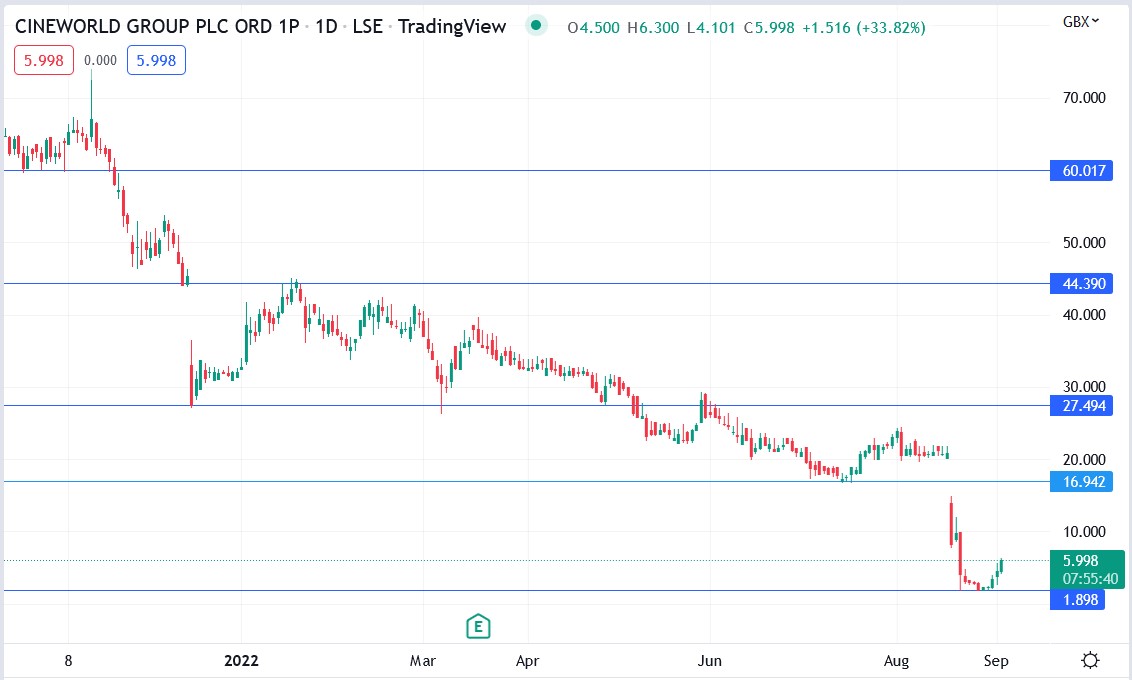 The Cineworld share price was trading up 33.83% to trade at 5.774p as investors ignored the company's looming bankruptcy.