Key points:
Shoezone reported improved profit predictions yesterday
Today SHOE has launched a share buyback programme
This could buy in as much as 10% of the free float
Shoezone (LON: SHOE) shares seem to be managing to buck the retail trend at present. Sure, they're down from recent highs of around 190p but are still above July levels – which was in itself the highest, or equal to, they've been in a year. They're also rising now. This is so very different from the performance of all too many other retailers out there. It's a good lesson in the fact that even with sectoral problems it's still possible for individual companies – perhaps managements – to benefit.

As the name suggests Shoezone retails shoes. Given the performance of so many other retailers recently their profits announcement of yesterday was that bucking the trend: " trading has continued to exceed expectations" and "now expects adjusted profit before tax for the financial year ending 2 October 2022 to be not less than £10.5m." and that's a pretty significant number. The market capitalisation is around the £70 million mark and making £10 million on that is pretty good.
Today's announcement takes that further "Shoe Zone announces that it intends to conduct a share buyback programme of ordinary shares of £0.01 each in the capital of the Company ("Ordinary Shares") up to a maximum aggregate consideration of £3,500,000″. Well, buying back in about 5% of the outstanding share issue, yes, that might move the price. But there's a significant gearing to the effect of this here. We might expect this to move the share price rather more than the usual.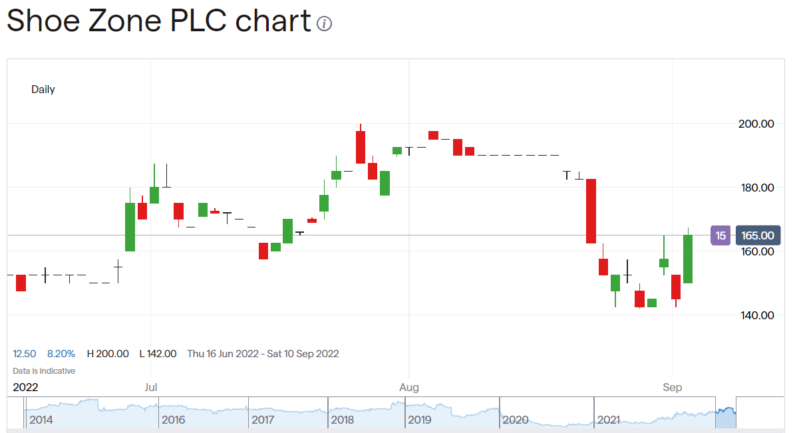 Also Read: The Best Clothing Stocks to Buy
This gearing then. The core shareholders own over 50% of the issued equity. This does mean certain possible problems. If the company buys in market shares and cancels them then this would increase that percentage holding – theoretically, making a full bid possibly necessary. This has been expressly ruled out. But there's another issue here. As less than 50% of the stock is on the market, and those core shareholders (nor the board) aren't going to be selling into the buyback then the effect upon the market balance is going to be geared.
Rule of thumb and all that, but if the buyback is to be 5% of total equity (ie, up to £3.5 million on a £70 million market cap) and 50% aren't taking part then that's 10% of the free float to be bought in. Which is a considerable change. It's also entirely possible, given this volume of buying over the next three months, that the buy ins could be more than 25% of the day's trade in Shoezone shares. That being one of the limits which shouldn't be breached.
Under this impetus it's entirely possible that Shoezone will go further. The real test will be their next results announcements.
The big lesson we should take from this is to survey the rubble of so many other retail shares at present. People who got online wrong, or even right but failed to realise that physical retail would come back after lockdown. Or those suffering logistics problems. It is still possible, even in the midst of such sectoral chaos, for specific firms to get it right.