Key points:
Deepverge shares rallied 11.8% higher after Q1 sales surged 84%.
The company has made significant progress on multiple fronts.
However, DVRG shares have fallen 38% in 2022 despite its progress.
The Deepverge PLC (LON: DVRG) share price rallied 11.8% after its Q1 2022 sales rose to £2.38 million compared to £1.29 million recorded in Q1 2021. Investors cheered the news, as evidenced by the rally in Deepverge shares.

The company also revealed that it had signed a new manufacturing services framework agreement (MSFA) with Microsaic Systems Plc. The MSFA was signed by Deepverge's subsidiary Innovenn UK Limited and covered the development of Modern Water's scientific instruments range.
The agreement extends the 3-year framework agreement signed by the two companies on 24 March 2021, allowing Mirosaic to deliver miniaturised mass spectrometry equipment to Deepverge on a non-exclusive basis.
Investors were pleased to see that the MFSA was off to a good start as Deepverge has placed an order worth £400,000 for multi-sensor upgrades of the Microtox PD and Microtox BT ranges, which Modern Water uses in the sensors that detect pathogens in real-time.
Gerard Brandon, DeepVerge plc's CEO, commented: "This quarter has been the best first quarter in the history of the DeepVerge Group with new products and services delivering increased sales across every division. Growth remains on track to achieve triple-digit percentage revenue growth year-on-year, similar to the last 3 and a half years."
Fin Murray, DeepVerge COO, said: "The combined skillset of chemists, physicists and engineers within Microsaic that has delivered a complex and world-beating mass spectroscopy range of equipment will advance the ambitious Modern Water development programme to create a last-mile solution of interconnected sensors to detect a comprehensive range of bad actors in water from toxins to pathogens to PFAS in real-time and to take detection to population centres with miniaturised and ruggedised mobile units. This agreement also progresses our supply chain strategy of working with local trusted partners to create certainty over developments and deliveries in an uncertain world."
However, the rally in Deepverge shares was short-lived as the stock had given up its gains at the time of writing and was trading in negative territory. The company also revealed that its Skin Trust Club had garnered significant attention in Silicon Valley and that it was in discussions with multiple potential partners.
Investors thinking of buying Deepverge shares may find its current prices quite attractive, given that DVRG shares have fallen 38.14% in 2022 despite its impressive first quarter. Therefore, I would have my stop-loss order at the 11.94p support level.
*This is not investment advice. Always do your due diligence before making investment decisions.
Deepverge share price.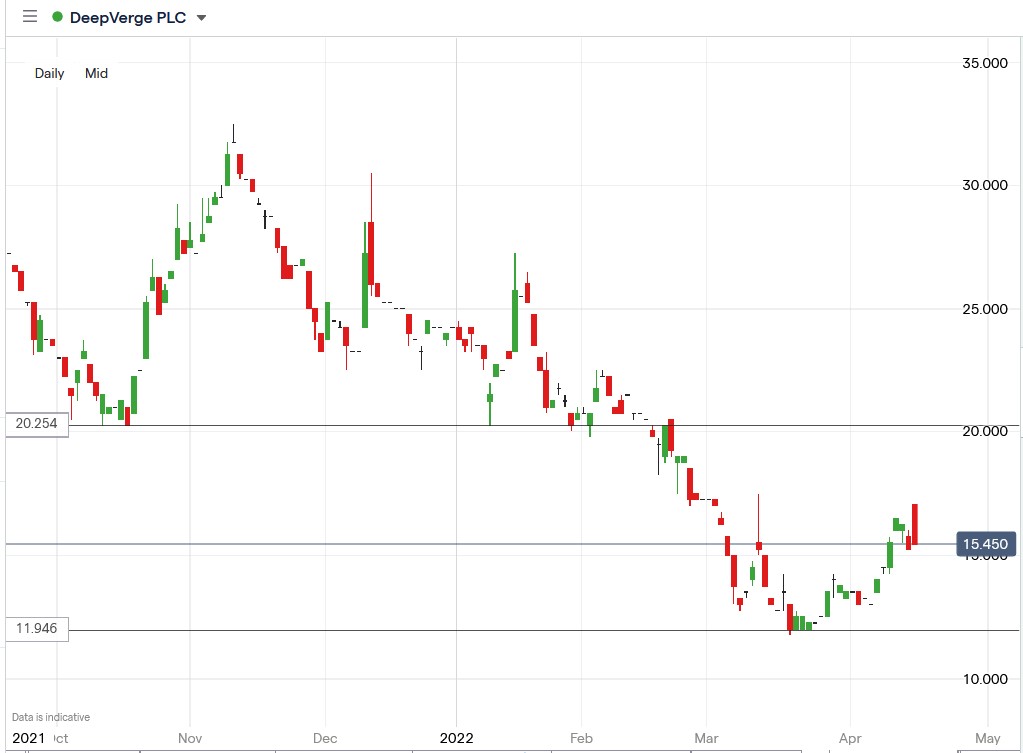 Deepverge shares rallied 11.8% to trade at 17.050p, rising from Thursday's closing price of 15.250p.