Dev Clever Holdings PLC (LON: DEV) share price has risen 12.16% over the past two days. Should you buy them?

The recent rally appears to have been triggered by a research note from ACF Equity research saying that the company's fair value should be at 122p.
Dev Clever is a software and technology group focusing on the global EdTech market. It provides technology platforms to equip students with relevant skills that suit the rapidly evolving work environment.
According to ACF Equity analysts, Dev Clever should have a much higher valuation based on the EdTech market potential in India, which they estimate at $3.4 billion compared to 4735 million in 2019.
Dev Clever is well-positioned to capture significant market share in India due to its partnership with NISA, India's largest governing body for budget private educational institutions.
The company is also acquiring Veative Labs and recently announced that it had completed the detailed due diligence process. The two companies have signed a share purchase agreement.
The acquisition is in its last stages and is awaiting the publication of a new prospectus to be approved by the UK's Financial Conduct Authority (FCA). However, the company assured investors that it would issue another update in due course.
According to ACF Equity Research, Dev Clever is expected to generate £50.6 million in revenues in 2023, a 155% increase from the £19.8 million it will generate in 2022.
Dev Clever is expected to generate £10.5 million in cash from its operations in 2023 compared to the £1.9 million it will generate in 2022.
The initial coverage from ACF Equity Research seems to have pleased investors who bought the company's shares, driving the price higher.
From a technical perspective, Dev Clever shares are currently trading in the middle of a wide trading range, which does not provide a decent risk-reward setup. The best buying opportunity was three days ago when the shares were at the bottom of the range.
Before opening bullish positions, I would wait for a pullback to the bottom or a break above the upper resistance level.
*This is not investment advice. Always do your due diligence before making investment decisions.
Dev Clever share price.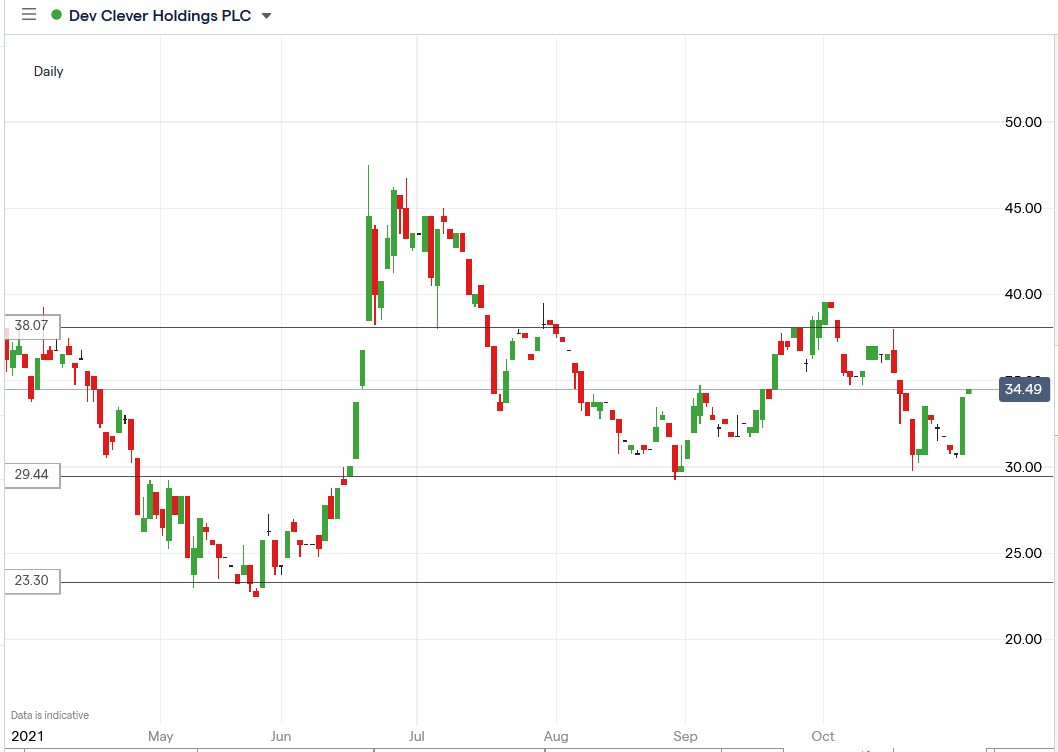 Dev Clever share price has risen 12.16% in the past two days to trade at 34.49p, rising from Monday's closing price of 30.75p.
Should you invest in Dev Clever shares?
Tech stocks offer some of the best growth potential, but time and time again, traders and investors ask us "what are the best tech stocks to buy?" You've probably seen shares of companies such as Amazon and Netflix achieve monumental rises in the past few years, but there are still several tech stocks with room for significant gains. Here is our analysts view on the best tech stocks to buy right now.