Key points:
Dogecoin (DOGE) Has Been Consolidating Since Mid-June
DOGE Has Hinted at Short-Term Bull Signals
Dogecoin Bullish Price Predictions and Explainer
The cryptocurrency/ altcoin/ meme coin Dogecoin (DOGE) has been in a sideways consolidation phase since mid-June. But since mid-July, this market has hinted at a possible basing pattern with short-term positive technical signals. This skewed risk into the summer is for a bottom pattern to be confirmed and for a more forceful Dogecoin rally for Q3 and maybe through year-end.

Dogecoin (DOGE) Has Been Consolidating Since Mid-June
The cryptocurrency bear market low of 2022 has seen Dogecoin sell off to mid-June lows at $0.0498/0.0492. Since then, the meme coin has rebounded to $0.0788 and then been in a broader, sideways consolidation phase. This range environment can be viewed as a technical bottoming pattern, but more constructive signals need to be produced to confirm a stronger base.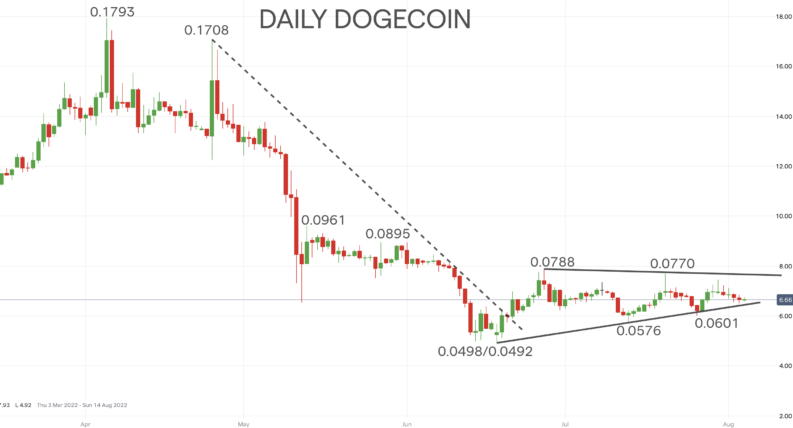 Also Read: How to Buy and Store Dogecoin in the UK
DOGE Has Hinted at Short-Term Bull Signals
Price action since mid-June for DOGE has produced some short-term bullish indications, with a succession of higher lows posted in mid- and late-July at $0.0576 and $0.0601, respectively. However, the latter June lower high at$ 0.0770, below the June peak at $0.0788 is slightly disappointing for bulls. A push back above both these swing highs is required to confirm a better bottoming and stronger recovery potential for Dogecoin into the summer.
Dogecoin Bullish Price Predictions and Explainer
A Dogecoin push above the peaks at $0.0770 and $0.0788 would confirm a better basing pattern on at least a short-term basis and likely on an intermediate-term outlook. This would then set up a challenge to initial chart targets at $0.0895 and $0.0961 through the summer. Above here would open up the threat for a more forceful recovery for the second half of 2022, up closer to April peaks at $0.1708 and $0.1793.
Only below $0.0601 and $0.0576 restarts a more negative outlook for DOGE and for a challenge to the cycle lows at $0.0498/0.0492, and maybe for a more aggressive bearish extension move.
Dogecoin mini explainer: Dogecoin is a cryptocurrency that was created in 2013 based on the Doge meme, which features a Shiba Inu dog and has a circulating supply of over 132 billion coins and a supply of unlimited coins. Dogecoin began on 8th December 2013 when Jackson Palmer originally created it as a joke, but it quickly grew in popularity. In 2021, DOGE reached its all-time high price of $0.7376 and since then, the price of Dogecoin has fluctuated but remains a popular altcoin with a strong community. You can learn more about buying Dogecoin in our handy guide How To Buy And Store Dogecoin In The UK.