What is Dogecoin?
There are more than 5,000 Altcoins in existence; Dogecoin is just one of them. It uses the same blockchain technology as Bitcoin and offers similar functionality in being a virtual store of wealth and a means of transaction.
Invented by software engineers Billy Markus and Jackson Palmer, Dogecoin supports instant transactions, something Bitcoin struggles to do, and it is free from traditional banking fees. However, the coin was initially set up in 2013 as a parody of BTC. The light-hearted approach to the whole topic possibly being best represented by the fact that one of the founders, Billy Marcus, claims to have sold out of his personal holding in 2015.
How Dogecoin Compares to Other Cryptos
Dogecoin's Unique Selling Point
The USP of Dogecoin, the feature that led to its incredible price spike, sums up the crypto market's sense of irreverence. In short, Dogecoin is fun. Set up as a spoof version of BTC, it's mainly been left to fend for itself. While other coins are carefully managed by their creators and other parties with vested interests in a coin being successful, Dogecoin has followed a different path.
Self-Supporting
Taking this open-source approach one step further means that the coin is not actively maintained. The last code update was 2019, and instead of active maintenance, miners of the coins, who receive 10,000 Dogecoins for each block they extract, are responsible for maintaining the platform.
This hands-off approach divides opinion. Some claim that because of it, Dogecoin won't ever become a mainstream coin. For others, it has ironically become another plus point. They say that by proving the Dogecoin system is self-sustaining and doesn't need to be overhauled by its creators, Dogecoin has taken an important step towards being universally accepted as a means of exchange.
Technical Differences Between Dogecoin and Bitcoin
More than 128 billion DOGE are in circulation, a number that far exceeds the 18.5 million BTC that have been mined. That is due to Dogecoin following an inflationary design. Whereas the total supply of Bitcoin is capped at 21 million, the number of Dogecoins available to be mined is endless. The pros and cons of the two systems soon move into economic theory and questions of whether increasing money supply is good or bad for an economy. For investors, it is essential to know that this feature marks a critical difference between Dogecoin and a lot of other big-name cryptos.
Dogecoin Attracts First-Time Buyers of Crypto
Despite, or possibly because of its peculiarities, Dogecoin is a popular entry coin for first-time buyers of crypto. This has resulted in a thriving online community of Dogecoin fans who've created a friendly space where no question is too obscure, and help is always on hand. When it comes to buying cryptocurrencies, eToro is a popular choice due to the user-friendly platform and strong regulatory protection it provides for clients. Alternative platforms for trading Dogecoin include Kraken.
How to Buy DOGE in the UK
Read on as we describe how to buy DOGE using the broker, Kraken.
Step 1. Create an account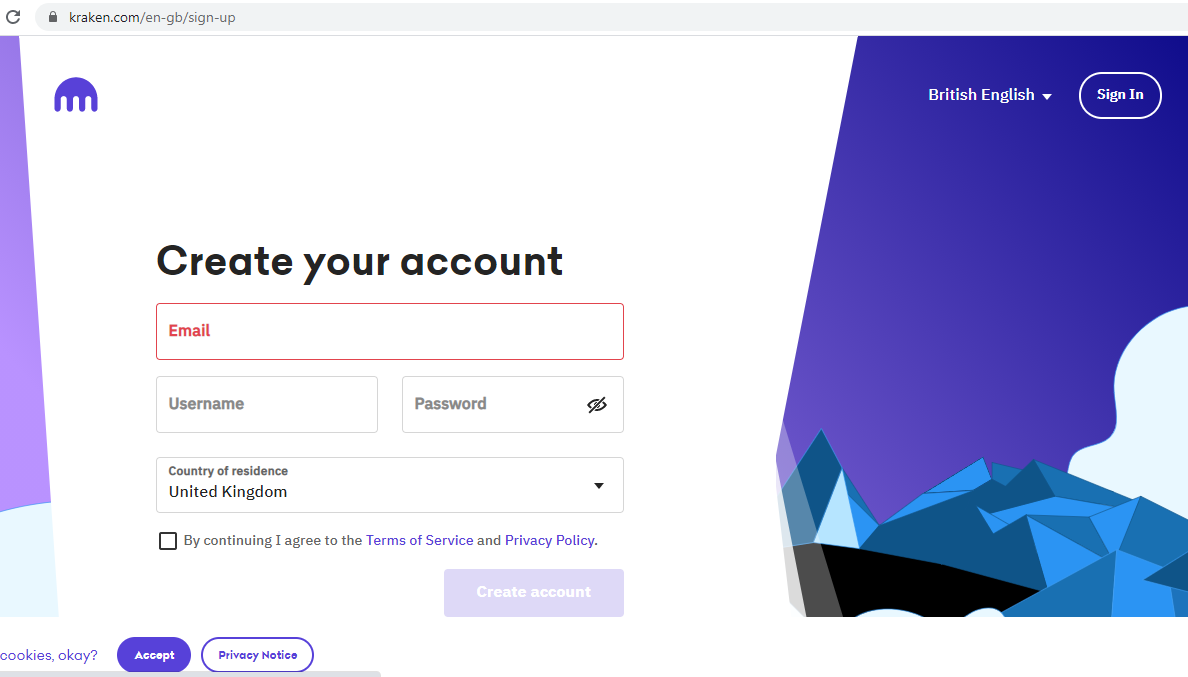 Source: Kraken.com
Signing up to the Kraken platform takes moments to do, and the first stage usually involves providing little more than an email address and setting up a user profile.
Once on the platform, follow the simple steps to verify, fund and protect your account.

Source: Kraken.com
Step 2 – Find Dogecoin
Use the search function to locate the Dogecoin market.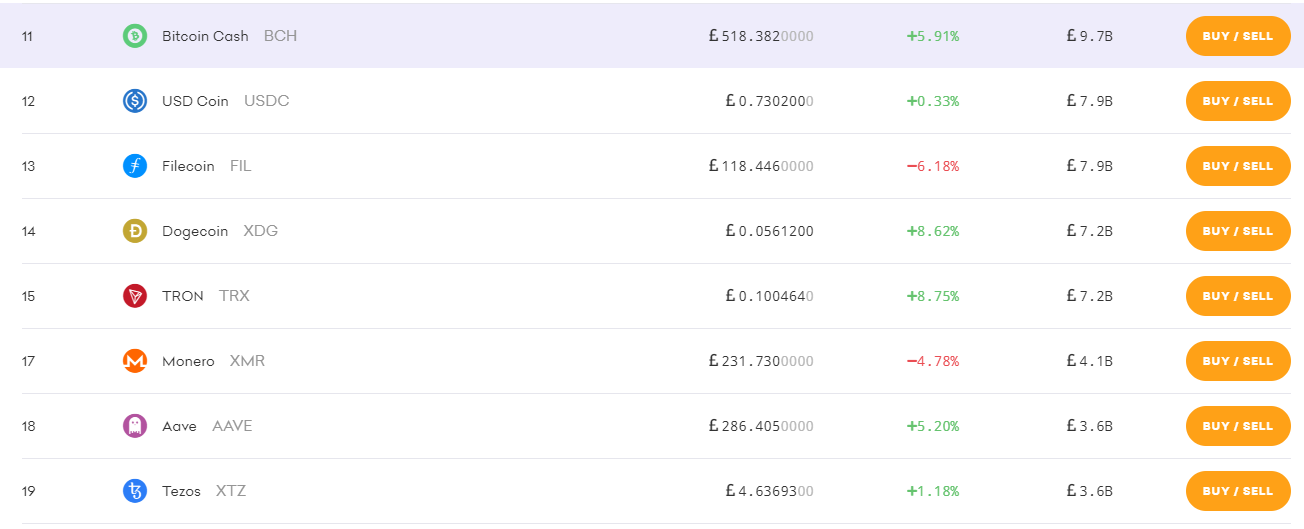 Source: Kraken.com
Step 3 – Buy Dogecoin
Click on the Dogecoin icon to go to the trading dashboard for that market. Use the price chart to check your strategy is still valid. It's possible to set the graph to different periods so you can see both long and short-term price history.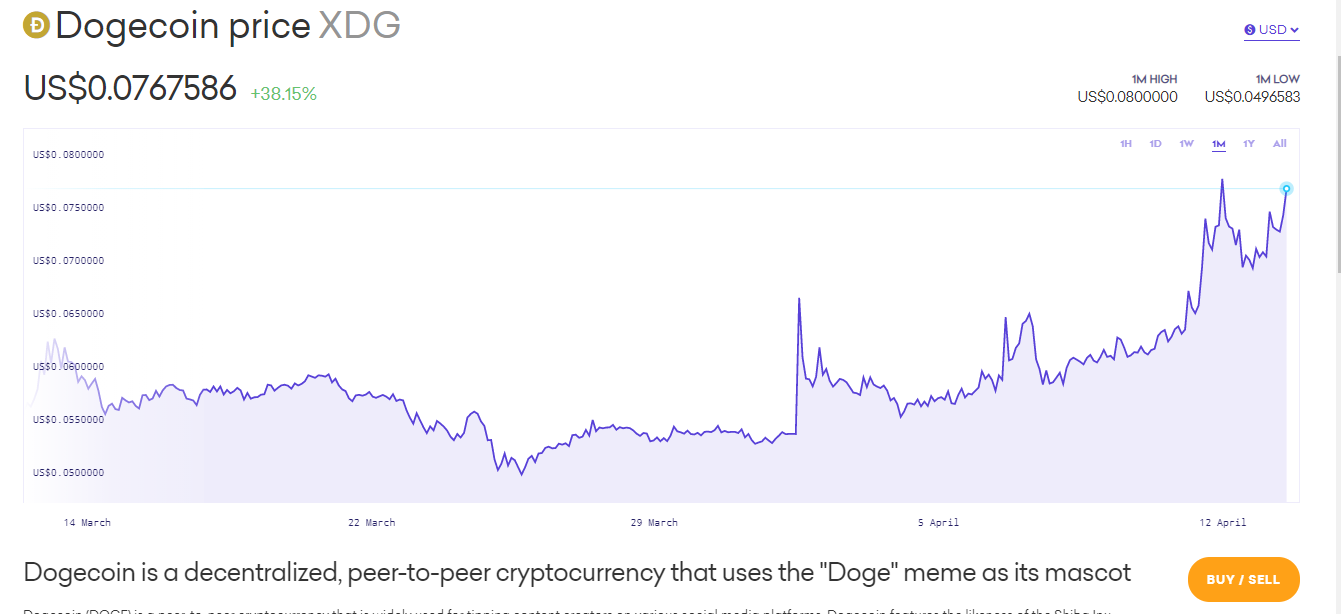 Source: Kraken.com
Step 4 – Complete your order
The trading dashboard will present data fields where you need to input the details of your trade. You can buy, sell or convert to another crypto.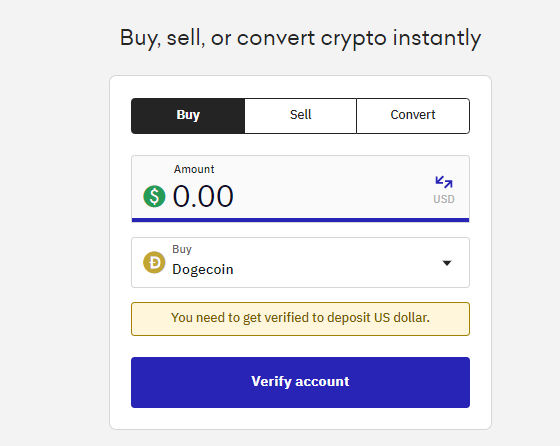 Source: Kraken.com
Step 5 – Check your order
Despite the neat functionality of trading platforms, it is still possible for human error to get in the way. Sage advice is to check your trade details straight after trading to make sure you bought the right coin in the size you intended. The site's portfolio section will also have a live price feed so that you can monitor your profit/loss on the position.
Step 6 – Sell Dogecoin
You can hold your Dogecoin in your wallet for as long as you want. During that time, your profit and loss will fluctuate until the time comes to sell your DOGE. At that point, any gains or losses will be crystalised and the funds returned to your trading account.
The functionality associated with trading cryptos is pretty generic across the different platforms. That means it makes even more sense to choose a broker that is regulated by a recognised authority.
Which is the Best Dogecoin Wallet?
Best Mobile Wallet – eToro
It is possible to perform all the above functions using a desktop or mobile device, which means you can keep track of your investments from wherever you are. Mobile bitcoin wallets can be incredibly secure and are available on Android and iOS operating systems.
As phones don't have the processing power of desktop machines, trading using the devices involves logging onto a web-based platform. From there, you'll be able to access all the areas of the platform and perform functions ranging from wiring funds to buying and selling coins. eToro is one of the few regulated brokers that offer crypto markets to UK clients, and its award-winning mobile wallet comes with additional layers of security.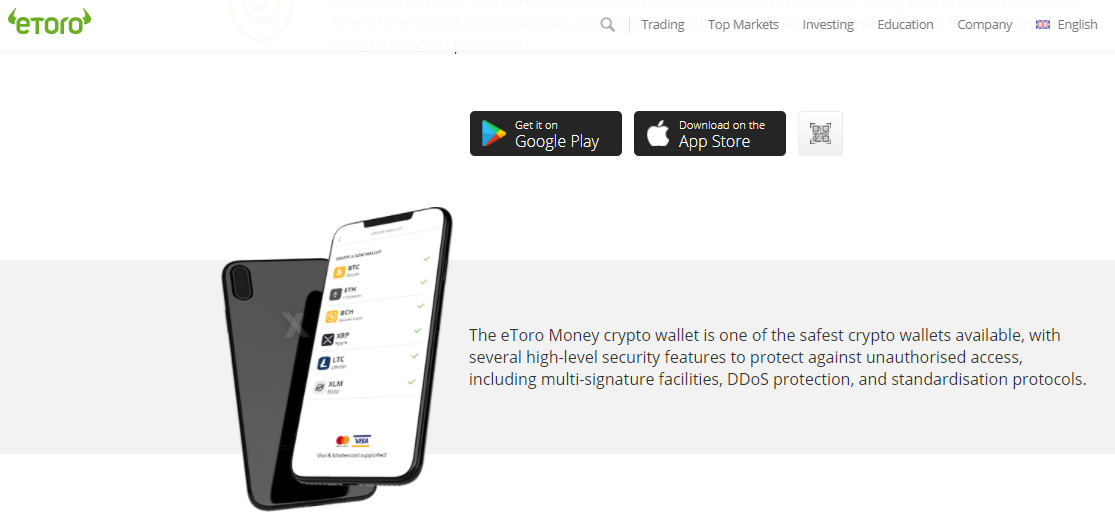 Source: eToro
Best Hardware Wallet – Ledger Nano X
Using a hardware wallet allows you to keep your coins in cold storage. The high-tech devices operate in the same way as any other secondary hard drive. As they aren't online all the time, they spend less time hooked up to the internet, thereby avoiding scammers who might try and hack your Dogecoins. This 'cold storage' approach is favoured by many.
One of the safest hardware wallets is the new Ledger Nano X. However, you get what you pay for in terms of security, and the Nano X costs little over £100 to purchase.
Best Exchange: Kraken
The most important thing to look out for in terms of crypto exchanges is the security of your holding. Many are unregulated and rely on newbies choosing them because they specialise in crypto trading. It can be a foolhardy decision as you are depending on a third party's security protocol to protect your assets. Even worse, the unregulated nature of the market allows scammers to set up fraudulent platforms.
Is Dogecoin a Good Investment?
Despite its tongue-in-cheek approach to the crypto market, holders of DOGE have made incredible gains thanks to the sky-rocketing price. A lot of the euphoria was inspired by comments made by high-profile personalities such as Elon Musk, which means the value is equally exposed to the risk of a comment-driven crash.
Questions over the fundamental approach of Dogecoin continues to divide opinion. On the one hand, the framework is barely maintained; on the other, the generous neglect has enabled DOGE to demonstrate a degree of self-sufficiency, suggesting it could be a viable payment system.
The other plus point for DOGE users is the relatively fast transaction times. Payments can be confirmed within two minutes. That compares well to Bitcoin and is thanks to behind-the-scenes protocols, which Bitcoin appears unable to match.
The crypto space is a fast-moving one, but one plausible theory is that there will ultimately be space for only one crypto. There'd be a strong sense of an opportunity being missed if moving away from using 775 different fiat currencies didn't rationalise the global payments system down to one. If this winner-takes-all scenario pans out, then the coin that succeeds will be incredibly valuable, while the rest will become virtually worthless.
Investing in Dogecoin is a high-risk return strategy, but the coin's wild-card approach appeals to some. Bitcoin is the front-runner in the race to be the world's cryptocurrency, and there are many potential rivals in the following pack (Ethereum, Litecoin, Ripple, etc.). Dogecoin's quirky back-story offers something different and a long-odds chance of success, but risk-management basics would suggest only buying it in a small size.
Conclusion
Dogecoin has bounded onto the scene largely thanks to Elon Musk's support, and there's certainly a possibility that the Tesla founder could drive the DOGE price even higher. Before Musk's intervention, Dogecoin was just another 'also ran', but it is now much discussed. In the crypto-space, that counts for a lot.
DOGE offers a reminder of the maverick and alternative spirit that brought about the crypto-revolution in the first place. For that reason, it is fondly thought of by crypto purists. Its role may be little more than a walk-on, walk-off part, as it comes just as mainstream institutions are taking crypto more seriously.
While Goldman Sachs and Morgan Stanley say they now 'get it' about Bitcoin, asking them to convert to being fans of Dogecoin currently appears a step too far. Then again, as recently as last year, BTC was trading at $5.30, with the then perceived wisdom being that those same big banks would never consider Bitcoin a serious investment.