Key points:
The Amigo Loans share price surged 22.2% despite a lack of news.
Investors are piling in ahead of the firm resuming lending activities.
So, should you buy Amigo shares? Read on to find out.
The Amigo Holdings PLC (LON: AMGO) share price surged 22.2% despite the guarantor lender not making any announcements, bringing its gains over the past five days to 34.71%. Investors are buying Amigo shares ahead of a looming resumption of lending activities.

Market participants are buying Amigo shares, expecting them to rally higher once the sub-prime lender unveils its plans to resume lending activities. Investors are happy that the lender continues to work with the UK's Financial Conduct Authority (FCA) to ensure that the regulator has the final say on its plans.
Also read: Best Financial Stocks To Buy Right Now.
Amigo is supposed to resume lending activities within nine months of the day its scheme of arrangement came into effect on 26 May 2022. The lender recently unveiled plans to rebrand from Amigo Loans to RewardRate, while announcing a new interest rate regime.
The proposed interest rates are more friendly to its customers, and the company expects to attract a large number of clients given that, according to its estimates, about 12 million UK adults need its guarantor loans.
However, the company will limit its new lending to £35 million until it completes the capital raise outlined in its new business scheme and approved by both the court and the FCA. The capital raise will help the lender raise money to repay its creditors and affected customers while allowing it to continue lending.
Overall, Amigo's prospects look quite promising, which is why its share price has been rising recently amid expectations of some significant announcements from the lender.
So, should you buy Amigo shares? The answer depends on your investment timeframe and goals. While Amigo shares look attractive, there is still some uncertainty regarding whether it shall attract new clients after the recent scandal about overpricing loans.
*This is not investment advice. Always do your due diligence before making investment decisions.
Amigo Loans share price.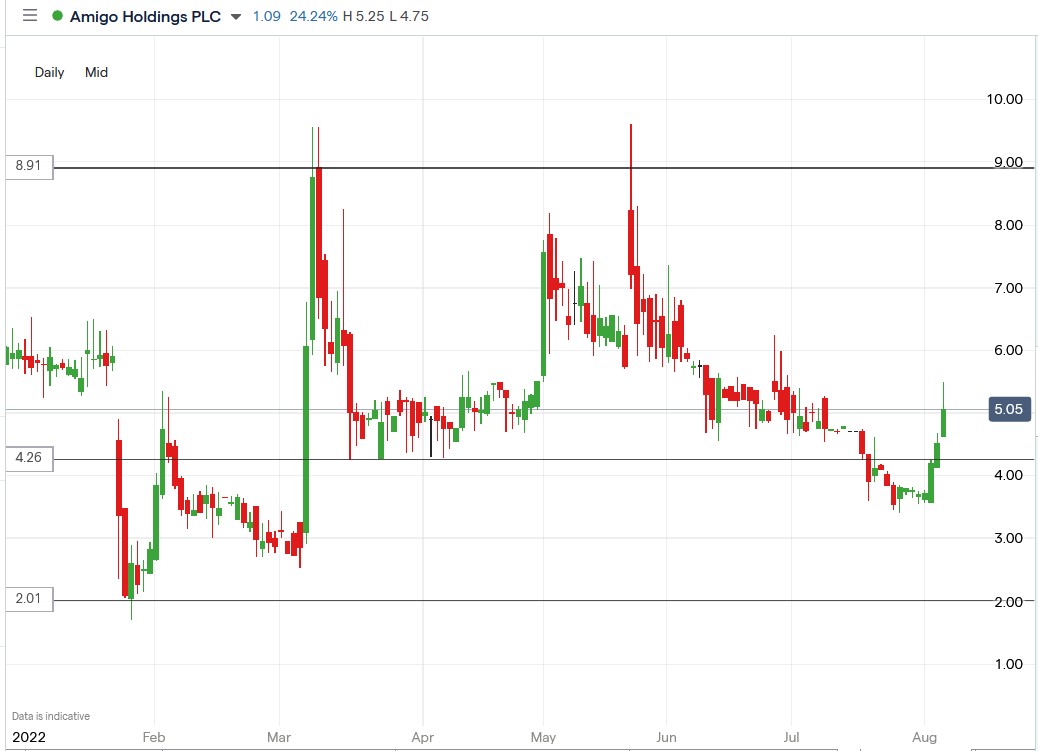 The Amigo Loans share price surged 24% to trade at 5.50p, rising from Wednesday's closing price of 4.50p.