Swiss bank UBS has posted disappointing Q3 earnings and highlighted the challenges facing banks trying to make money in a negative interest rate environment.
The Q3 earnings reports of major US banks were much more upbeat, and so are their share prices.
Swiss base rates are currently -0.75% whilst the US equivalent is + 2.0%
The earnings season has lifted the lid on the problems facing banks that operate in a negative interest rate environment. Interest rate cuts are theoretically a stimulus to the economy. For Swiss bank UBS, the consequences of years of rate cuts are anything but stimulating.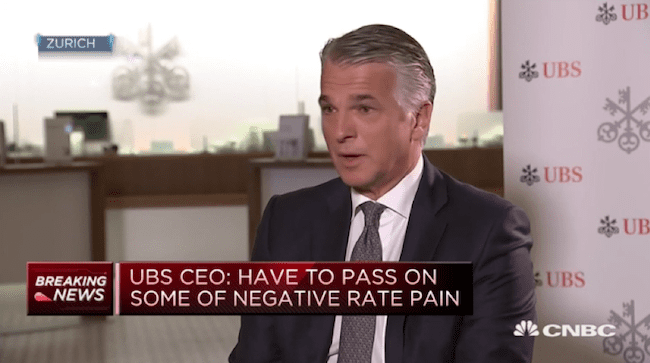 CEO of Swiss bank UBS, Sergio Ermotti, has given an in-depth interview with CNBC. In it, he outlines a bank doing all it can to deal with the challenges of being based in a country with negative interest rates. When it costs you to place money with your central bank, it's hard to make a return off the day-to-day business. The bank is now reluctantly taking steps to 'share the pain' with ultra-high net wealth Investors. Ermotti said:
"The entire industry is faced with the same challenge on negative rates, so we are fortunately forced to pass some of this pain, so we are not passing all of the pain of negative rates but I think it's inevitable that we see, probably the rest of the industry following on that."
Source: CNBC
Switzerland–US interest rates — 2015–2019: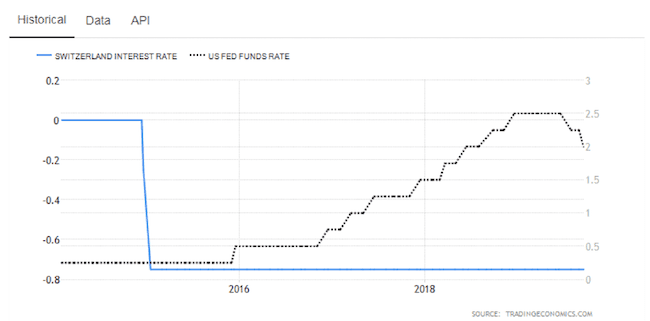 The bank's boss explained how the firm is approaching the many challenges, and it appears the Q3 figures could have been worse had the bank not taken steps to compensate to fundamental problems associated with rates below zero.
Net business volumes on the core Swiss business held up. In terms of the wealth management business, net interest income (NII) was lower. But the total NII figure was supported by the bank managing to increase the volumes of business to compensate for squeezed margins.
The bank is not only facing the challenge of negative rates, but it also has to deal with a percentage of its clients apparently taking the view that the financial markets are at the mature end of the business cycle. Mandates from clients generated less revenue as clients rotated to safer assets; instruments with lower risk profiles being associated with lower margins.
UBS net profit attributable to shareholders for Q3 2019 was $1.049bn this was a year-on-year fall from $1.253bn. Operating income was also down, the Q3 figure in 2019 being $7bn compared to $7.5bn a year ago. This all adds up to shareholders seeing the return on tangible equity down at 8.7% compared to 11.1% 12 months previous. Confirming that the bank has not been sitting idly, the common equity tier one capital ratio was lower than a year ago down at 13.1% whereas it was at 13.5% this time last year.
US banks
The story is very different for US banks. JP Morgan Chase, Citigroup and Bank of America all reported better than expected Q3 earnings. Only Goldman Sachs and Wells Fargo missed consensus estimates.
President of Blue Line Capital, Bill Baruch, was speaking with CNBC's Trading Nation when he said:
"JP Morgan kicked off earnings season with a strong beat. The stock has a lot of momentum and it's been trading very well up to earnings, and now we're seeing record highs."
Source: CNBC
Baruch put a target price of $130 on JP Morgan Chase, some $10 higher than Friday's closing price. Even with that potential move yet to come, the US bank stock price is already outperforming its Swiss rival. The price comparison chart shows that over the last three months, JP Morgan Chase has seen its share price increase by 8.03%. Whereas the NYSE listed tranche of UBS stock has fallen in value by 4.63%. The almost 13 percentage point difference in share performance over one quarter could be a sign that of how the strain that Swiss bank is under is beginning to drag on its appeal to investors.
Price comparison — UBS ($listing — NYSE: UBS) vs JP Morgan Chase (NYSE:JPM) — Three months: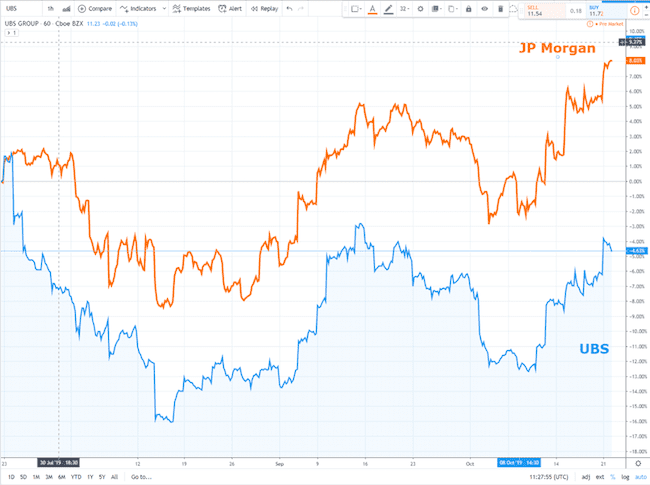 The wider risk
There are few historical precedents to draw on in terms of how negative interest rates might impact the economy. To date, most of the analysis has been based on economic theory rather than empirical evidence. With rates remaining at such low levels for an extended period of time, it is possible to begin tracking the actual effects. One question addressed to Ermotti was whether he thought there would be a 'capital flight' as investors decline the offer to pay their bank to hold their cash. As would be expected, he suggested that banks offer more than just a return on capital, but the answer will only be known with the passage of time.
Looking into the near future, the market is pricing in that the US Fed will cut base rates by 25 basis points by the end of the year. The case for going much lower than that begins to introduce the problem of rate cuts near-zero being marginally less effective. Might reports such as those by UBS influence Jerome Powell, the Fed chair, is it possible he could decide to surprise the markets and keep rates as they are? After all, he doesn't have much room to manoeuvre to the downside and won't want to unnecessarily 'waste' one of his key policy tools.
What is clear is that banks are put under strain in a negative rate environment. Cutting rates to spur economic growth is marginally less effective near the base-line, but evidence is being gathered that it can actually be counterproductive when they tip over to be negative.
Jamie Dimon, CEO of JP Morgan Chase, the bank with the share price outperforming UBS sees the disparity as a warning of what might be coming his way. Speaking with CNBC-TV on Monday, Dimon said that negative interest rates have "adverse consequences which we do not fully understand".
Source: CNBC