Key points:
EOS Has Posted Solid Gains from Mid-October
This Has Reinforced Both a Short- And Intermediate-Term Basing
EOS Upside Price Forecasts
The EOS cryptocurrency price has shown solid gains since mid-October and has reinforced both short- and intermediate-term bullish prospects, now targeting higher price forecasts.

EOS Has Posted Solid Gains from Mid-October
A succession of higher highs and higher lows has been put in place by the EOS/USD cryptocurrency since the middle of October. The solid and gradual gains have highlighted a willingness to build at least a short-term recovery theme and reject the more bearish activity scene throughout most of September and the first half of October.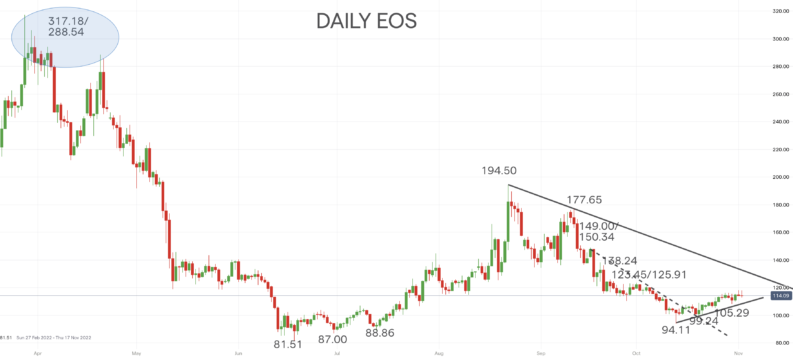 This Has Reinforced Both a Short- And Intermediate-Term Basing
The aforementioned recovery came off a bullish hammer Candlestick low from mid-October at 94.11. This new swing support was above the cluster of chart supports established throughout June-July at 88.86, 87.00 and the June bear market low at 81.51. The recovery from above these support factors has maintained the prospect for a larger, intermediate – term base and bottoming pattern.
Also Read: Crypto Watch: Musk, Dogecoin, Twitter, Binance, Crypto Fan Rishi
In addition, the reversal of the September-October downtrend line through latter October has rejected a short-term bearish theme and established a more positive short-term outlook alongside the broader, intermediate-term basing and recovery prospects.
EOS Upside Price Forecasts
The key upside targets for EOS/USD are the swing highs as resistance at 123.45/125.91. A successful push above these resistance factors would not only signal are more sustainable, short-term bullish phase, but also the potential for a more robust intermediate-term rally. Furthermore, should the down trendline that comes off of the August peak at 194.50 through the September high at 177.65 be reversed through, this would further reinforce the intermediate-term bullish outlook.
Still higher upside targets for November through 123.45/125.91 are then seen at 138.24 and 149.00/150.34. The year-end overshoot threat is even higher, possibly towards 177.65, maybe even closer to 194.50.
But should the EOS/USD swing support at 105.29 be surrendered, the threat would pivot lower to test the October cycle low at 94.11. Below this support would see risk then even lower for the targets at 88.86, 87.00 and the bear market low from June at 81.51
EOS is a cryptocurrency that was launched in 2018 and is based on a blockchain and decentralised platform which is primarily used to run, develop and host business applications.