Key points:
The term "Eurasian fluff" is trending because of offensive comments by a CEO.
A New Zealand CEO used the derogatory term to describe another founder.
Investors were not happy and had been selling their DGL shares.
The actual Eurasia Mining is still in a tough predicament due to Russian sanctions.
Suppose you are a regular investor looking for news about the Eurasia Mining share price. In that case, you might be surprised to find articles referencing the term "Eurasian fluff" and a scathing story about comments made by Simon Henry, the CEO of DGL.

To give you a background on the story, Simon Henry is the CEO of DGL. This New Zealand company specialises in the manufacturing, transportation and warehousing of dangerous and reactive chemicals.
He was recently interviewed by a New Zealand publication known as The List, which tracks the network of the country's richest entrepreneurs and business leaders. Henry mentioned the term "Eurasian fluff" when describing the founder of My Food Bag, a firm listed on the New Zealand Exchange at the same time as his firm.
Simon blamed My Food Bag's poor performance on a photo of Nadia Lim barbecuing chicken on a grill as the main reason behind the firm's disappointing performance. However, the comments couldn't be further from the truth. Instead, my Food Bag's poor performance has been attributed to the sustained selling from institutional investors who backed the company before its IPO.
It is never a good sign when early investors want to cash out their shares immediately after an IPO. Another reason behind the meal kit home delivery company's troubles was that it appointed a new board shortly below its listing raising questions.
DGL shares have since fallen massively after different publications highlighted Henry's comments amid a massive investor exodus in reaction to Henry's comments.
Our main story is that Eurasia Mining shares are still down 66% in 2022 as the company's Russian operations remain in jeopardy due to the numerous sanctions imposed on the country by the West following Russia's invasion of Ukraine.
EUA shares had risen slightly after the late February selloff but started falling in late March and are now trading near the February lows. My colleague Tim has covered Eurasia Mining in great detail in the past, and you can read some of his articles here and here.
The miner has been doing many things right, but the current sanctions on Russia have created a massive hurdle for its operations.
*This is not investment advice. Always do your due diligence before making investment decisions.
Eurasia Mining share price.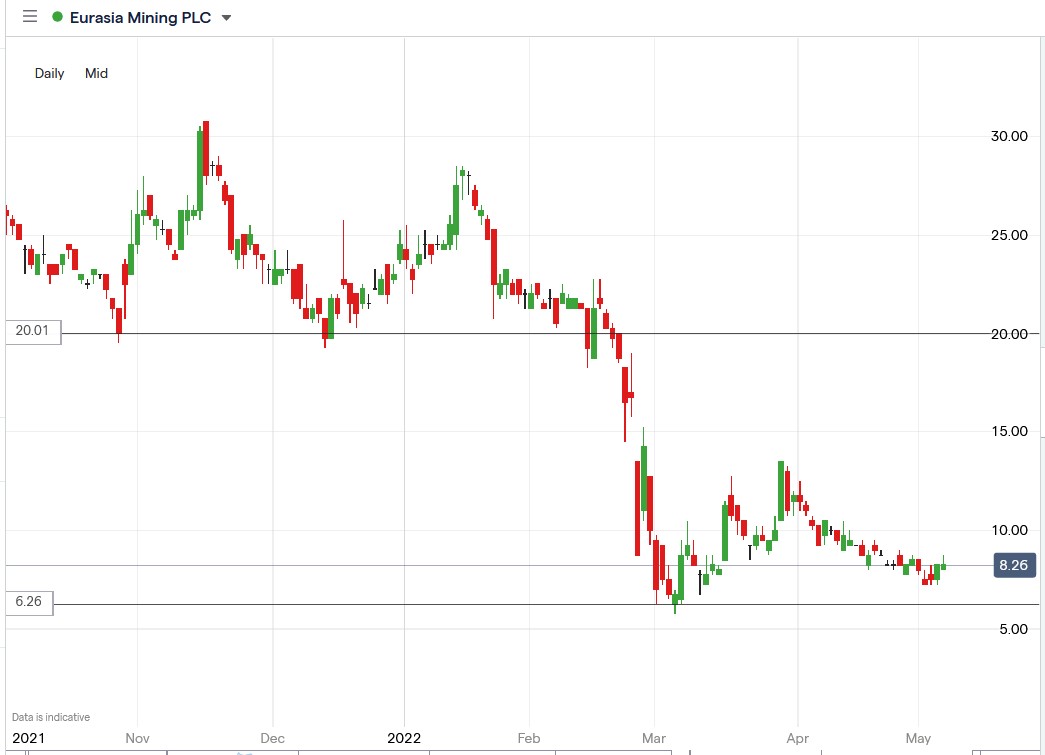 Eurasia Mining's share price has fallen 66% in 2022 but is trading near a support zone.