Jobs and wages report released Tuesday morning confirms UK unemployment levels fall again
Regular pay is growing at its fastest rate for nearly 11 years
UK chancellor Philip Hammond remarks chances of a no-deal Brexit are "very small"
Both candidates for Tory leadership role state the Irish border back-stop is 'dead'
GBP/USD trading at 1.2450
Analyst reports suggest short-term price action in cable will be sideways
GBP/USD traders are working their way through a busy news week. The jobs and wages data released by the UK's Office for National Statistics (ONS) on Tuesday morning offered positive news in terms of employment levels and wage increases. The currency pair had shown weakness in early morning trading and remains positioned near the bottom of its 12 month trading range, printing prices at around the 1.245 level.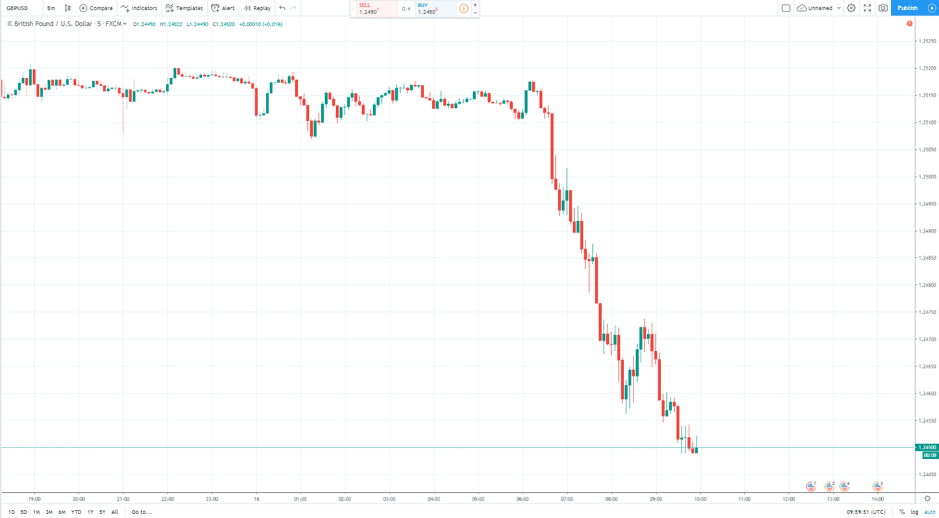 UK data releases
UK job figures released Tuesday morning show positive performance in terms of employment numbers and wage growth. Unemployment remained at its lowest levels since the 1970s. ONS deputy head of labour market statistics Matt Hughes said:
"Regular pay is growing at its fastest for nearly eleven years in cash terms, and its quickest for over three years after taking account of inflation."
Source: BBC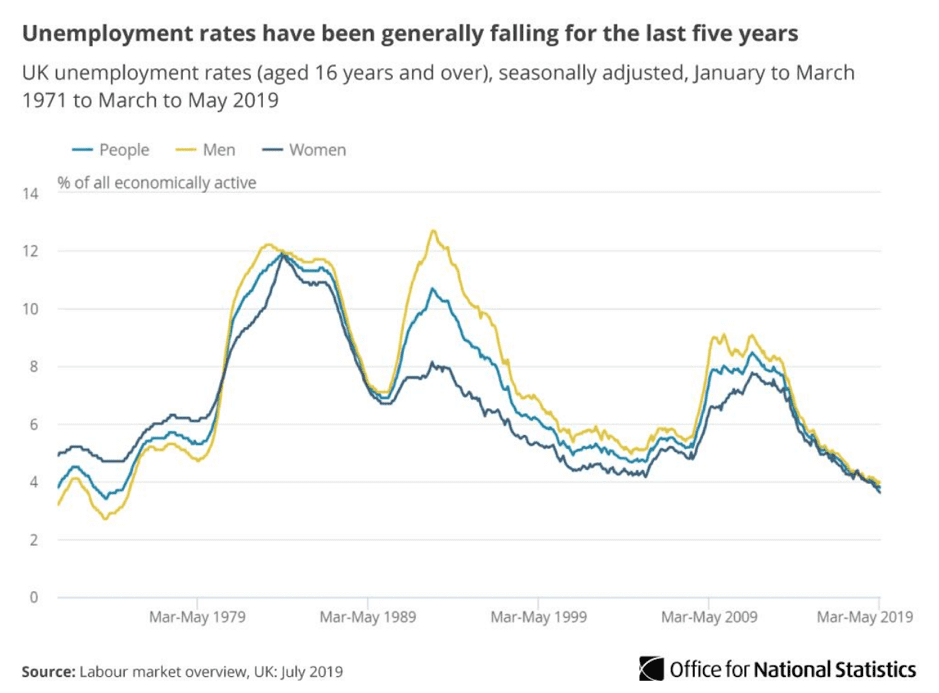 The growth in basic pay increased by 3.6%. This means it is outpacing inflation, which stands at 2%. The feel-good factor associated with this could be crucial in the run up to the UK leaving the European Union.
Luxury brand Burberry (LON:BRBY) also released a positive quarterly trading report on Tuesday morning. The share price has risen to 6.5% – a near one-year high that beats expectations. This is a feat that is not to be discounted given the malaise that has afflicted high-street retailers in recent times.
Less good news for GBP/USD is that the Bank of England is showing signs of abandoning its policy of hiking rates. Mark Carney and his team gave signs of taking a more dovish approach as a result of the threat of trade wars and the indication by other central bankers that they are looking to take rates lower. The next meeting of the Monetary Policy Committee (MPC) is on 1st August and analysts will hope to benefit from further guidance before then.
A Bank of England rate increase would appear even less likely if the MPC takes on board the findings from a recent report by the Resolution Foundation. The report projects that Britain's recession risk has now reached its highest level since 2007. The Foundation's 'recession risk' indicator, uses government bond yields to assess the threat from a recession, so is sourced from long-term, high quality data.
Talk is cheap
Chancellor Philip Hammond spoke with CNBC News on Monday 15th July. During his interview with 'Squawk Box' he came across as more relaxed than normal and gave the impression of someone looking forward to leaving his post and taking on new challenges. Once again, he confirmed he would be standing down from the position of chancellor of the exchequer when the next leader of the Conservative party is confirmed. It appears unlikely that either of the two candidates for the Tory leadership role are going to try to persuade him to reconsider; but in the muddied waters of Brexit, any publicly declared clear intention at least helps investors consider what the next steps might be.

One of those possible next steps is of course a no-deal Brexit. The interview with Philip Hammond covered the topic, with the chancellor stating there is a "very small" chance of a no-deal Brexit.
Business leaders such as Andy Palmer, CEO of Aston Martin, express that the time taken to get to this stage of the process is increasingly the major concern. Speaking recently at an industry conference he explained why a no-deal Brexit is not the firm's worst case scenario:
"I'd rather leave with No Deal than drag negotiations on… Every time we have to prepare to leave it ties up working capital and brains on something that may or may not happen… First and foremost I think we now need certainty. I think business was pretty clear that it would prefer a deal with free trade with Europe, and it is true we are looking at a cliff-edge without one, but at this stage a decision is better than no decision."
Source: Carscoops
A glimmer of light
The Northern Ireland back-stop that has been a major hurdle to the Brexit working agreement passing through the UK's House of Commons is being re-appraised. Speaking at Monday night's hustings, both Boris Johnson and Jeremy Hunt declared the backstop 'dead' and said they would prefer a no-deal Brexit to the proposed solution for the Irish border. Getting that particular ball 'back over the net' to the EU side is not a guaranteed way of ensuring a smooth exit from the EU, but it does open the door to a concession-orientated departure.
GBP/USD looks set to respond to the mixed bag of data by trading sideways
The two main barriers to GBP/USD price action moving to the up-side are the threat of a no-deal Brexit and the reduced probability of an interest rate hike. The downside is protected by the UK consumer that continues to push on despite the current political impasse.
FXStreet's conclusion is that:
"Cable is looking to stabilise around the 1.2500 handle so far, amidst unclear direction in both open interest and volume… the continuation of the sideline theme looks the most likely scenario in the near term."
Source: FXStreet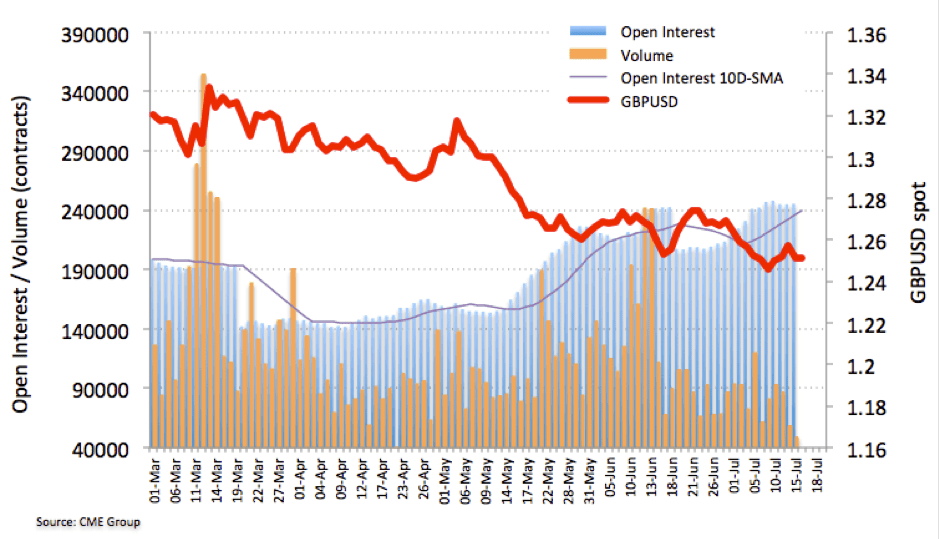 DailyFX also takes the view that upward price action looks unlikely and highlights the amount of short interest already in place in the market. Justin McQueen, analyst at Daily FX said:
"GBP gains are likely to be limited. This has also been evidenced by the weekly speculative COT data, which shows investors continuing to build their net short positions (highest since September 2018)."
Source: DailyFX
DailyFX pivot points (daily) show GBP/USD currently trading below its level two support. Given the employment data, will it really push lower and challenge level three support in the near term?