Key points:
The GBPUSD currency pair edged higher on the BoE rate hike.
However, most analysts remained dovish about the pair's prospects.
The UK is at a crossroads amid high inflation and a looming recession.
As expected, the GBPUSD currency pair rose today after the Bank of England hiked interest rates by 0.50%. However, the pound trimmed all of its earlier gains as analysts remained largely dovish towards the currency pair.
Analysts have pointed out that the latest rate hike will not do enough to boost the pound and that the BoE will have to hike rates more aggressively for the interest rates to match underlying inflation.
Also read: Important Forex Entry Principles For Low-Risk Entries.
The UK is also embarking on increased fiscal spending as the new Prime Minister Liz Truss enacts various laws to cushion UK consumers, including a two-year cap on energy prices and other tax cuts likely to boost inflation.
The Bank of England and the UK's Chancellor of the Exchequer are on opposing paths, which could generally derail the UK economy as the BoE tries to cool down consumer spending. In contrast, the finance ministry intends to achieve the opposite goal of boosting spending and investments.
These are some reasons why most analysts are bearish on the pound. The BoE is not hiking rates fast enough to keep up with rising inflation and other central banks led by the Federal Reserve, which hiked rates by 0.75% yesterday to bring its effective rate to 3.25%.
The Fed remains committed to maintaining its hawkish monetary policies despite the rising risk of the US and global economic recession fueled by the rising interest rates, which make it difficult for organisations to borrow.
While the UK's inflation rate in August fell to 9.9%, it remains the highest among the G-20 nations, underscoring the need for the Bank of England to raise interest rates. However, as the country faces a cost of living crisis, the BoE has remained cautious in its rate hikes, given the imminent risk of the UK falling into a recession.
The GBPUSD pair had erased all its gains by the time of publishing and was trading in negative territory.
*This is not investment advice.
The GBPUSD price chart.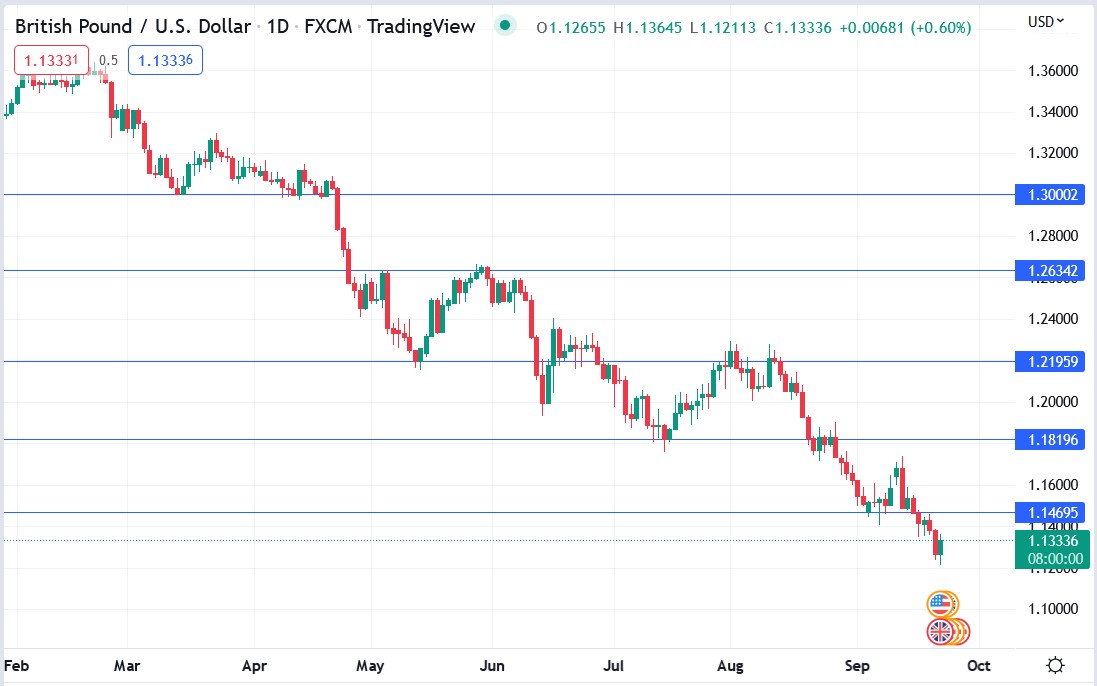 The GBPUSD currency pair traded 67.5 pips (0.60%) after the Bank of England's rate hike.