Key points:
Ceres Power (CWR) shares plunged 16.7% on weak h1 2022 results.
The company's revenues fell 43% to £9.9 million, triggering the selloff.
Ceres Power is now more fairly valued after falling 60.1% this year.
The Ceres Power Holdings plc (LON: CWR) share price crashed 16.7% after releasing its half-year results for the six months to 30 June 2022. The company reported a 43.10% decline in revenues from £17.4 million in H1 2021 to £9.9 million in this year's first half.
Shareholders reacted negatively to the results, revealing that the company's margins had shrunk to 55% compared to 72% in H1 2021. The adverse reaction from investors was fueled by the above figures that painted a bleak picture.
Also read: The Best UK Renewable Energy Shares To Buy.
Ceres Power noted that its operational costs surged after its investments in research and development rose by 46%. I had written before that Ceres Power needed to invest much more in R&D to remain competitive.
The sustainable energy company is currently investing in research to develop new green hydrogen electrolysers using solid oxide electrolyser cell (SOEC) technology and has partnered with Shell on the project. The company noted that its first electrolyser cell module (ECM) was being tested.
Ceres Power noted that its joint ventures with Weichai and Bosch would generate revenues worth £30 million in short-term license fees plus future royalties. However, this was not enough to persuade shareholders who sold their shares. The company noted that most of the revenues generated from the joint ventures would be recognised in Q1 2023 when the JVs are formed.
Another crucial aspect that I have mentioned before is Ceres Power's valuation. The company was worth over £2 billion despite posting revenues in the single-digit millions; hence, it was not sustainable.
Therefore, after the latest selloff, Ceres Power is now worth £774.8 million, which is a fairer company valuation. However, there might be more declines in store for investors in future as the markets reprice the valuations of high-flying companies that are loss-making.
Ceres Power shares are down 60.10% this year and could be headed lower. I would be interested in buying them if they bottom and start reversing course in future.
*This is not investment advice.
Ceres Power (CWR) share price.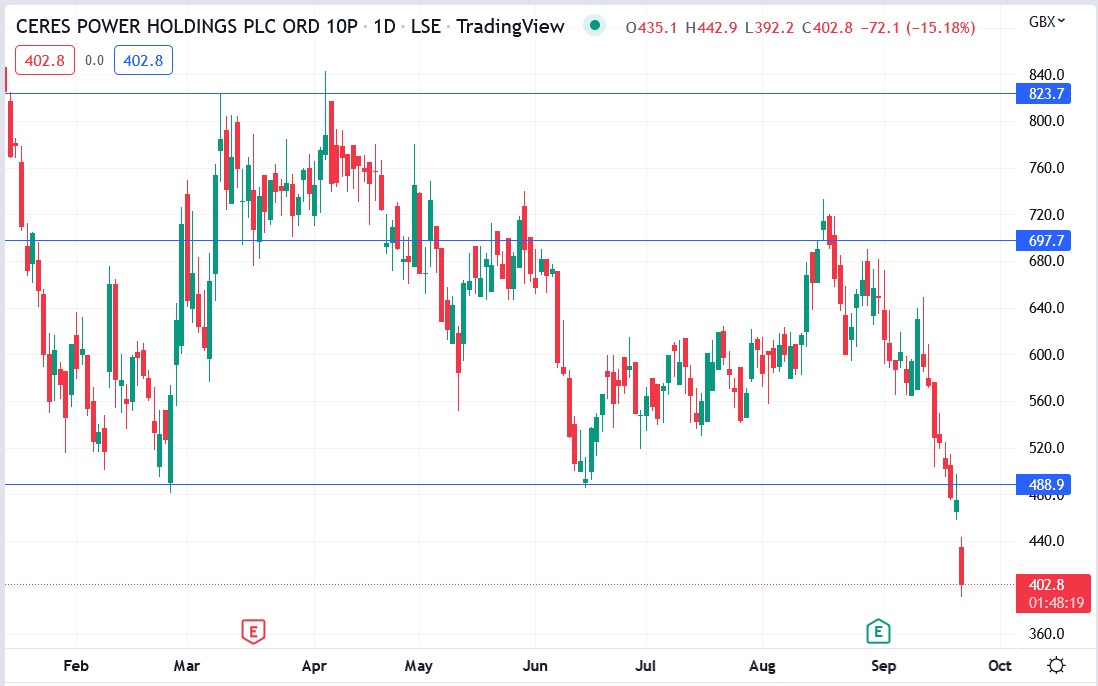 The Ceres Power share price plunged 16.73% to trade at 392.5p, falling from Wednesday's closing price of 475.0p.