Key points:
Genedrive shares have risen 62.5% in the past month.
Investors hope that the rally will continue over the short term.
The bulls have to retake control from the bears to push prices higher.
The Genedrive PLC (LON: GDR) share price has risen 62.58% in the past month filing investors with the hope that the latest downtrend, which started in early December 2021, is finally over.

The good news is that the bulls have taken control of Genedrive's share price in the past month, evidenced by the over 62% rally in its share price.
However, for those wondering whether there could be further upside for investors who buy the stock now, the short answer is yes, but let us dive into the details.
Genedrive is a medical diagnostics company that had developed a rapid molecular diagnostic COVID-19 test that was awarded the CE mark by the European Union in December 2021, triggering a massive rally in its share price.
However, the rally was short-lived as concerns about the COVID-19 testing market arose as governments worldwide dropped the testing requirements they had initiated in the past.
Investors were concerned as the UK, and the EU set a timeline for dropping all COVID-19 related restrictions, effectively shrinking the market for COVID-19 testing.
Luckily for the company and its shareholders, Genedrive has another medical diagnostic test targeting hearing loss patients. The MT-RNR1 test plays a crucial role in detecting the advent of hearing loss in infants from antibiotic use.
The test may have a massive addressable market given that millennials and generation Z young people now outnumber the baby boomers in most countries. In addition, these two groups are in their child-bearing age, which is a significant addressable market.
Genedrive published the results of the Pharmacogenetics to Avoid Loss of Hearing (PALOH) trial that assessed the test's effectiveness at detecting the loss of hearing in infants due to the use of antibiotics.
Therefore, while the market for COVID-19 testing is shrinking, the market for Genedrive's hearing loss molecular diagnostic test is growing, and the company may generate significant revenues from its  MT-RNR1 test.
Investors should remember that the testing kit is installed in hospitals; hence, the volume of tests sold might not be as high as for COVID-19 tests.
As for Genedrive's stock price, the bears have taken control in the past two days pushing the price lower. The following support level is at 26p, which is broken would bring the 21p support into play. However, a bounce higher would have to break the 36p resistance zone as the bulls take over and push prices higher.
*This is not investment advice. Always do your due diligence before making investment decisions.
Genedrive share price.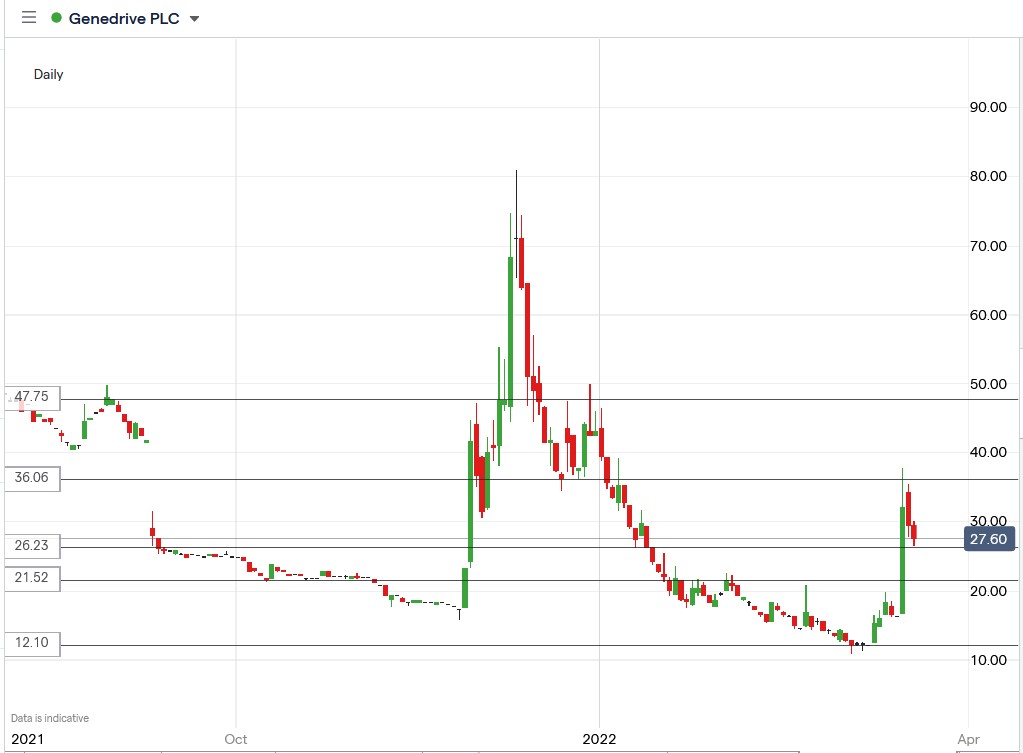 Genedrive shares have risen 62.58% in one month. Will they keep rising?