Key points:
GGP fell anothyer 8% this morning
It's a result of the placement of new shares in Greatland Gold
What happens next depends on who those shares were placed with
Greatland Gold (LON: GGP) is down another 8% on news of the company's placing of new stock. That brings it to a near 40% loss in the past month. So, what's gong to happen next to the Greatland share price? That – of course – depends upon events but there are a few things we can think through to give us a guide. We got the original news of the placing on Tuesday, that Greatland intended to raise USD 30 million (about £25 million) though the placing of new shares with new and existing institutional shareholders. Given that the placing price was 8.2 pence that of course lowered the market price. Why pay more than 8.2 for what you can now buy for 8.2?

Today we've the news of how that placing went. The issue price was at a 15.5% discount to the prevailing price before the announcement. There was strong demand, meaning that the offer was upgraded, to USD 35 million. This is not, not necessarily, quite as good news as we could think. An oversuscribed offer is good, right? Except, well, maybe not.
For us general shareholders out here were not able to take part in the offer. There were no rights. So, we just got diluted. That 15.5% discount applied only to the new shares in Greatland, of course, we weren't allowed to buy any. We do though have to suffer the fall in the price given the new shares now in issue. We're diluted.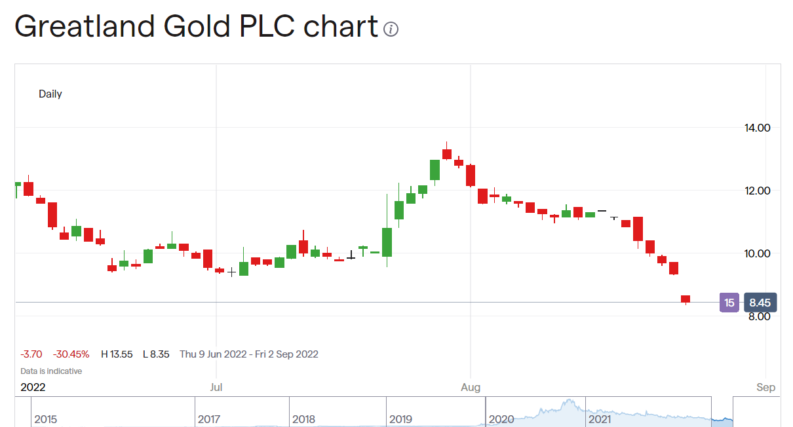 Also Read: Five Best Gold And Gold Mining Stocks to Buy Right Now
Now, of course, that Greatland now has the capital to undertake the next stage of development is a good thing. But that's obviously a longer term issue. What we as traders would like to know is what's the prognosis for GGP in this short to medium term? That depends upon something we don't in fact know, which is where those new shares have been placed.
For a placing to institutional investors will lead to two different types of buyer. One will be those who wish to build a large -or larger – position in Greatland but would worry about doing so in the market. They could easily move the price against themselves by buying in volume. A placing offers the opportunity to build such a decent sized holding without that problem.
The other type of buyer will be those who see an interesting short term margin or turn. The issue was at 15.5% below the prevailing price. It's still some 5% or so above that original price. So, people who bought at 8,2 in the placing might well be able to sell shares on into the market for that short term profit. Yes, there are usually restrictions on trying to make a very fast return in that manner.
What matters for the short term of the GGP price is how that placing was split. There will be some of both types there, but how much of each? The more of the new shares went to those looking for a quick trading profit then the more there is a cap on future price movements upwards. For any significant move upwards would be met by selling from those looking for that turn. The more of the stock is with long term holders then the higher any uptick in the price can go.
Given that we don't know that split we cannot forecast – but that is the basic analysis. Greatland's possible upwards movements are limited by however much of that new issue went to short term traders.