Key points:
Scottish Mortgage (SMT) shares have fallen 11% in two weeks.
The move mirrors the trends seen in the Nasdaq index.
Investors are waiting for the upcoming Fed speech on Friday.
The Scottish Mortgage Investment Trust PLC (LON: SMT) share price has fallen 11% in the last two weeks, erasing most of the gains made earlier in the month amid a broader pullback in the US stock markets.
Investors familiar with Scottish Mortgage Trust know that the fund invests primarily in high-growth companies intending to make above-market returns over five years.
Also read: Why The Fed Has To Weaken The Dollar on Friday.
Some of the fund's most significant holdings are Alibaba Group, Moderna, Tesla, Tencent, NIO and Amazon.com. These are mostly tech companies that tend to be worst affected by interest rate hikes since they use debt as their primary source of growth funds.
For example, Amazon and Alibaba are online retailers that could be easily affected by changes in consumer behaviours in the current high inflation and high interest rate environment, which has driven most consumers to cut back on discretionary spending.
Given that most of SMT's holdings are listed on the Nasdaq exchange, the SMT daily price chart below is usually identical to that of the Nasdaq index. Looking at the two-week decline, we can see that Nasdaq has also been on a downtrend during the same period.
Investors wondering if they should buy SMT shares at current prices should consider the upcoming speech by the Federal Reserve chairman on Friday at the end of the Jackson Hole symposium.
Most investors expect the Fed to dial back its current hawkish stance as the US dollar has rallied against other currencies and put the entire global financial system at significant risk. At this time, a dovish move by the Fed would provide much-needed relief to the global economy and US stock markets, which have also suffered under the recent rate hikes.
The SMT share price chart below shows that SMT shares are trading at a crucial support level, which could trigger a rally. Aggressive investors could buy at current prices, while conservative investors could wait for the Fed speech before investing.
Those who wait will be spared any losses that could emerge from a hawkish speech, while those who get in early could reap all the gains from a move higher. Therefore, investors should weigh the risks before making a decision.
SMT share price.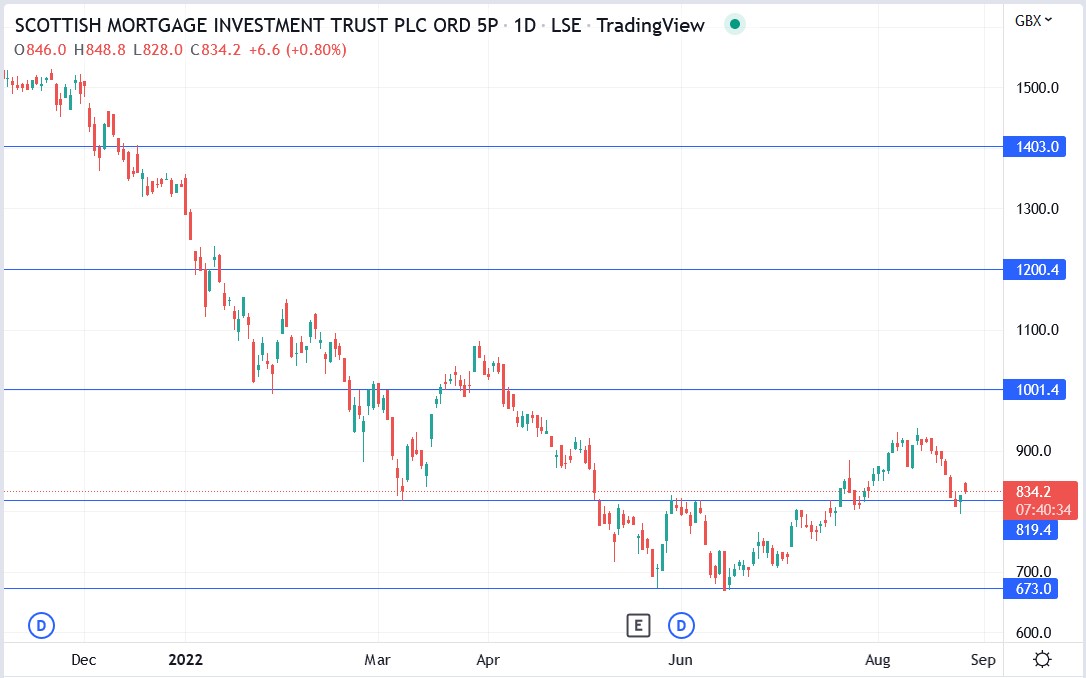 SMT shares have fallen 11.07% in two weeks, from a high of 938.0p on 12 August 2022 to its current price of 834.2p.