Key points:
Green Satoshi Token (GST) is a unique token based on move-to-earn.
The token is linked to the STEPN app that rewards users for moving.
The unique concept is gaining traction and could lead to higher prices.
The green satoshi token (GST) is a unique token based on the STEPN application that rewards users for moving throughout the day. In addition, the token is a utility token that can be used by STEPN fans for purposes such as minting, repairing and up levelling their sneakers.

STEPN is unique because it rewards users for going about their daily activities. Hence, it is known as a Move-to-earn token, as opposed to most gaming apps that require users to take time out of their day and play a game to earn token rewards.
The game is designed to reward users with the GST token, but users can also buy the token by depositing Solana (SOL) tokens into the app, which they can use to buy NFT sneakers sold.
STEPN has two tokens, the GST utility token and the GMT governance token, that allows users to vote on key changes in the game. The supply of GMT tokens is limited to 6 billion, while the supply of GST tokens is unlimited. However, players can only start earning GMT tokens after reaching level 30 in the game.
GST token price.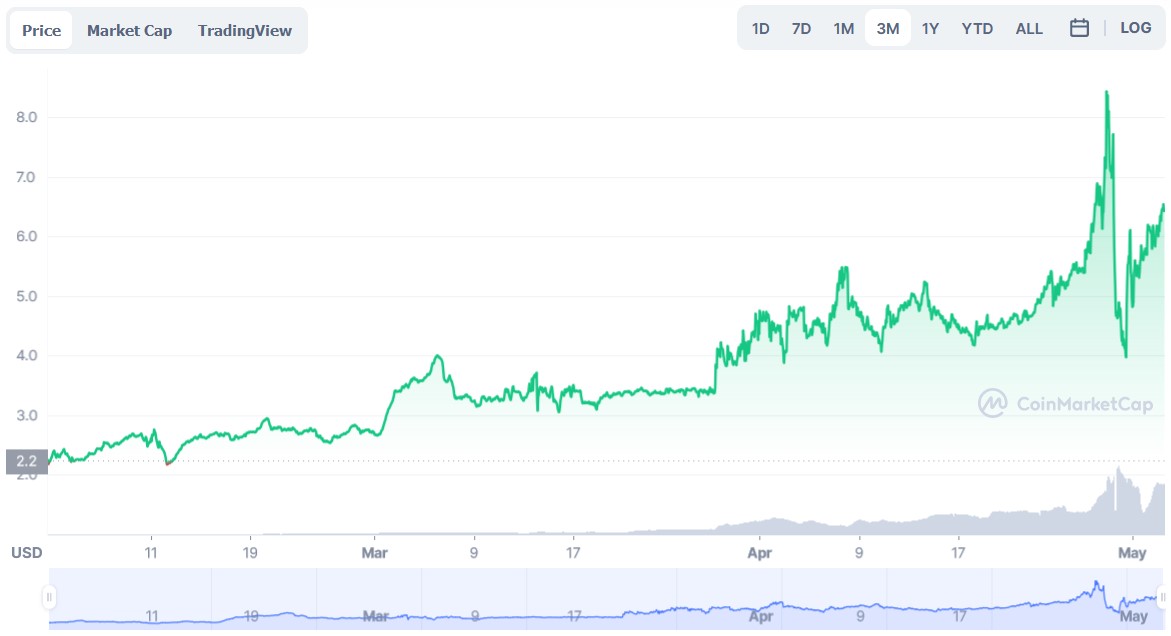 STEPN's ultimate goal is to inspire millions to embrace a healthier lifestyle while connecting them to Web3 and fighting climate change globally. As part of its efforts to combat climate change, STEPN has committed to buy carbon removal credits with a portion of its profits.
The company behind the project recently purchased 5,797.1 tonnes of Carbon Removal Tonnes worth $100,000 on the Nori Carbon Removal Marketplace, powered by a blockchain platform.
The game is also quite profitable to its founders after generating a profit of 198,635.62 SOL worth $26.8 million in Q1 2022. The profit was generated from the fees charged by the app to facilitate trading activities and from royalty fees generated from NFT sales on its NFT marketplace.
The GST token price is on a recovery path after falling from a high of $8.4311 on 29 April 2022 to a low of $4.148 on 30 April 2022. The token was trading at $6.468 at writing (on May 3, 2022).
There could be more gains in store for investors as the move-to earn phenomenon gains momentum among users. Furthermore, the game also addresses sneaker lovers who want to own exclusive NFT Sneakers whose value may appreciate, which is why STEPN launched a limited-edition collection of NFT Sneakers designed in partnership with Asics were presented as a Mystery-box.
*This is not investment advice. Always do your due diligence before making investment decisions.