Key points:
Avis Budget stock rallied as its Q1 revenues surged 77%. Is it a buy?
The car hire services company benefited from the lifting of restrictions.
As a result, the company's future looks promising if conditions remain the same.
Demand for car hire services led Avis Budget Group Inc. (NASDAQ: CAR) to generate $2.4 billion in revenues during Q1 2022, a 77% improvement from last year's $1.37 billion. The company attributed the higher revenues to higher demand in the second half of Q1 after governments worldwide relaxed COVID-19 related travel restrictions.

Many people took advantage of the lack of restrictions to travel across their countries, translating into higher demand for the company's car rental services. As a result, the company reported adjusted Q1 earnings of $9.99 per share, marking a massive improvement from the 46 cents loss incurred in a similar period last year.
The car hire company reported that its Q1 pretax profits were $810 million leading to a decent rally during premarket trading as CAR stock was up as much as 8% after hours. However, the stock's performance after the market opened today was less impressive as it was trading 1% higher at writing after falling from its premarket highs.
Avis Budget Group has surpassed investor expectations over the past four quarters, with the trend likely to continue if western countries do not reimpose some of the COVID-9 related restrictions.
Meanwhile, the company benefits immensely from the summer travel season as people worldwide vacation, while others make road trips given the rising inflation.
CAR stock has risen 35.29% in 2022 and could be headed higher if the company continues outperforming analysts' expectations. The stock is currently trading in a wide range marked by resistance at $323.5 and support at $241.5.
A break above the resistance level could signal the beginning of a new uptrend, while a break below the support level could lead to more losses in future. Therefore, investors should watch these two levels closely to guide their investment decisions.
*This is not investment advice. Always do your due diligence before making investment decisions.
Avis Budget Stock price.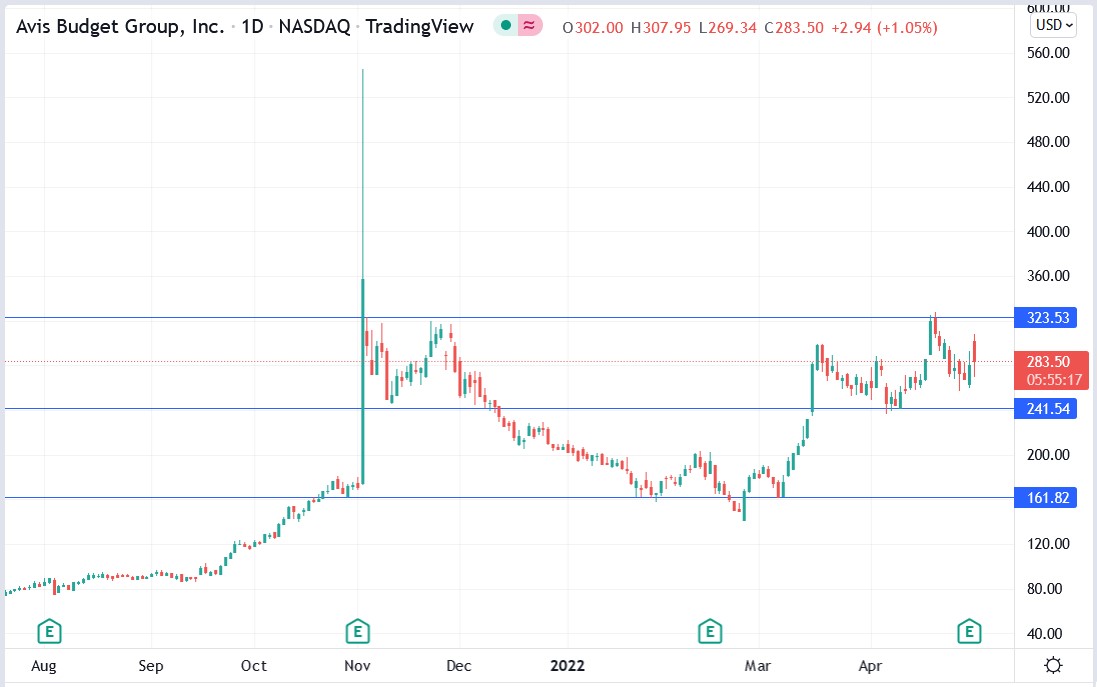 Avis Budget stock has given up most of its premarket gains at writing but could still head higher.