If any digital currency becomes the world's base currency, then buying a stake in the right one now could be one of the most profitable trades ever seen. It is high risk, high return. However, if your selection doesn't gain popularity, it could end up being worthless.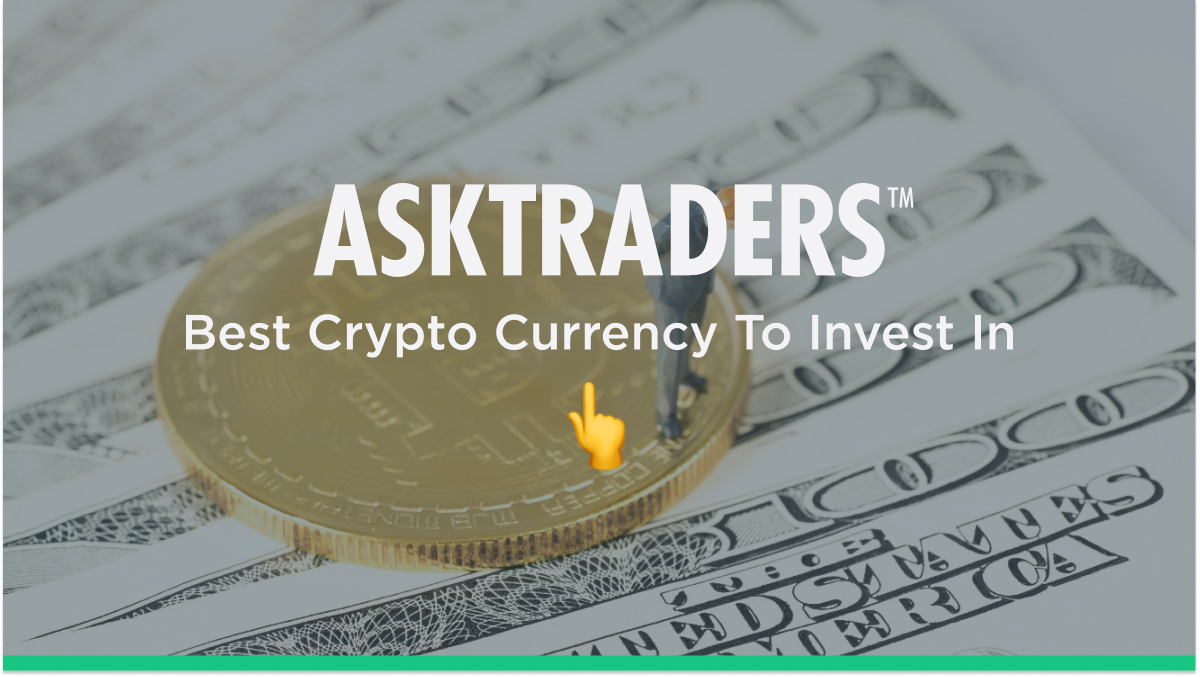 Read on to learn about the top cryptocurrencies to invest in now, and why there's so much interest in them.
Why Is There So Much Excitement About Crypto?
The key question is, can the establishment and all its vested interests withstand crypto's challenges? Decentralising a global financial system is not easy, even without super-states such as the US and China competing to stay on top of the pile.
Furthermore, if the monetary system is 'liberated' and crypto becomes standard, which of the coins will be dominant? There are currently estimated to be more than 18,000 tradable cryptos, without factoring in new entrants which can enter the market at any time.
Before digging into the details of the top five crypto picks, it's worth covering what's at stake when investing in crypto and why price moves can be so dramatic.
Read on to learn more about crypto as we explore the top five.
Bitcoin (BTC)
Bitcoin is the one to beat if other cryptos want to stand a chance at being the world's biggest digital currency.
BTC has such a large first-entrant advantage that its market capitalisation is greater than all the other cryptos put together. As of September 2020, the global value of the top 10 cryptos was in the region of $767bn, bitcoin accounting for $394bn of that total.
Founded in 2008, bitcoin has established a position as the crypto of choice for those starting out in digital currency investment. As Bitcoin has become a household name, millions have made the decision to set up an online broker account, such as this one at eToro, and invest in bitcoin.
If an interested part has invested had $100 in October 2010, with bitcoin then trading at a price of 12.5c, by June 2022 the individual would be sitting on a mouth-watering profit of $16,527,9000.
Bitcoin Price Chart – 2015 – 2022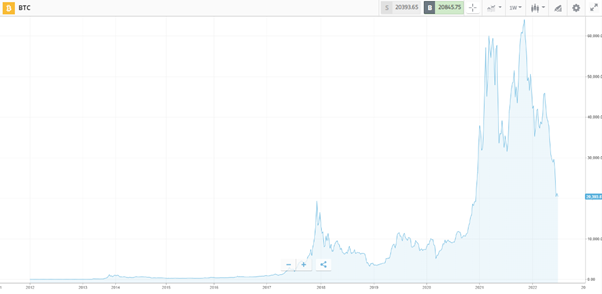 Source: eToro
Cryptocurrency must serve two purposes to be effective. The first is to act as a store or wealth, and in this area, bitcoin leads the field. The second element of functionality is to be an effective means of exchange. Bitcoin struggles to compete with new technologically superior altcoins in this regard.
The bitcoin blockchain platform relies on Proof-of-Work (POW) protocols to establish what each account holder owns. The process of running updates is slow, which means transactions can take minutes rather than seconds to be confirmed. PoW protocols also require a huge amount of energy and has resulted in bitcoin's carbon footprint becoming a sticking point for those looking for the currency of the future.
The length of time bitcoin has been in operation means some of its protocols appear outdated. In the fast-moving tech-space of blockchain architecture, rivals have been able to learn from bitcoin's journey, improving where they can.
Blockchain payment systems require participants to provide confirmatory signals. As of July 2020, the average confirmation time for a bitcoin transaction was 10 minutes. This is an improvement from the 12 minutes average of May 2019 but doesn't bode well for bitcoin being an everyday means of making transactions.
The problems associated with bitcoin have been known for some time and appear to be priced in, as evident from the crypto selloff of early 2020 where BTC outperformed many of the other altcoins. For many die-hard enthusiasts of crypto, bitcoin still represents the original and best way of taking a position in the market.
Ethereum (ETH)
Launched on 30th July 2015, Ethereum grew out of a project designed to improve bitcoin's transaction processing rates. Ethereum is the brainchild of Vitalik Buterin, a past researcher and programmer for Bitcoin Magazine who developed a new scripting language while there.
Cryptocurrencies are strongly associated with the liberalisation and democratisation of the financial markets. They have their own distinct protocols, and bitcoin's White Paper didn't allow room for Buterin's ground-breaking proposal.
Ethereum was launched using crowd-sourced funds and is now performing miles above the rest of the crypto pack. Ethereum's market cap of $140bn is more than twice the size of the third ranking crypto. The popularity of the platform stems from its high-quality transaction processing infrastructure, a streamlined process when compared to bitcoin's. It requires only 30 confirmations from blockchain participants and its estimated processing time ranges from 15 seconds to five minutes.
There are other advantages associated with the Ethereum blockchain. It was set up to incorporate 'decentralised applications', or dApps for short. These operate on decentralised networks instead of centralised servers, reducing the need for downtime and making them more secure. The enhanced functionality also makes it the natural home for growth markets such as NFTs (non-fungible tokens).
Ethereum Price Chart – 2019 – 2022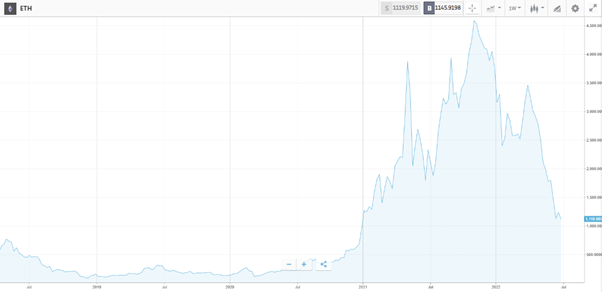 Source: eToro
A lot rides on the long-awaited, and over-schedule, upgrade of the Ethereum blockchain which will move it from relying on PoW to Proof of Stake (PoS) protocols. A successful switch from one methodology to another could catapult Ethereum to the forefront of the cryptocurrency race, but the delays related to the upgrade continue to act as a drag on the price of ETH.
Ripple (XRP)
While bitcoin aims to turn the global financial system upside down, Ripple's goal is to revolutionise the system from within.
The RippleNet framework allows holders of one currency to exchange for another. For example, exchanging USD to EUR without going through a traditional currency conversion process. The simple idea has many uses. Most importantly, it has the potential to facilitate conversions spanning both the fiat currency and cryptocurrency communities. XRP will be able to disrupt the current fiat network by challenging existing operators and bringing through upgrades made possible by blockchain technology.
Global transfers of fiat currency are currently dominated by the SWIFT system. While this is robust enough, it relies on traditional technology and can take days to settle a money transfer. Big banks might see cryptos as a threat to their domination of the financial system, but it is equally hard for them to dismiss the possible role for ripple. Not least because ripple's minimum transaction fees start at $0.01.
Ripple's hybrid style profile results in it having lower price volatility. It doesn't offer quite as much excitement as bitcoin and ethereum, but considering how high-octane those two can be, that might not be a bad thing.
It' s also possible to trade ripple at most multi-asset brokers. eToro offers markets in Ripple and that makes it possible to trade XRP without having to go to the trouble of setting up a special 'wallet'.
Cardano (ADA)
Cardano is a more recently issued crypto and is described by its founder Charles Hoskinson as a third-generation cryptocurrency. Even before getting into the granular detail of the coin's advantages, it's worth noting the incredible price action. Between March 2020 and August 2021, the price of ADA shot up by an eye-watering 8,490%.
Cardano Price Chart – 2019 – 2022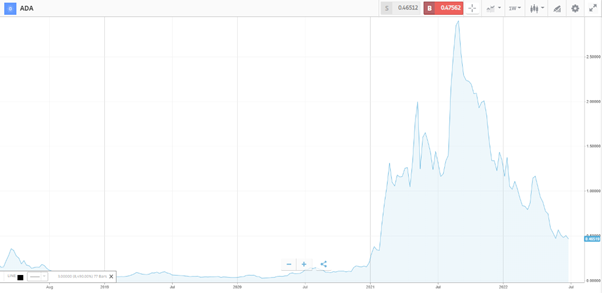 Source: eToro
A lot of the excitement about cardano is based on the token being particularly good at keeping the positive features of earlier issued coins but improving on some of their weaknesses. The platform's developers continue to put through system upgrades which provide opportunities for ADA to grab market share from its rivals. That makes moments of turmoil in the wider crypto markets a time to buy the dips.
Those looking to optimise trade entry points can track the progress of the different upgrades. For example, during June 2022, the cardano price suffered a fall when news broke that the Vasil program ,due to be rolled out in July, was confirmed as delayed. That took 7% off the price of ADA in one day — bad news for existing holders of the coin but an opportunity for new entrants with a long-term view.
Polkadot (DOT)
Polkadot came into the markets as recently as 2017 but already has a market cap of $7bn and holds position number 11 in the chart of cryptos ranked by size. Polkadot's founder is Gavin Wood, a previous member of the senior management team at Ethereum. His new venture has an edge over ETH and a lot of other coins due to DOT's ability to help different blockchains interact with each other.
Proof of Stake protocols allow polkadot to support fast and efficient processing of messages and transactions between different blockchain networks. That removes the time delays and costs incurred by using a third-party.
Polkadot Price Chart – 2020 – 2022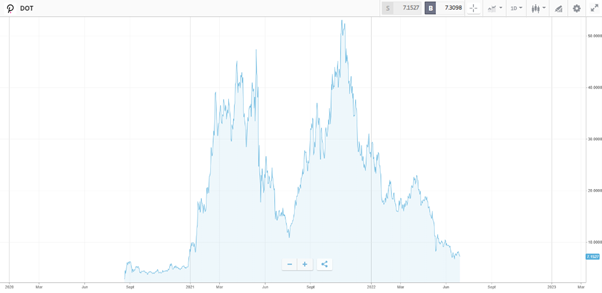 Source: eToro
Another impressive feature of polkadot is that it allows crypto staking. Those who see their DOT holding as a long-term investment can agree to tie it up for a period of time and in return receive further coins. This means DOT investors can receive a passive income on their position, similar to the interest paid on cash bank accounts. As of June 2022, the annual yield on polkadot staking was approximately 10%.
The Bottom Line
Each of the top five cryptos offers something different. Digital currency is an interesting world to explore and carrying out your own analysis and taking a position can be highly profitable.
However, some caution is needed. Even industry veterans find some of the price moves hard to explain and digital currency can be a risky investment. Applying the basic principles of risk management and using a trusted broker is a great first step towards making the most out of the sector.
People who read this also viewed: