The Halma plc (LON: HLMA) share price edged 2.04% higher after revealing that it had acquired FirePro, a leading designer and manufacturer of aerosol-based fire suppression systems, for €150 million (approx. £132 million) in cash.

---
YOUR CAPITAL IS AT RISK. 81% OF RETAIL CFD ACCOUNTS LOSE MONEY.
---
Investors cheered the acquisition, as evidenced by the slight rise in Halma's share price, but the reaction was not as big as expected. FirePro generated revenues worth €23.3 million (approx. £21 million) in the 12 months to 31 December 2022, which will now be added to Halma's topline.
Top Broker Recommendation
YOUR CAPITAL IS AT RISK. 68% OF RETAIL CFD ACCOUNTS LOSE MONEY
The fire suppressants manufacturer had a return on sales of more than double Halma's target range of 18-22%, which indicates that Halma can generate decent profits from the company. Halma intends to fund the acquisition from its existing cash reserves.
Finally, Halma intends to keep FirePro as an independent subsidiary within its Safety sector. The company will retain its current management team. Still, it will also benefit immensely from Halma's industry experience and resource access, which should help it grow its market share exponentially.
FirePro's fire suppressants are unique in that they use a non-pressurised condensed aerosol technology which does not contain ozone-depleting substances or fluorinated greenhouse gases and extinguishes fire without causing damage to the environment.
Andrew Williams, Halma's Group CEO, commented: "The acquisition of FirePro represents a valuable addition to our portfolio of fire detection and suppression solutions. Its technologies provide a sustainable alternative to established pressurised gas fire suppression solutions. There are strong opportunities for growth in its existing market niches, driven by higher regulatory standards, and the adoption of new technologies for renewable energy are creating new opportunities for growth. We are delighted to welcome FirePro to Halma and look forward to working with the team to expand FirePro's global impact."
Avgoustinos Avgousti, FirePro's Managing Director, said: "FirePro's success and growth has been built on creating fire safety solutions which protect people and the environment. By joining Halma, we gain access to new capabilities and collaborative opportunities with a global group of businesses which is aligned with FirePro's purpose of protecting human life."
*This is not investment advice.
The halma share price.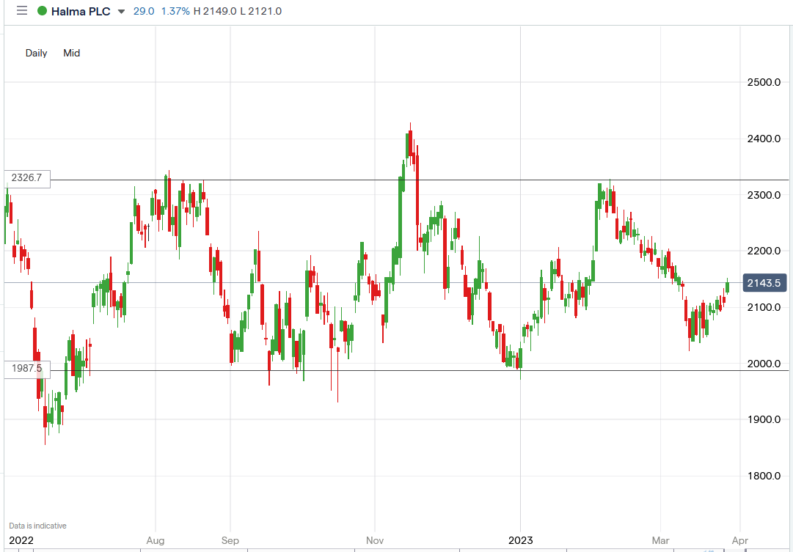 The Halma share price edged 2.04% higher to trade at 2152.0p, from Monday's closing price of 2109.0p.
---
YOUR CAPITAL IS AT RISK. 81% OF RETAIL CFD ACCOUNTS LOSE MONEY.
---