Key points:
88 Energy shares fell 5.65% despite listing on the US OTCQB market.
The move was part of an overdue pullback on the firm's daily chart.
Investors should always apply technical analysis when making decisions.
The 88 Energy Ltd (LON: 88E) share price fell 5.65% despite announcing that its shares had been accepted for trading on the US OTCQB Venture Market.

Instead of cheering the news, investors reacted negatively, pushing the company's share price lower in a surprise outcome.
Many of you wonder why the 88E share price fell despite the company specifying that it would not issue new shares to be traded in the US and that US investors would have access to the current shares trading in the UK and Australia.
A cursory look at the 88 Energy daily chart below is all the proof you need that today's move had nothing to do with the company's fundamentals and everything to do with its technicals.
88 Energy shares had rallied higher for the past four days and are up 40.65% over the past week. Therefore, the shares were long overdue for a pullback since they traded in overbought territory according to the RSI indicator for the past two days.
As we can see from the 88 Energy shares, in many cases, the technicals tend to trump the fundamentals given today's price action.
Traders could have also predicted the recent rally in 88 Energy shared after they broke above a crucial resistance zone, now turned support at the beginning of the year.
88 Energy will maintain its current listing on the Australian and London stock exchanges and is planning to apply for DTC eligibility from the Depository Trust Company (DTC). DTC eligibility will allow individual investors to trade the company's shares on self-managed platforms such as E-Trade and TD Ameritrade.
Ashley Gilbert, 88 Energy's Managing Director, commented: "The OTCQB quotation provides 88 Energy access to the world's largest investment market. Given 88 Energy's portfolio of oil and gas assets is focused solely on the North Slope of Alaska, it was an obvious next step to upgrade to the OTCQB market, especially given the strong trade in 88 Energy stock through the OTC pink sheets throughout 2021."
Adding:
"88 Energy is at an exciting stage with the anticipated spud of the Merlin-2 appraisal well in February 2022, as well as the significant activity planned across our portfolio in 2022, so we are excited to be broadening our exposure in the global investment community."
The oil and gas company revealed plans to actively engage with investors to help them understand its value proposition and growth prospects.
*This is not investment advice. Always do your due diligence before making investment decisions.
88 Energy share price.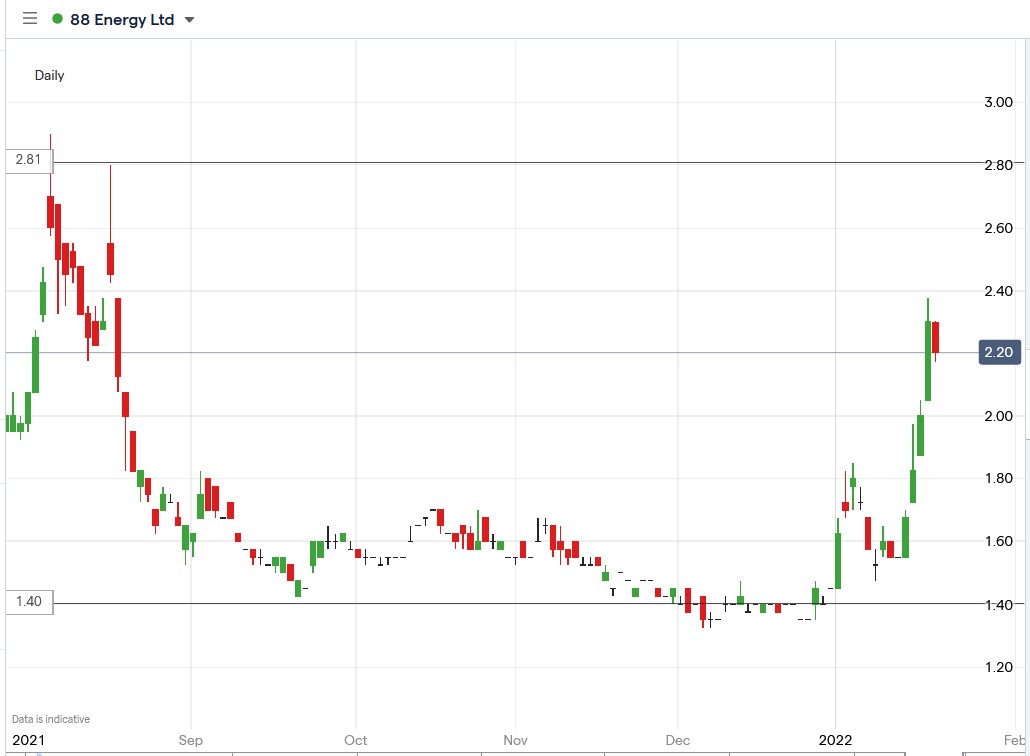 88 Energy shares fell 5.65% to trade at 2.17p, falling from Thursday's closing price of 2.30p.