Key points:
Boohoo shares plunged 18.2% despite its FY 2022 revenues surging.
The fashion company's annual loss triggered the decline.
Boohoo swung to a loss due to massive capital investments and rising costs.
Fast-fashion retailer Boohoo Group Plc (LON: BOO) shares plunged 18.2% despite the company reporting that its revenues for the 2022 financial year ended 28 February 2022 have surged 14% to reach £1.982 billion compared to 2021's £1.745 billion.

The market's negative reaction surprised many since the company recorded a gross profit of £1.041 billion, a 10% increase from last year's £945 million gross profits. However, its profit margins shrunk slightly to 52.5% from 54.2% in 2021.
The fashion retailer continued to grow its market share in the UK as it struggled with long shipping times for international orders. Boohoo grew its UK revenues by 27% as customers embraced its trendy fashion items at low prices, making them easily affordable to a large percentage of its target market.
The decline in Boohoo's share price was driven by its loss per share of 0.32p per share compared to last year's 7.25p profit per share. The loss was driven by Boohoo's massive capital expenditures worth £261.5 million as the company ended the year with £1.3 million in cash compared to £276 million in 2021.
Investors sold their Boohoo shares after its first annual loss in many years. Boohoo's profit before tax also plunged 94% to £7.8 million compared to 2021's £124.7 million.  It is these figures that triggered the decline in BOO shares.
John Lyttle, Boohoo Group's CEO, commented: "Over the past two years, we have significantly increased market share in our core geographies of the UK and the US, and we have grown active customer numbers by 43% across the group to 20 million. Our focus over the past two years has been on investing to build a strong platform, with the right infrastructure, supported by increased capacity to better serve our customers."
Boohoo expects to have a tough time during the 2022-2023 financial year as logistics costs remain high, but there is hope that the company can lower its costs further. The fashion eCommerce company opened two new distribution centres in the UK in Daventry and Wellingborough and is currently automating its Sheffield distribution centre.
The company is also planning to build a US distribution centre in 2023 that will streamline its US operations while reducing the long wait times associated with international orders. The firm has also relaunched some of the legacy brands it acquired after the pandemic struck in 2020such as Debenhams, Wallis, Dorothy Perkins and Burton brands.
Despite the current tough operating environment, boohoo's future looks promising as its supply chain investments start paying off in the coming years.
*This is not investment advice. Always do your due diligence before making investment decisions.
Boohoo share price.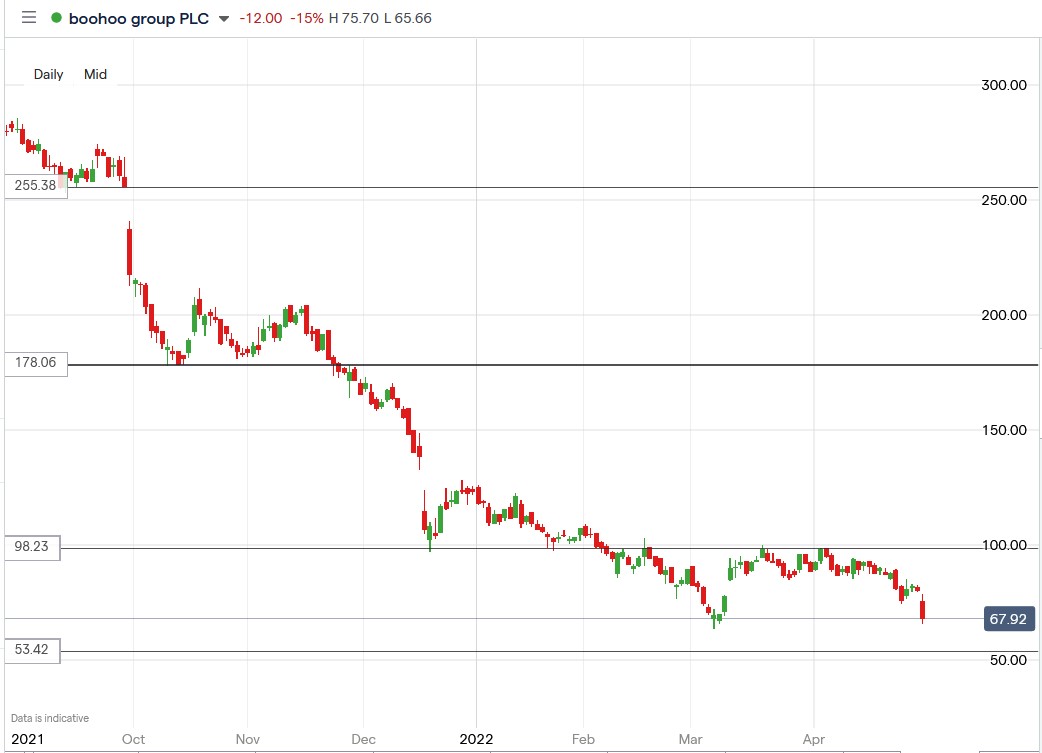 Boohoo shares plunged 18.17% to trade at 65.63p, falling from Tuesday's closing price of 80.20p.