Shares of Ceres Power Holdings plc (LON: CWR) dipped 6.2% today despite the company recently revealing that it expects to beat its operating income targets for the 18-months to December 31, 2021.
The company shifted the end of its financial year to December, which is why it is reporting 18-month figures instead of the standard 12-month statistics for a full year.
Ceres, which designs and licenses out fuel cell technologies to original equipment manufacturers, has an asset-light business model because it does not manufacture its fuel-cells.
Some analysts believe the stock is overvalued after rallying from 270p in January 2020 to 1624p in January 2021, a 501% gain.
Ceres Power shares recently rallied to a high of 1624p last hit in December 2009, followed by the current pullback as expected. However, the company's shares have traded above 4000p in the past, and we cannot rule out a rally to these levels.
The latest decline can be attributed to a pullback from the recent highs and fundamentally to fear that the company shall continue making losses into the future as it invests heavily to develop new marketable technologies.
Investor interest in green energy has been the main driver behind Ceres Power's recent rally. Still, some experts have argued strongly against hydrogen energy given created via processes powered by traditional energy sources.
The trend towards clean energy sources is likely unstoppable; Still, strong arguments favour changing our primary energy sources to generate the electricity that powers electric vehicles and the hydrogen that powers hydrogen cars.
Ceres Power is well-positioned to benefit from the growing demand for hydrogen-powered vehicles and equipment. Still, only time will tell whether the company shall keep making losses despite the recent revenues surge.
Ceres Power share price.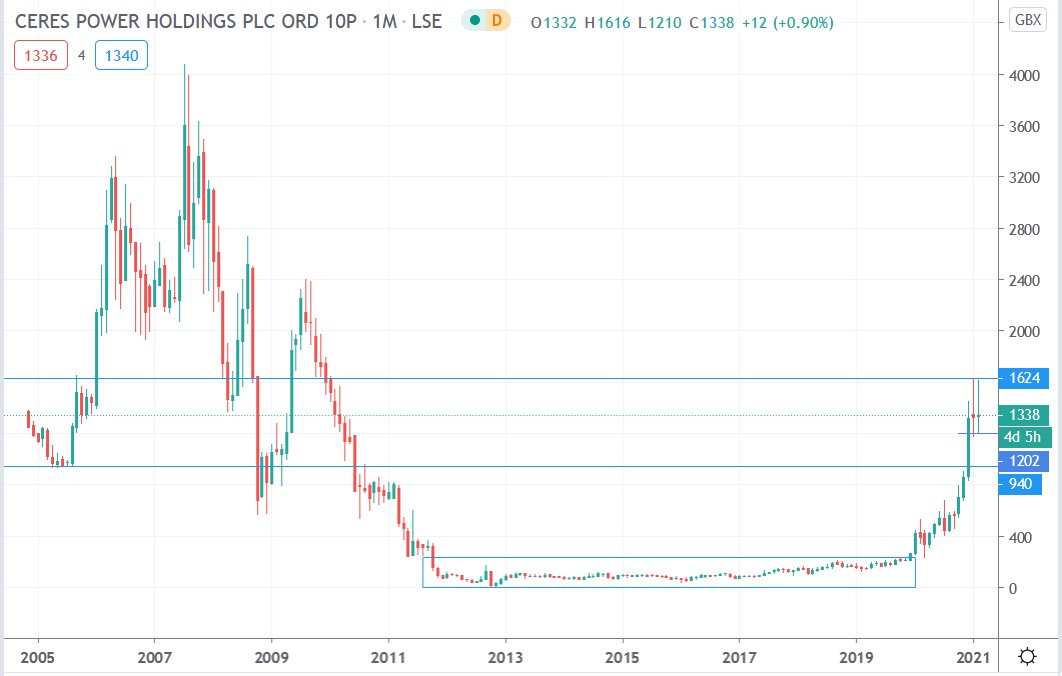 Ceres Power shares dipped 6.19% to trade at 1302p, falling from Friday's closing price of 1388p.