Shares of Amigo Holdings PLC (LON: AMGO) rallied 10.5%, extending a 4-day uptrend despite the lack of significant announcements from the guarantor lender. Here's what could happen next.
The last time we covered Amigo shares as after the company announced its new compensation scheme on January 25, 2021, which triggered a significant drop to levels above the 7.42p resistance level.
Amigo shares later broke below the level and traded sideways since then leading up to the current rally, which saw it break above the resistance level on Thursday and has been headed higher since then.

The lack of news from the company indicating that investors are accumulating bullish positions in the guarantor lender in anticipation of the firm's future positive information.
Regardless, the current rally is about to rally into some resistance near the 11p level. I'll be watching to see if the price breaks above this level, bringing the 15p resistance level into play and indicating future gains.
A positive announcement from the company would be a welcome fundamental trigger for the next rally stage; however, we will likely get some sideways trading at the current resistance level before a breakout ushers in a new rally.*
Demand for Amigo's loan products is likely to be higher if the company resumes lending activities given the impact of the coronavirus restrictions that have seen many people fall into unemployment in the UK and globally.
Therefore, investors should monitor the company for future announcements that could provide insights into where it is headed.
A negative announcement could see the stock reverse and head lower, invalidating the bullish case above, and we'll provide fresh analysis in such a scenario.
*this is not investment advice.
Amigo Loans share price.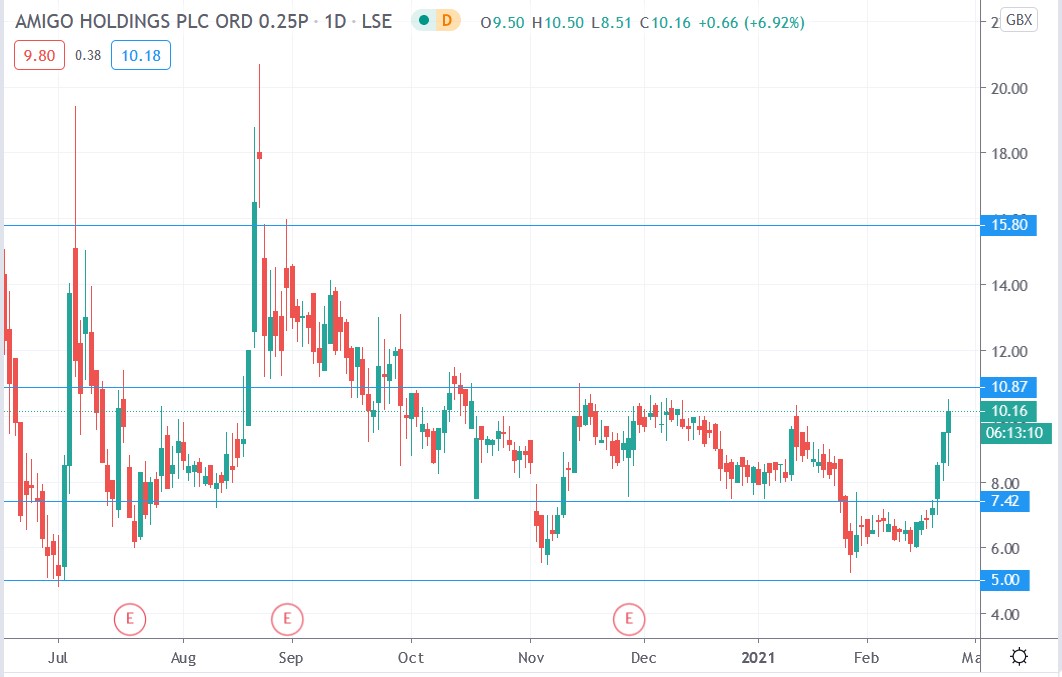 Amigo Loans shares edged 10.52% higher to trade at 10.50p rising from Friday's closing price of 9.50p.