Shares of Canadian Overseas Petroleum Limited (LON: COPL) are up 57% since January after the overseas oil company completed the acquisition of Atomic Oil & Gas LLC, which gives it access to oil-producing assets in the US.
The firm recently raised £14 million to strengthen its balance and reassure its creditors, given that it took on massive debt obligations to fund the acquisition of Atomic Oil & Gas, which was valued at $54 million.
COPL assumed Atomic Oil's debts worth $26 million and committed to $23 million in debt and cash payments to facilitate the transaction. The recent share placement was necessary to keep the company afloat.

The junior oil company also has a promising oil project in Nigeria. The firm is in the middle of talks to finalise an agreement with Essar Mauritius, which will allow it to operationalise the project.
COPL secured a $65 million loan from a US creditor to finalise the Atomic Oil acquisition, which was recently completed. The deal was hailed as being exceptional given the short-time in which it was reached.
The Atomic Oil acquisition will generate revenues for COPL with immediate effect given that its wells are currently operational. Unlike many other oil resources, Atomic Oil's wells have ana incline curve because their production is set to grow over the medium-term.
COPL shares are trading near a significant resistance level, as shown on the weekly chart below, and I'll be monitoring the chart to see if they will break above the level, signalling the beginning of a new rally phase.
The company has a lot going for it, which could fuel a future rally, especially if crude oil prices keep rising.
COPL share price.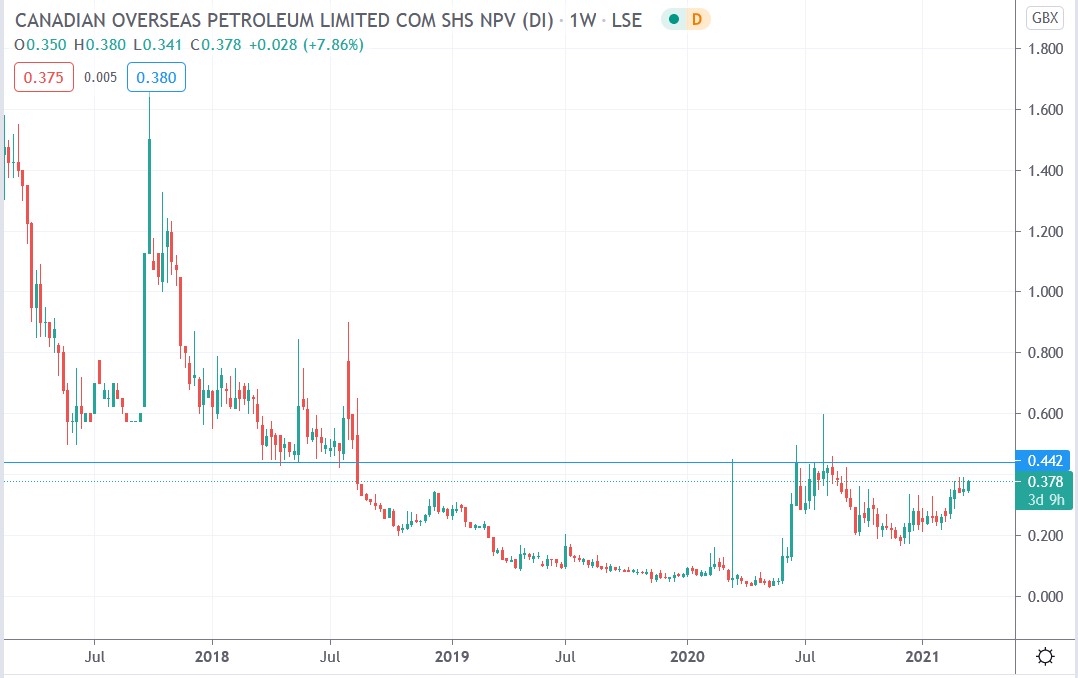 COPL shares rallied 10% higher to trade at 0.385p, having risen from Monday's closing price of 0.35p.
Should you invest in Canadian Overseas Petroleum (COPL) shares? One of the most frequently asked questions we get is, "what stocks are best to buy right now?" It's a wide-ranging question, but one that we have answered… Our AskTraders stock analysts regularly review the market and compile a list of which companies you should be adding to your portfolio, including short and longer-term positions. Here are the best stocks to buy right now…