Key points:
The Deepverge shares price plunged 11.4% on upbeat FY results.
However, investors ignored its positive milestones to focus on its loss.
So should you buy Deepverge shares? Read on to find out?.
The Deepverge PLC (LON: DVRG) share price plunged 11.4% despite reporting excellent financial results for 2021. The company's revenues surged 107% to £9.3 million compared to the £4.5 million recorded in 2020. The company's order book exceeded £10 million, but it could not deliver some items due to supply chain issues.

The vertically integrated business in the clinical research, artificial intelligence, medical device, water technologies and life science sectors revealed that its pretax losses fell 98% to £0.017 million from last year's £0.859 million, with its margins improving to 57% from 41%.
However, the company's operating losses surged 8% to 8% to £2.897 million compared to last year's £2.718 million, driven primarily by a 91% surge in administrative costs to £8.7 million from 2020's £4.6 million. Nevertheless, Deepverge ended the year in a robust financial position, having raised £10 million via a share placement and access to a £25 million mezzanine loan facility.
Investors focused on Deepverge's overall losses ignoring all the positive milestones achieved by the company in the past year and the first half of 2022. As a result, Deepverge shares have fallen 57% in 2022 despite rising demand for its products, including its Skin Trust Club, Labskin services and Modern Water division.
Some of the report's highlights included the £1.1 million strategic acquisition of Glanaco Engineering to minimise supply chain disruptions by Modern Water. In addition, the division expanded its collaboration agreement with Microsaic Systems via a manufacturing services framework.
Modern Water also partnered with multiple US cities to install its pathogen detection systems within their wastewater systems. Furthermore, the division also deployed its first Microtox®PD Pathogen Detection Systems in UK wastewater systems.
DVRG shares are now trading at new all-time lows, and nobody knows how far the shares could fall. Hence, I wouldn't buy Deepverge shares at current prices until a strong rebound suggests the downtrend is over.
*This is not investment advice. Always do your due diligence before making investment decisions.
Deepverge share price.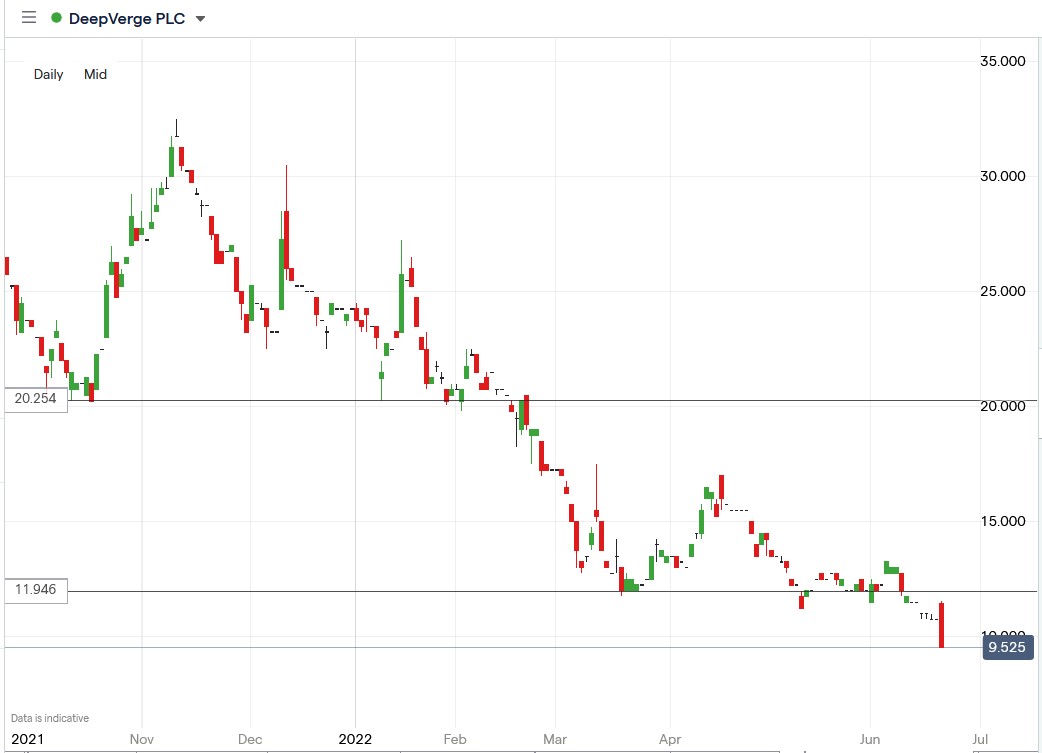 The Deepverge share price plunged 11.39% to trade at 9.525p, falling from Wednesday's closing price of 10.75p.