Key points:
ECR Minerals share spiked higher today on excellent gold drilling results.
Investors cheered the highest grade gold intercepts at Bailieston.
However, the firm is far from reaching commercial mining operations.
ECR Minerals PLC (LON: ECR) today revealed that it had encountered the highest grade gold intercepts at its Bailieston project in Australia, where it encountered 0.2m of 52.5 g/t Au at a depth of 126.3m.

Investors cheered the announcement from the initial drilling conducted within the Scoulers and Hard-Up Reef lines. The company drilled two holes known as BH3DD026 and BH3DD027, with the assay results from BH3DD027 being released today.
ECR Minerals owns 100% of the Bailieston project, which means that it is entitled to all the minerals uncovered at the site. The miner also has a new CEO called Andrew Haythorpe, who has the necessary experience to push it forward.
The mining company noted that the highest grade gold intercept was located within the Hard-Up Reef region. The excellent drill results left investors excited about the Bailieston project's prospects.
However, investors should remember that as a junior gold miner with projects located in Australia, the Philippines and Argentina, the company is yet to start production in all its license areas.
Therefore, the company has to keep raising capital to fund its operations until it can generate revenues from mining activities at its multiple projects. Until then, we have to judge the company by its cash run rate, which measures its losses against its cash holdings.
According to its annual report for the year ended 30 September 2021, ECR Minerals had a cash balance of £2,982,046 compared to its annual loss of £1,465,751, indicating that it could fund its operations for two years if it maintains its current losses.
The junior miner reduced its losses from 2,690,882 in 2020 to 1,465,751, which shows significant cost discipline. However, there are no guarantees that the firm shall continue slashing its losses given the intensive exploration it is currently engaged in.
Investors holding ECR Minerals shares are in for a long ride as the miner progresses its multiple projects towards commercialisation. The company has positive prospects, but investors should adjust their expectations around a realistic timeline.
Short term traders looking to trade ECR shares should know that its share price frequently oscillates between gains and losses, as shown in the daily chart below, making it difficult to trade the shares.
ECR Mineral share price.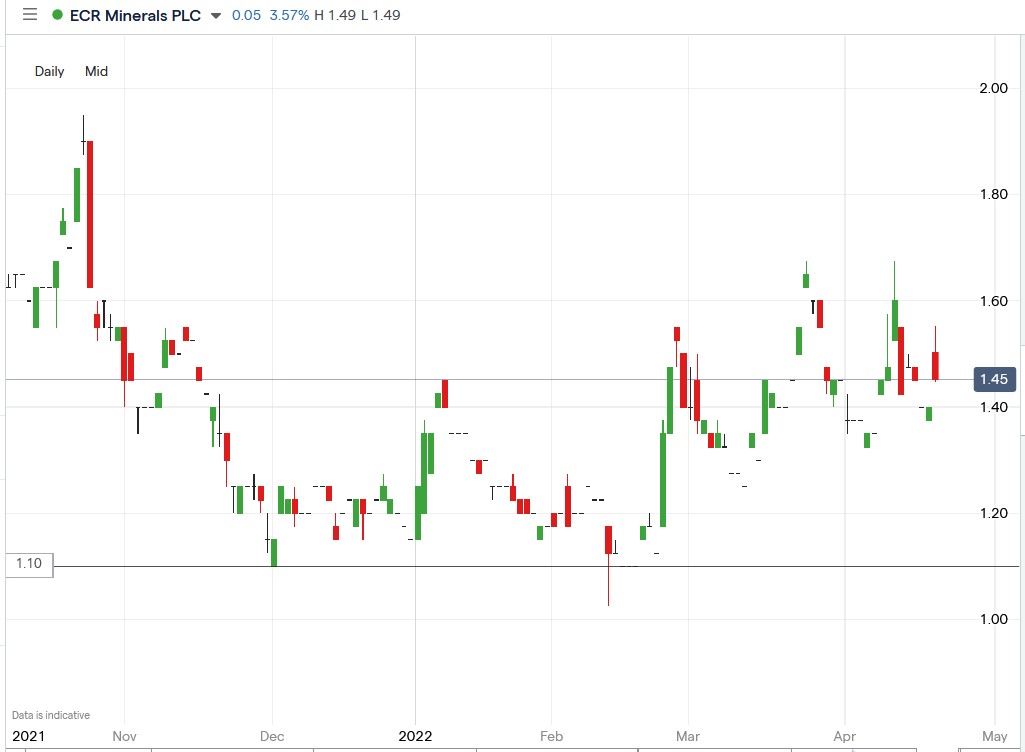 ECR Minerals shares have risen by 27.83% in 2022 and could be headed higher soon.