Key points:
NIO stock plunged 6.66% despite releasing upbeat Q2 financial results.
The EV manufacturer issued lower guidance for Q3 triggering the decline.
Investors remain wary of the Chinese government's Zero-COVID policy.
The Nio Inc – ADR (NYSE: NIO) stock price plunged 6.66% despite the company generating revenues worth $1.43 billion, beating analysts' estimates of $1.4 billion. The electric vehicle manufacturer delivered 25,059 vehicles in Q2, representing a 14.4% increase from last year's figures.

Nio delivered 9,914 ES6s, 3,681 ES8s,  6,749 ET7s, and 4,715 EC6s. The company expects to gather significant momentum in Q3 by delivering over 31,00 vehicles, led by its first mid-large five-seater smart electric SUV, the ES7, which has become a favourite among consumers.
Also read: The Best Electric Car Stocks To Buy.
Investors remain concerned about the rolling lockdowns in China, which have affected other EV manufacturers, including Li Auto and Xpeng, which registered lower vehicle deliveries in August as the lockdowns affected their production activities.
NIO started delivering its ES7 SUV at scale in August and expects to continue scaling up production over the next few months amid surging orders for the luxury smart electric SUV. In addition, as it expands its product portfolio, the EV company expects to start mass production and delivery of its ET% mid-size smart electric sedan later this month.
William Bin Li, the founder, chairman and CEO of NIO, said: "We delivered 25,059 vehicles in the second quarter of 2022, representing a growth of 14.4% year-over-year despite the COVID-19-related challenges. With the teams' concerted efforts, our deliveries started to recover and achieved 10,052 and 10,677 units in July and August, respectively."
NIO told investors that it expected to generate revenues of between $1.92 billion and $2.03 billion during the third quarter, much lower than analysts' initial estimates of $2.32 billion in sales. The company also expects to deliver 31,000-33,000 vehicles in Q3, a 26.8%-35% increase in deliveries compared to Q3 2021.
Therefore, today's premarket decline in Nio's stock price can be attributed to negative investor sentiment, given that the most crucial figures met analysts' expectations except for the company's Q3 forecasts.
NIO is looking to leverage its established brand reputation in China and other markets to continue growing its sales and launching into new markets.
*This is not investment advice.
NIO stock price.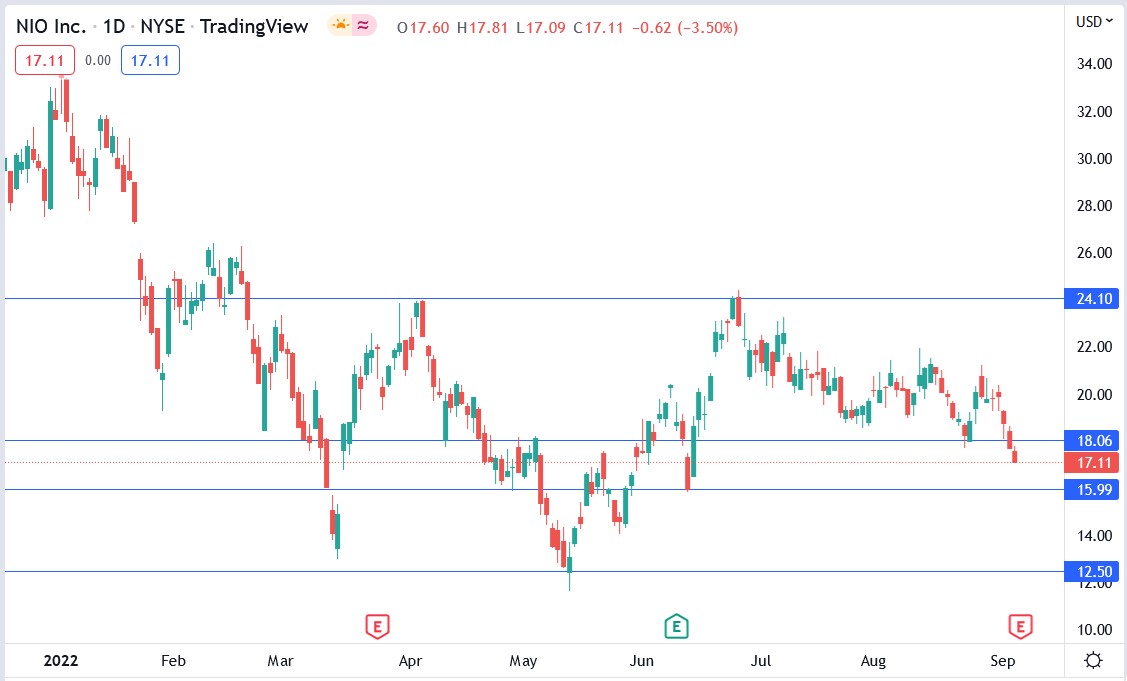 NIO stock price plunged 6.66% premarket to trade at $15.97, falling from Tuesday's closing price of $17.11.