Key points:
Tortilla shares are down almost 25% in 2022
However, there are positive signs for the fast-casual restaurant chain
Consumer demand trends look favourable
Tortilla Mexican Grill (LON: MEX), the UK-based fast-casual Mexican restaurant, announced Tuesday that it will report interim results for the period ended July 3, 2022, on October 3.

Tortilla's shares are down almost 25% so far this year, impacted by inflation-related spending worries and overall economic uncertainty.
Even so, the company, which began trading on London's AIM market on October 8, 2021, posted record results for the year ended January 2, 2022, back in April. Revenue rose 79.5% to a record £48.1 million.
Furthermore, a first-half trading update released in July revealed group revenue increased 60% compared to the first half of 2021, and the company ended July 3 with £3.1 million in net cash. Tortilla sold 3.2 million burritos in the first half, while its presence in London was boosted by the £2.75 million acquisition of Chilango in May.
While there was a jump in its share price since that update, Tortilla shares have been on the slide recently, and while we have an idea of what the company's interim report will look like, the question now is, what current consumer trends indicate:
Inflation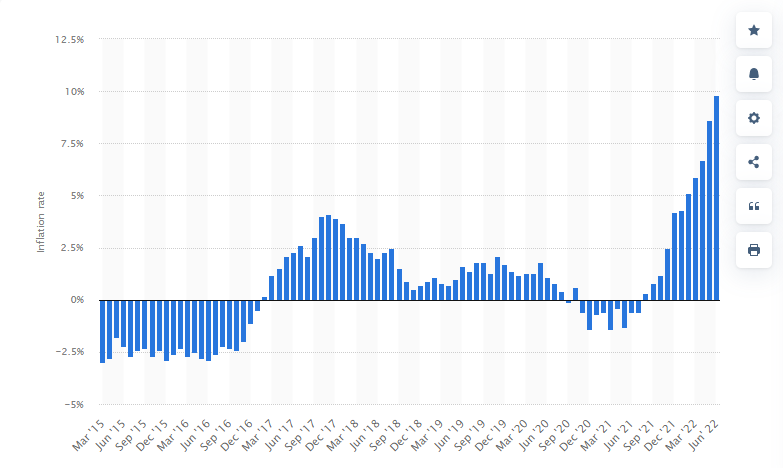 Also Read: Biggest Winners From Late Q2 Earnings Season – What Do They Tell Us About The Markets?
We all know inflation is soaring, with energy being the primary driver of that inflation. UK food inflation hit a high of 12,6% in July, while Tortilla said cost inflation had been more pronounced towards the end of the first half, with headwinds likely to persist.
In addition, surging prices impact consumer spending and behaviours, with people usually spending less on eating out. However, it's not as straightforward as that, with Gordon Haskett analyst Jeff Farmer revealing that US fast food restaurants during recessions or economic downturns remained resilient.
Furthermore, in the UK, a study from Lumina Intelligence shows the eating out market in the UK is rising in 2022, although inflation has had an impact, with a 2% rise in consumers making price-led decisions.
Rival Chipotle raised prices in August, so it will be interesting to see if Tortilla decides on a price hike to offset cost inflation. However, in April, following rises earlier in the year, the company said it had "no intention" of further increases unless "the situation gets out of control."
Search Trends Above Pre-Pandemic Levels

Google search trends for the Tortilla restaurant, which I keep an eye on as a sign of increasing or waning demand, are moving positively, now well above pre-pandemic levels, adding further reason to be optimistic ahead of the company's interim report.
Web Traffic Rising
It is challenging to judge order volume based on the company's web traffic, as deliveries are routed through companies such as Deliveroo, Uber Eats, and Just Eat. However, the multi-platform delivery option has provided Tortilla with more visibility to consumers.
Regardless, a rise in traffic to Tortilla's website can only be a favourable indication of demand trends, if not wholly accurate. According to Semrush data, consumers visiting the restaurant chain's site are just below all-time highs at 107,000.
Bottom Line
It's tough not to draw a direct comparison with Tortilla's rival Chipotle Mexican Grill (listed in New York). Chipotle is down 6% in 2022, performing relatively well in recent months. In addition, it topped profit expectations when it reported second-quarter earnings in July, adding further fuel to the expectations of positive interim results for Tortilla.
Given current consumer trends, Tortilla currently looks to be in a good position, and its expansion plans remain on track. However, cost inflation and inflation overall provide near-term pressure.