Key points:
The Paxos crypto barrel moved despite the latest developments.
The crypto is a stablecoin. It is not supposed to move far from its peg.
While Paxos Lost Revolut as a client, it has won other clients.
The Paxos crypto price barely moves daily despite multiple announcements that affect the Paxos ecosystem, including its crypto exchange and settlement services. Much of the recent bubble around Paxos revolves around the decision by Revolut to drop its crypto exchange services in favour of Apex crypto.

Paxos was the first crypto firm licensed by the Department of Financial Services of New York in 2015 to provide crypto products and services within the United States. Since then, the company has launched a stablecoin and a gold-backed digital token.
Also read: The Most Recession-Proof Cryptocurrencies.
The company has worked with the US Securities and Exchange Commission (SEC) to launch a blockchain settlement service for US-equity transactions, which went live in February 2020, after which it launched a crypto brokerage and signed Revolut as its first client.
Revolut announced in early August that it was dropping Paxos as its crypto brokerage service provider in favour of Apex Crypto. Still, the change was effected in September, creating the recent conversations about Paxos.
However, since signing Revolut as its first client, it has signed large financial services companies like PayPal to its brokerage service. In addition, all the crypto products and services launched by PayPal were built off Paxos services.
PayPal has reported a significant interest and uptake of its crypto services, including the ability to buy, hold and sell cryptocurrencies, and the checkout with PayPal function. The two companies recently reiterated their commitment to working together on more crypto features, products and services.
Brazil payment app PicPay recently launched a new crypto exchange service using Paxos technology, allowing users to trade Bitcoin, Ethereum, and USDP, which is Paxos' stablecoin.
The PicPay app has over 30 million active users, representing a significant addressable market for the company in the Latin American country.
*This is not investment advice.
Paxos crypto price today.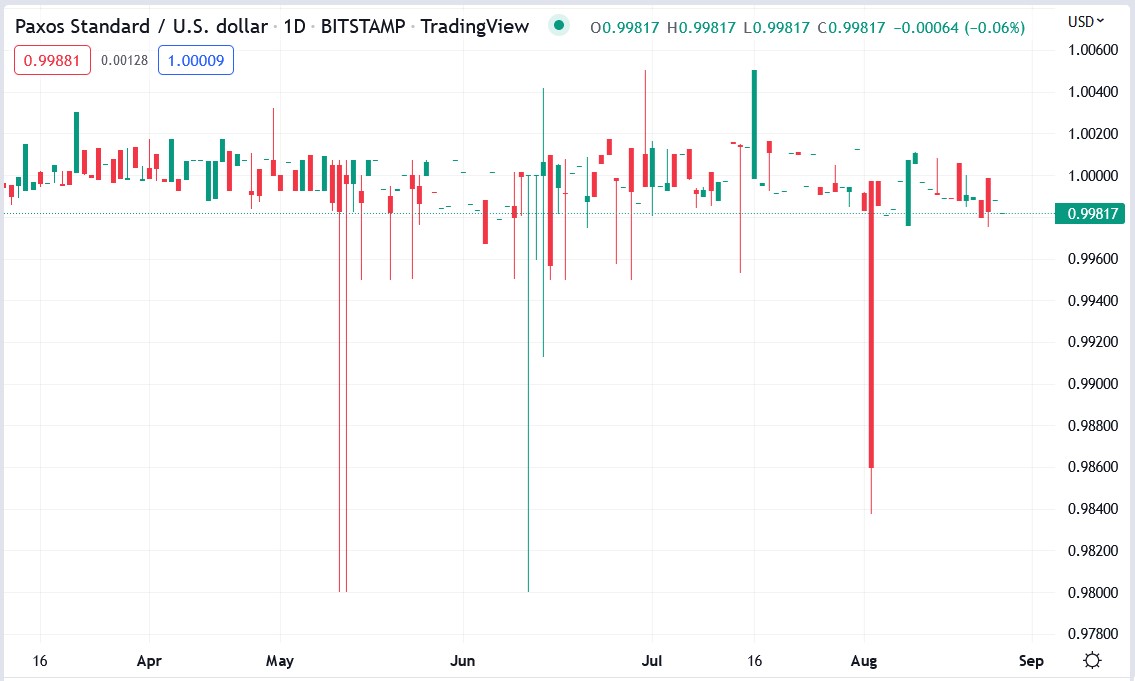 The Paxos crypto price was largely unmoved by recent events because it is a stablecoin.