Key points:
Nvidia stock plunged 4.53% as the US government restricted chip sales.
US chip manufacturers were issued the new licensing requirements.
Such orders will keep coming amid tensions between China and the US.
The NVIDIA Corporation (NASDAQ: NVDA) stock price plunged 4.53% after the US government ordered the company to stop selling some semiconductor chips in China and Russia. The request is in line with the government's policy of restricting crucial technology landing in the hands of its political and military adversaries, China and Russia.

The chip manufacturer noted that the US government had issued a new directive regarding the licensing requirements for chips sold to Chinese businesses in mainland China and Hong Kong, which could land in the hands of the Chinese military, posing a significant threat to the country.
Also read: The Best Tech Stocks To Buy Right Now.
Nvidia noted that the new licensing requirements would affect its A100 and H100 chips, which it sells to businesses, including those based in China and Hong Kong.
In its filing to the US Securities and Exchange Commission (SEC), Nvidia states: "The license requirement also includes any future Nvidia integrated circuit achieving both peak performance and chip-to-chip I/O performance equal to or greater than thresholds that are roughly equivalent to the A100, as well as any system that includes those circuits."
Nvidia estimates that it will lose approximately $400 million in revenue during the current quarter affecting its initial revenue target of $5.9 billion. The new rules issued by the government also apply to customers based in Russia, but the chip manufacturer does not have any clients in the country.
The company said it has applied for a license from the US government to supply replacement products to its Chinese customers to fulfil their current and planned purchases. Other chip manufacturers, such as AMD, have also received similar licensing requirements from the US government, which affect some of their products.
The latest move comes as no surprise since the US and Chinese governments have been engaged in a bitter geopolitical and trade war since when former President Donald Trump was in office, with tensions accelerating in recent weeks as Us officials visit Taiwan, which hosts the largest chip manufacturer in the world Taiwan Semiconductors.
Investors in tech companies will have to get used to such orders from the US government as tensions remain high between the two countries fighting for global supremacy.
*This is not investment advice.
Nvidia stock price chart.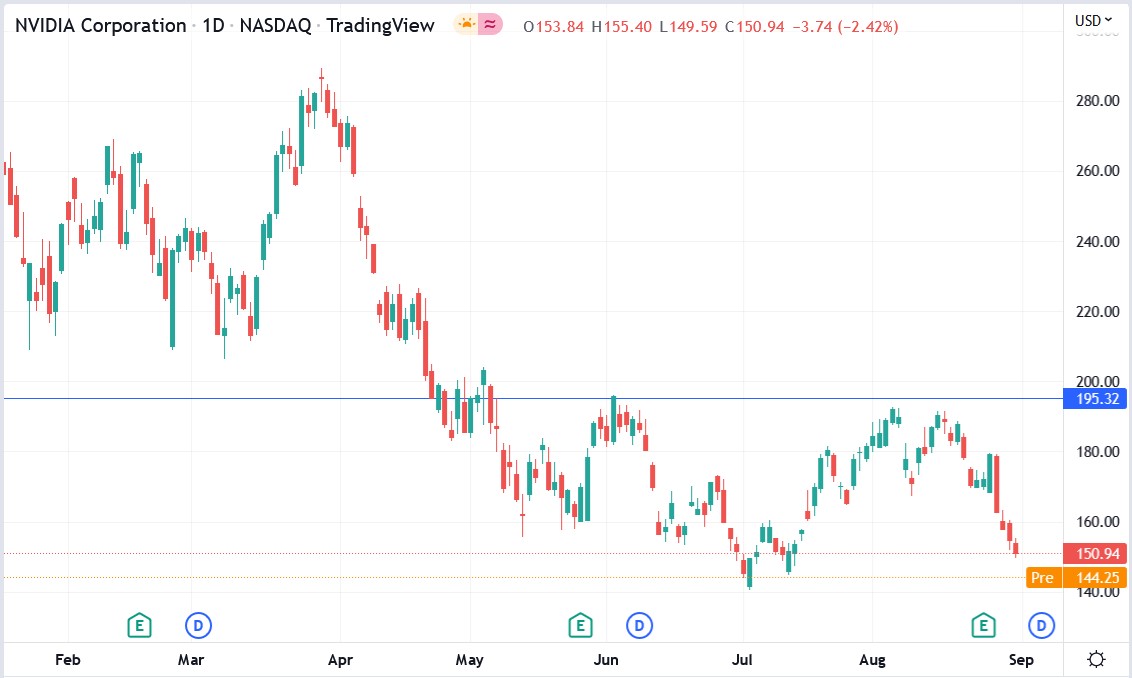 The Nvidia stock price was trading down 4.53% at $144.05, falling from Wednesday's closing price of $150.94.