Key points:
Loop Media upgrades from OTC to NYSEAmerican
The LPTV stock price falls 60% at the same time
Recall our distinction between nominal and real prices? That's important here
Loop Media (OTC: LPTV) and (NYSEAmerican: LPTV) has just upgraded from the OTC markets to the NYSEAmerican exchange. In the process it has seen its LPTV stock price fall by 60.35%. Which is impressive as a failure if that's all that is going on. That isn't all that's going on of course, there's more to it than just the upgrade of exchange.
Loop Media itself operates a multichannel digital video platform. It's possible to think of it as a little like a Spotify for music videos, rather than the music track itself. There are also other lines of video on the platform but one of the big issues is that the music, backing those music videos, is properly licenced.
We might think that this is a substantially interesting business to be in at present and there is that excitement to it. Not huge and vast excitement, to be fair, but the LPTV stock price is up 33% over the past 12 months.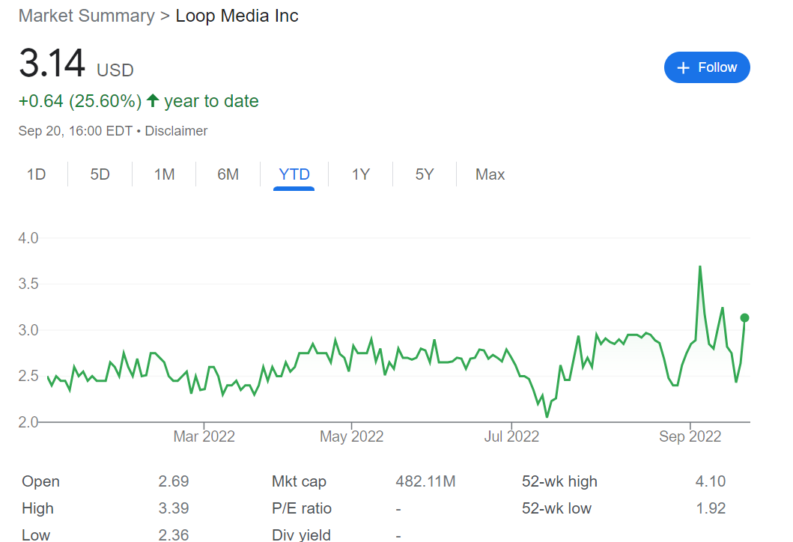 Also Read: The Best Video Game Stocks To Buy
In fact, business is so good that LPTV stock is being upgraded from the over the counter markets to the NYSE American – that's the portion of the NYSE which is for smaller, possibly growth, stocks. A little like the AIM section in London. The thing which needs explaining is, of course, why the Loop Media stock is down 60% on such an upgrade. Moving up to a better market, with more liquidity and the ability to raise capital should increase, not reduce, a stock price after all.
One part of the answer is that Loop did just that, raised more capital as part of the move. They issued more shares to take advantage of that greater ability to raise capital. But it's not that which led to the stock price fall.
Instead it's our old friend the stock split. Loop was trading at around the $7.92 to $8 level. As a part of the move to NYSEAmerican they also had a 3 for 1 stock split. It's not obvious why this was done as this is just fashion, but it was. So, given that there are now 3 pieces of stock where there was before only 1 we would expect the price to be down by 66%. That it has only fallen by 60% tells us that there's been a real price rise here. As ever, we must make sure we distinguish between real price changes and nominal ones.
As to why such a stock split that's a bit of a puzzler. The senior American markets (NYSE and NASDAQ) don't like penny stocks, feeling that a price under $1 is the province of slightly dodgy companies and promoters. But it's also true that the fashion goes that a solid and dependable stock is in the $10 to $100 price range. So, quite why anyone would do a stock split to more a price from just under $10 to not that far above $1 is anyone's guess. Loop Media must think it's worth it but quite why isn't immediately obvious.