Key points:
Velocys' share price plunged 16.6% on interim half-year results.
The firm's recorded a massive decline in revenues due to zero deliveries.
However, the company is set to benefit from recent government regulations.
The Velocys PLC (LON: VLS) share price plunged 16.6% after releasing the interim results for the year's first half. Investors reacted negatively to news that the company generated revenues worth £48,000, marking a significant decline from the £8.2 million recorded last year.

The sustainable fuels technology company noted that the revenues were generated from engineering consulting services in feasibility studies. The difference between H1 2022 and H1 2021 is that last year's revenues were generated from the delivery of reactors and catalysts to its first US commercial client.
Also read: Five Best Green Energy Stocks – 2022.
Velocys recorded a loss before taxes of £5.7 million compared to last year's £2.2 million loss, which was boosted by a £3.3 million gross profit. The company had net assets worth £24.4 million as of 30 June 2022.
The sustainable fuels technology company had significant cash reserves of £18.8 million as of 30 June 2022, a drop from the £25.5 million it had on 31 December 2021. The company witnessed cash outflows of £6.8 million during the six months, an increase from last year's £4.8 million cash outflows.
Velocys used some of the cash to invest in a new technical facility in Ohio and to make a deposit for purchasing manufacturing equipment worth £1.1 million. In addition, the company highlighted the sustainable aviation fuel laws passed by countries such as the UK and the US, which could massively benefit its business.
The company is aligned with government policies on sustainable aviation fuels and could benefit immensely from the push to reduce the aviation industry's carbon footprint. The firm has also partnered with TOYO to advance biomass to SAF (BtL) and power to SAF (PtL) solutions for the energy transition in Japan, which continues to date.
Velocys has noticed increased enquiries about its technology and solutions due to the government's push towards sustainable aviation fuels.
So, should you buy Velocys shares? The short answer is maybe. The shares could be an excellent investment for long-term investors who want to hold them for many years to profit from the above trends.
*This is not investment advice.
Velcoys share price.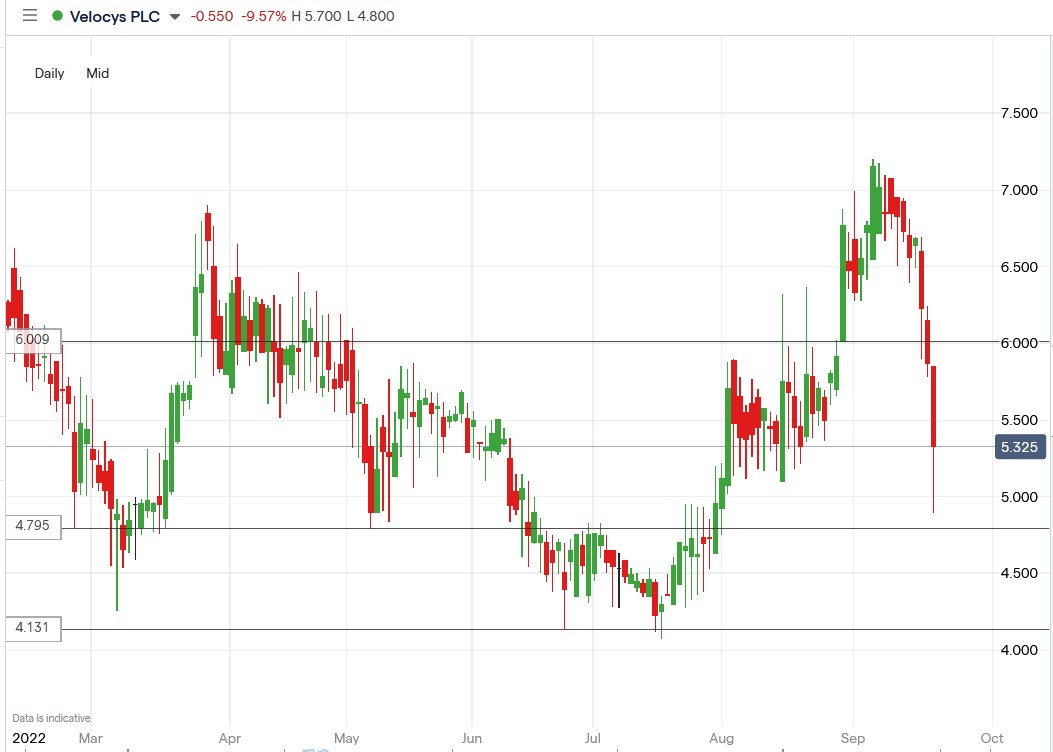 The Velcosys share price plunged 16.64% to trade at 4.893p, falling from Tuesday's closing price of 5.870p.