Key points:
Ince Group is doing a capital raise at a near 60% discount
The Arden Partners purchase might not have been so wise
But what does any recovery look like from here?
Ince Group (LON: INCE) shares have dropped 52% at pixel time as they announce a placing and capital raising – one possible interpretation of which is that buying Arden Partners was a really, really, bad idea. But then we've said that before and it's possible that we'll need to say it again. That the placing is at near a 60% discount to the prevailing price also shows that there's a certain urgency to this capital raise. Dilution to this extent is rather frowned upon unless it's really, really, necessary.

Ince Group is a professional services firm working across Europe, the Middle East and Africa. We tend not to expect this sort of volatility from services firms so it's necessary to try to understand what has happened. Part of this is covid, so they say. Another part is that Hong Kong business has been doing great, but actually collecting the cash is proving difficult. That's not a great sign of course. There was also a cyberattack on the computer systems as they migrated.
In their trading update back in May Ince Group did say that profits were going to fall – rightly, as they would be able to see that by then. But effectively this is a rescue capital issue. As they say
"Without the Fund-raising the Group will face financial difficulties and the Company will need to look to alternative sources of funding in the short term, which may not be readily available or so advantageous to the Group or its Shareholders." Effectively, we may or may not be able to borrow at very high rates but we really need the cash so, here's the 60% discounted rights issue.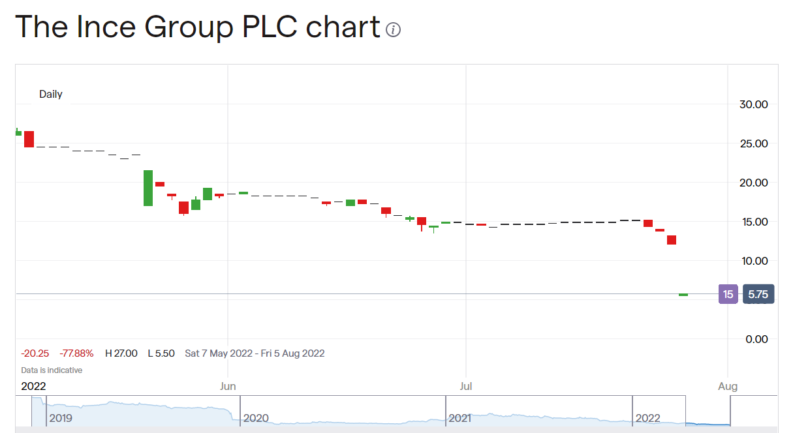 Also Read: The Best Financial Stocks To Buy Right Now
In one sense we could just commiserate with the management for they do seem to have hit a significant number of outside problems. But as we've noted before it's often what is only gently mentioned in a corporate release that really matters. Lots of talk about this and that then a sentence or two on the real underlying. Which could be the case here "The Arden business has achieved good client retention among its broking clients following the loss of its ability to act as a Nominated Adviser and has achieved new client wins for fund raising activity. Reflecting the general broking market, it has had a quieter than expected period in the first half of 2022 but a strong pipeline for autumn 2022 fundraisings is being built."
They bought Arden which then promptly – as a result of being bought as well – lost its ability to be a Nominated Advisor. That's just not a good look – a bunch of lawyers and professional services folk buying a business without realising that the very purchase will lead to the loss of the main and major licence. There's that follow on about how trade has been thin but really will get better. Hmm, yeah, OK.
Ince Group is – at that near 60% discount – conducting a rescue rights issue. Whether to support it or not, well, what do we actually think of the skills of the management here?