Key points:
Sareum's share price surged 14.9% on the operations update.
The firm updated investors on its SDC-1801 and 1802 drug molecules.
So, should you buy Sareum shares? Read on to find out.
The Sareum Holdings Plc (LON: SAR) share price surged 10% higher after announcing that it had applied to the UK Medicines and Healthcare Products Regulatory Agency (MHRA) to start phase 1 clinical trials of its SDC-1801 drug candidate.

The company has submitted a Clinical Trial Authorisation (CTA) to the MHRA as it prepares to begin a Phase 1a/b clinical trial to assess its safety profile and dosing targets as a treatment for autoimmune diseases such as psoriasis.
Also read: Five Best Pharmaceutical Stocks To Watch In 2022.
Sareum noted that it had completed all the relevant pre-clinical work before submitting the CTA. In addition, the company noted that TYK2/JAK1 inhibitors had demonstrated effectiveness in maintaining a healthy immune system.
Investors cheered that Sareum was also making progress on its SDC-1802 cancer drug candidate, undergoing translation studies to define the optimal cancer application before moving on to the toxicology and manufacturing studies.
Sareum was granted a new European patent protecting the molecule in April 2022, giving it ample time to keep working on it until the drug is ready for clinical trials. Furthermore, the biotech company had a healthy cash position at the end of June to fund its operations.
The firm reminded investors that GlaxoSmithKline Plc had acquired Sierra Oncology in July 2022 and was waiting for feedback from GSK about their plans for the SRA737, a novel Chk1 inhibitor licensed to Sierra.
Investors were pleased by the operational update issued by Sareum, as evidenced by the rally in Sareum shares. However, the shares had given up a significant portion of their gains at writing.
So, should you buy Sareum shares? The answer depends on your investment objectives. I wouldn't buy Sareum shares due to the uncertainty it faces since the MHRA has to approve its CTA for SDC-1801 to progress to clinical trials.
Still, there are no guarantees that SDC-1801 and SDC-1802 will complete the clinical trial phase and become commercialised. There are too many unknowns with Sareum for me. However, the situation might be very different for seasoned biotech investors.
*This is not investment advice. Always do your due diligence before making investment decisions.
Sareum share price.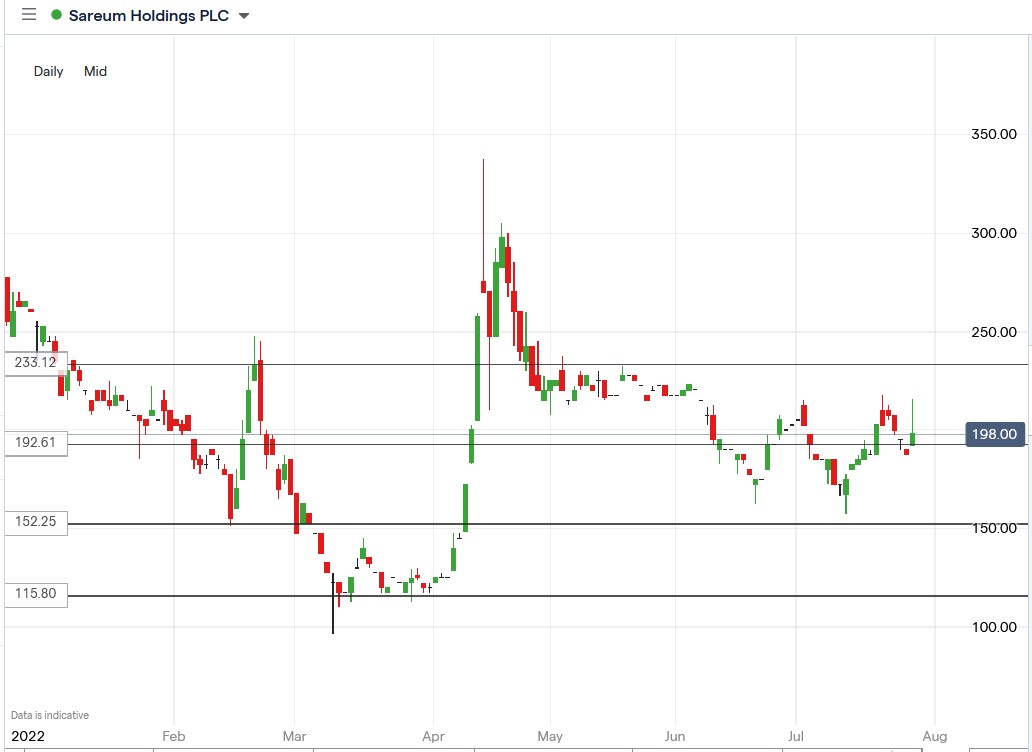 The Sareum share price surged 14.93% to trade at 215.50p, rising from Wednesday's closing price of 187.50p.