Shares of IQE plc (OON: IQE) have edged higher over the past few days as buyers stepped in and pushed prices higher, but could it be a bit late for the company's shares to rebound.

Taiwan Semiconductor Manufacturing Company (TSMC) recently announced that it would boost the production of microchips for the global auto industry, which has suffered from a massive chip shortage for most of 2021.
Could the increased production by companies such as TSMC hurt IQE's share price, given that the two are competitors?
Well, the short answer is yes, TSMC's high production will boost the global supply of microchips significantly, given that the company accounts for over half of all microchips produced globally.
TSMC's higher production will fill the massive supply gaps in the automotive industry and will see car manufacturers up their production, given that today's cars use thousands of chips compared to their predecessors.
However, industry experts warn that we should hold off celebrating the latest announcements as the smartphone industry could be hit next by massive chip shortages as semiconductor manufacturers focus on the auto industry.
Some of the top experts warn that the global chip shortage is likely to last up to Q2 2022, where the market shall achieve an equilibrium, where the demand and supply of microchips will be equally matched.
Therefore, IQE has at most one year to make hay while the sun shines. Therefore, the company should focus on upping its chip production and bringing its margin closer to industry averages to make its stock attractive to investors.
Meanwhile, aggressive traders and investors may find IQE's current prices quite attractive, given that the shares are trading above a support level. However, a break below the support level would invalidate the bullish thesis.
*This is not investments advice.
IQE share price.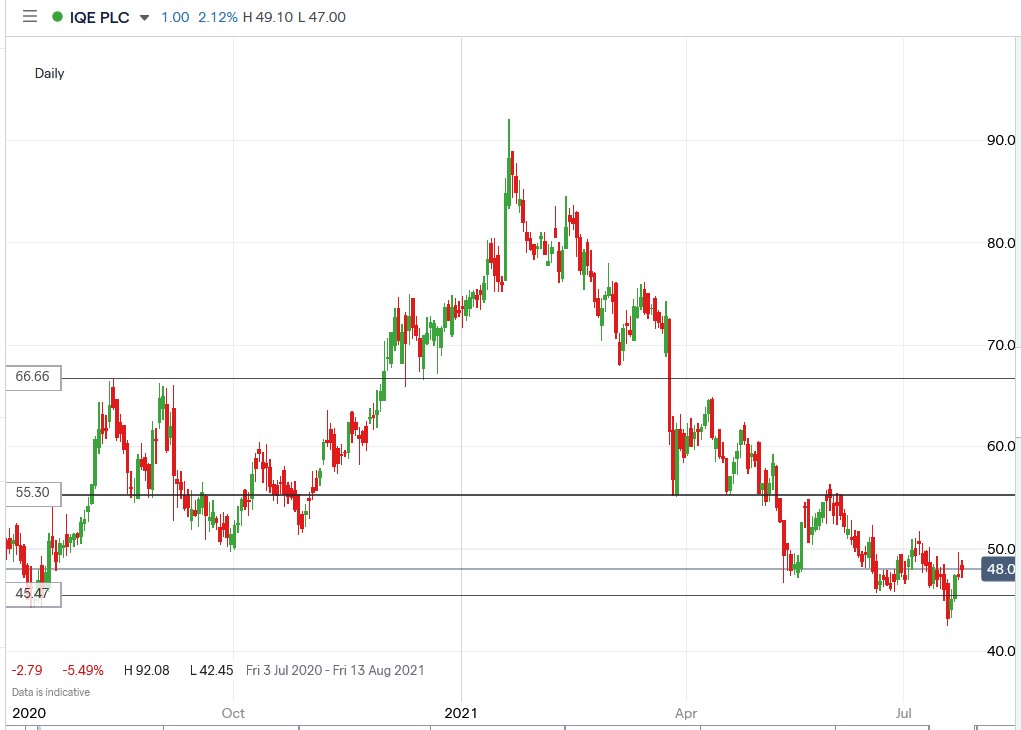 IQE shares have recently bounced back from a crucial support level. Could they head higher?