Key points:
IQE shares rallied 6.1% after announcing its third partnership this month.
The semiconductor manufacturer has inked multiple lucrative deals.
In addition, the firm's current CEO is executing a turnaround strategy.
The IQE plc (LON: IQE) share price edged 6.1% higher after signing a multi-year strategic agreement with a leading global consumer electronics company. The multi-year volume supply contract with the consumer electronics firm based in Asia will commence immediately.

The two companies also agreed that IQE would produce high volumes of VCSELs for advanced 3D Sensing applications for use by the electronics company. The two firms also agreed to research and develop next-generation sensing technologies and their use cases jointly.
Also read: The Best UK Tech Stocks To Buy Right Now.
Today's agreement was the third strategic partnership signed by IQE this month as the manufacturer of semiconductor wafers works hard to catch up to its peers who have been ahead of it for a while.
IQE signed a strategic collaboration agreement with SK siltron on 10 October 2022 to develop and commercialise compound semiconductor products. SK siltron is a renowned pioneer of next-generation semiconductor devices using world-class technologies.
The agreement formalised the two companies' partnership to target businesses in the Asian market by combining IQE's industry-leading epitaxy capabilities and SK siltron's significant substrate expertise.
The two firms agreed to develop innovative epiwafers based upon Gallium Nitride (GaN) on Silicon Carbide (SiC) for radio frequency uses in the wireless communications market. The firms also agreed to develop GaN on Silicon (Si) for power electronics applications used in various markets. The markets combined value in the billions of dollars.
IQE further partnered with MICLEDI Microdisplays to focus on the large-scale commercialisation of microLED technology. MICLEDI is a fabless semiconductor design company working on unique, high-performance microLED displays for augmented reality (AR) products.
The agreement allows IQE to supply MICLEDI with a 200mm (8-inch) platform to scale and commercialise its proprietary technologies to attain high-volume production of red microLEDs.
IQE has often been cited for having much lower margins than its global peers, which have much higher margins, but the recent spate of deals could allow the company to grow its future revenues and margins.
The dealmaking is part of Americo Lemos' strategy to turn around the company and make it more competitive against its peers. IQE shares have been trading extremely volatile this year but are still up 12.88% YTD.
*This is not investment advice.
IQE share price.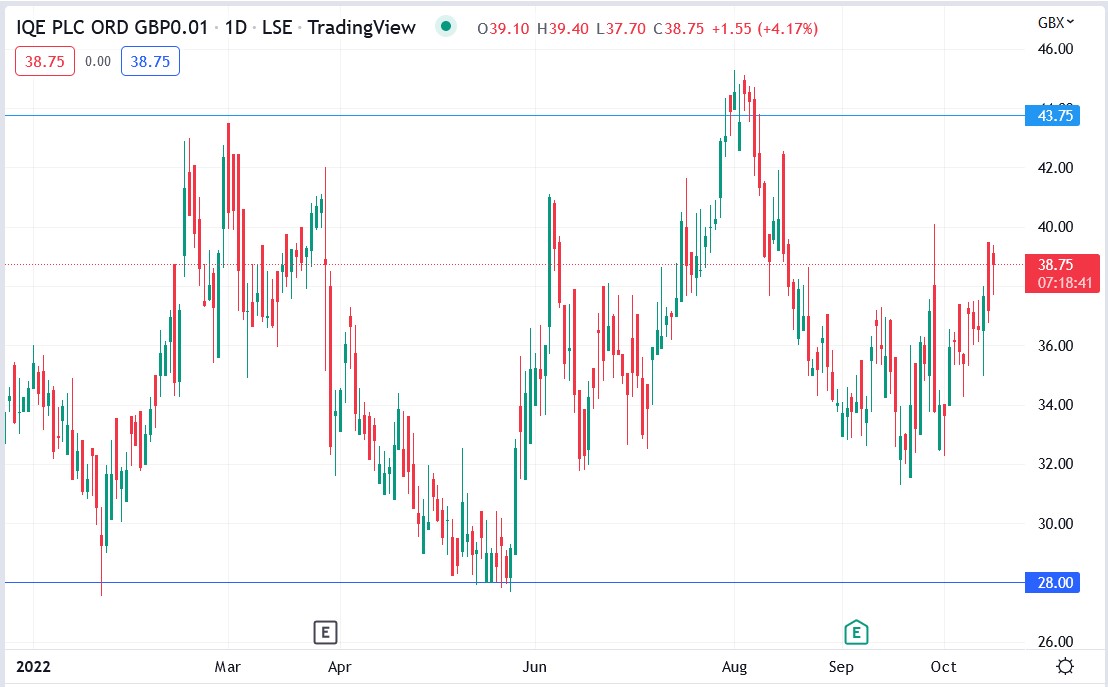 The IQE share price edged 6.08% higher to trade at 39.46p, rising from Friday's closing price of 37.20.