Key points:
Bottoming Phase Extends for DOGE
Dogecoin upside Risks
Downside Threat
Based on the Doge meme, which features a Shiba Inu dog, the meme coin Dogecoin (DOGE), made a short-term bullish statement in early October and then last week signalled a bearish rejection. This positive price action has reinforced the intermediate-term bottoming effort that has been evolving since mid-June. The asymmetric risk for October and year-end is still for a more vigorous rally. A break below supports, however, could set up for a more significant bearish extension.

Bottoming Phase Extends
Since our last analysis on Dogecoin, the meme coin has managed to sprint higher to pop just above the latter September peak at 0.0668 to 0.0669 and then has seen a gradual grind back lower into the wider, consolidation range.
Whilst pushing back lower, the market did briefly spike below the September trough at 0.0559 down to 0.0551 last Thursday, 13 September, through the release of the US CPI data. This sell off and rebound produced a bullish Dragonfly Doji candlestick on the daily chart, a significant short-term downside rejection and favour further upside into the second half of October.
In addition, the DOGE market has been able to defend the tentative basing/ support trend line that runs across from the June bear market low. Not only have these October bullish signals and bearish rejections bolstered the short-term positive outlook, but they have also added to the technical analysis narrative of an intermediate-term basing pattern. This longer-term bottoming phase during the consolidation since the June low was posted points to more positive price action into year-end too.
Also Read: Top 10 Crypto Investors To Follow On Twitter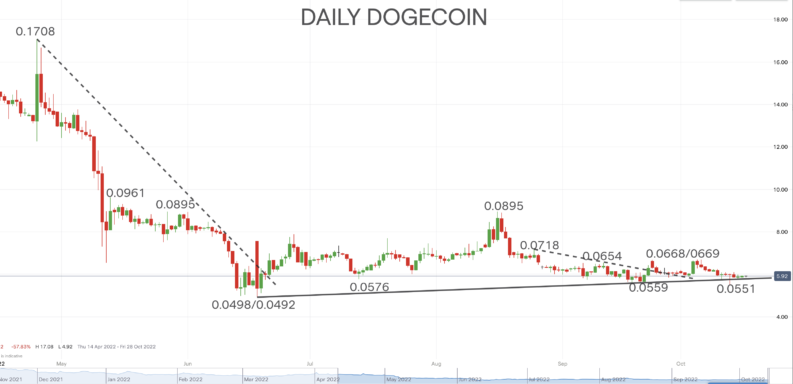 Upside Risks
Given the above-mentioned short- and intermediate-term positive outlooks for Dogecoin, we see the skewed risk for October and then on into year-end to the upside.
For the second half of October, we see the threat to the topside, targeting the September/ October swing peaks at 0.0668/0669, then 0.0718.
Beyond month-end and given a break above .0668/0669 and 0.0718 would open risk still higher for dual failure peaks from August and May at 0.0895 and possibly up to another May chart resistance at 0.0961, even the psychological 0.1000 level.
Downside Threat
However, a more negative technical and chart setup would develop for DOGE on a sustained break below the 0.0559/0551 supports. Through here would open the threat for a challenge to May bear market lows at 0.0498/0.0492. A notable surrender here would renew bigger bear forces from the bear market and target a more significant sell off, possibly closer to 0.4000, even 0.3155.