Key points:
The IQE share price plunged 13.8% after releasing its 2021 results.
The company achieved significant milestones during the past year.
Investors expect the new CEO to change the firm's fortunes soon.
The IQE plc (LON: IQE) share price plunged by 13.8% after the British semiconductor manufacturer revealed that its revenues for the 2021 year had fallen 13% to £154.1 million compared to the £178.0 million generated in 2021.

The company's earnings fell to £18.7 million compared to £30.1 million registered in 2020, representing a 38% decline. The firm's losses surged to £20.0 million versus 2020's £5.5 million loss.
IQE made significant progress in consolidating its US MBE production at its North Carolina site, which is larger and more scalable than its Pennsylvania site, which is scheduled to close in 2024.
The semiconductor wafer manufacturer revealed that it would close its Singapore facility in mid-2022, resulting in an annual cost savings of £4.8 million. The company also revealed that it had signed a long-term collaboration agreement with GlobalFoundries® in Q4 2021.
The two companies agreed to work on crucial GaN on Si technologies for mobile and wireless infrastructure applications. IQE also revealed that it had signed a multi-year strategic partnership with a leading semiconductor foundry to develop epi wafers for Asian 5G small cells.
IQE also expanded its VCSEL portfolio with its turnkey IQVCSEL™ product line, with the company already making its first deliveries to multiple customers.
The company noted that its IQDN-VCSEL™ technology for advanced sensing applications had achieved significant reliability and power milestones at longer wavelengths on 150 mm GaAs substrates. As a result, the technology can be used in future LiDAR technologies.
The firm had scaled its VCSEL on Ge technology (IQGeVCSEL) to 200 mm, allowing the entire industry to take a step forward in supporting the adoption of 3D sensing technology.
Americo Lemos, IQE's Chief Executive Officer, said: "In my first few months, I have been very impressed by the quality of IQE's people, technology and customers. As the only global outsourced epitaxy provider and a leader in our field, IQE is uniquely placed to capitalise on major technological trends while navigating a challenging external environment."
Adding:
"To secure this growth, we must first build a commercial engine that is orientated to our end markets, focused on our customers and aligned with our technology innovation. My vision is to grow IQE through multiple strategic and long-term customer relationships. We will be developing this strategy more fully during 2022, and I look forward to communicating further in due course."
Investors were happy to hear from the company's new CEO, who said he would keep developing new strategic relationships with customers.
IQE shares have risen by 19.83% in 2022, and many are hoping that they will keep rising under the leadership of the new CEO.
*This is not investment advice. Always do your due diligence before making investment decisions.
IQE share price.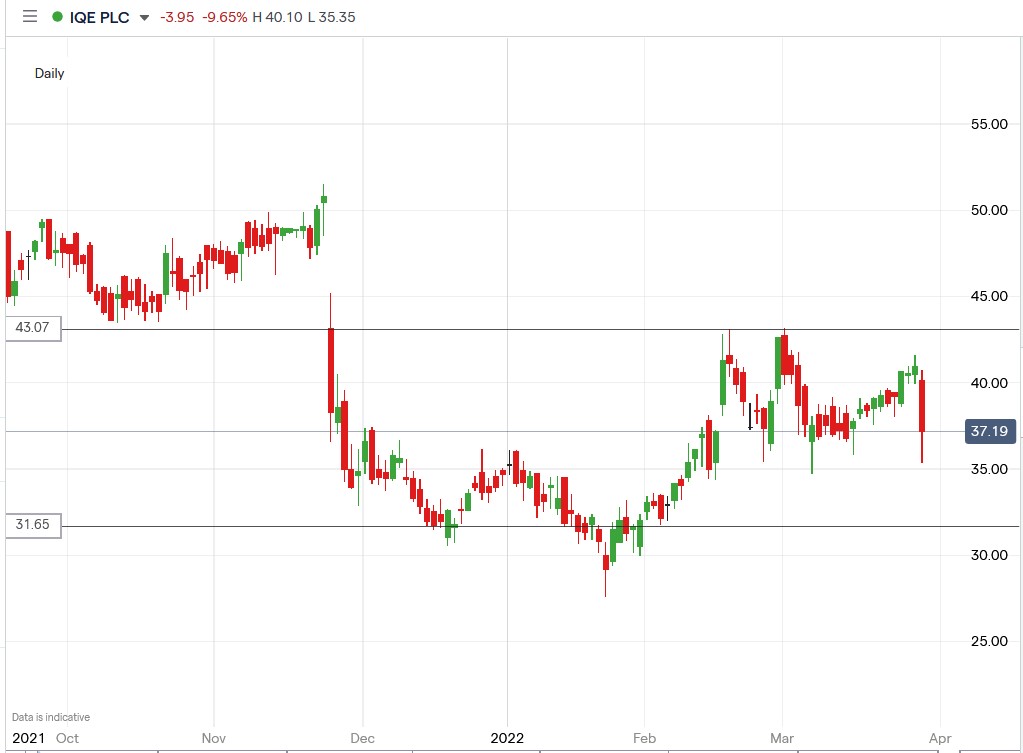 The IQE share price plunged 13.77% to trade at 35.31p, falling from Monday's closing price of 40.95p.