The ITV plc (LON: ITV) share price plunged 5.88% on Q 2023 update after revealing that its total external revenues were down 7% to £776 million in 2023 from £834 million in 2022 during the first three months of the year ended 31 March 2023. 
---
YOUR CAPITAL IS AT RISK. 81% OF RETAIL CFD ACCOUNTS LOSE MONEY.
---
The total revenues earned by iTV Studios remained flat at £457 million compared to £458 million in 2022 while including the benefits from changes in the foreign exchange rate. The company expects most content to be delivered in the year's second half.
Top Broker Recommendation
YOUR CAPITAL IS AT RISK. 68% OF RETAIL CFD ACCOUNTS LOSE MONEY
ITV Studios delivered many new and returning programmes as it strives to reposition itself as the media outlet of choice. For example, Nolly was a new show for ITVX, Big Beasts for AppleTV+, Django for Sky, and Queer Eye for Netflix.
ITV's Media & Entertainment (M&E) division generated revenues worth £495 million, representing a decline of 9% from 2022's £545 million. The company's Total Advertising Revenue (TAR) was down 10%, as expected but was much better than the overall performance of the TV industry.
Carolyn McCall, ITV's Chief Executive, said: "ITV continued to make significant strategic progress in the quarter, and all parts of the business performed in line with expectations. ITVX has sustained its strong launch, with a 49% increase in streaming hours and a 29% growth in digital revenue in the quarter. Exclusives, such as Nolly and The Twelve, attracted new viewers, 80% of whom went on to explore other content on ITVX. In addition, live simulcast viewing of our biggest shows and sports events, including Love Island and the FA Cup, attracted large streaming audiences."
Furthermore, ITV's digital advertising revenues were up 30% to reach £87 million compared to a similar period last year. Total M&E non-advertising revenues during the period were flat as the expected decline in SDN revenue offset it.
ITV Studios continues to demonstrate significant strategic momentum. With a strong pipeline of content and committed revenues, it is on track to deliver mid-single-digit revenue growth over the entire year ahead of expectations.
ITV shares still fell despite the upbeat Q1 figures and promising prospects due to the muted investor sentiment.
*This is not investment advice.
ITV share price.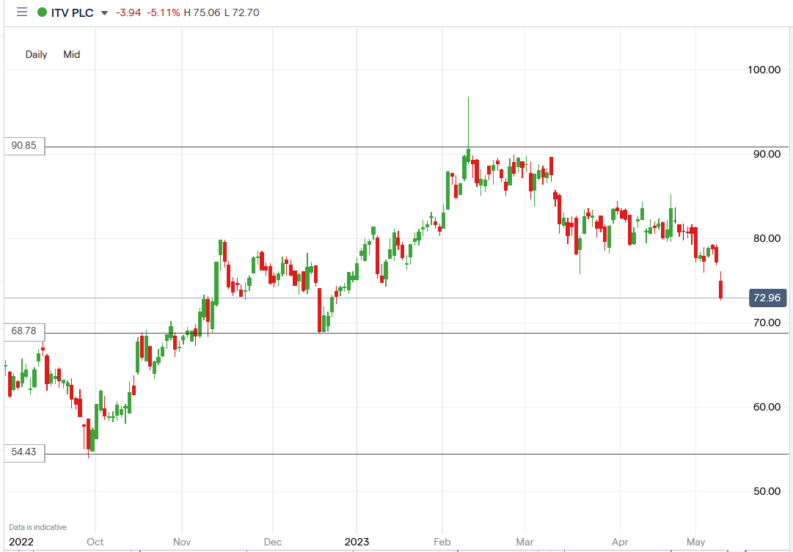 The iTV share price plunged 5.88% to trade at 72.64p, from Wednesday's closing price of 77.18p.
---
YOUR CAPITAL IS AT RISK. 81% OF RETAIL CFD ACCOUNTS LOSE MONEY.
---