Key points:
Lamprell shares are suspended
As we surmised before, they might go to zero
Or there could be an offer for the company
Lamprell (LON: LAM) shares are suspended this morning on the basis that they cannot complete the audit in time for the listing rules. One way of looking at this is simply that it'll take a little more time to get the accounting sorted out. Another is that this is a major problem which cannot be immediately solved. That is, that the auditors aren't worried about the sums, but about the going concern basis.
As we've pointed out before Lamprell shares have problems. Essentially, they don't have enough working capital – and the system is called capitalism for a reason. That being that you've got to have sufficient capital to be able to work in the marketplace. If you don't, if you've not got enough to cover bills as they become due, then you're not allowed to continue trading – not just on a stock exchange but as a company.
There is a possible bid in the air for Lamprell and given the strictures about how bids may or may not proceed then if one does appear then it will be at – slightly – above the current market price. That though makes it most uncertain as to whether such a bid will in fact arrive.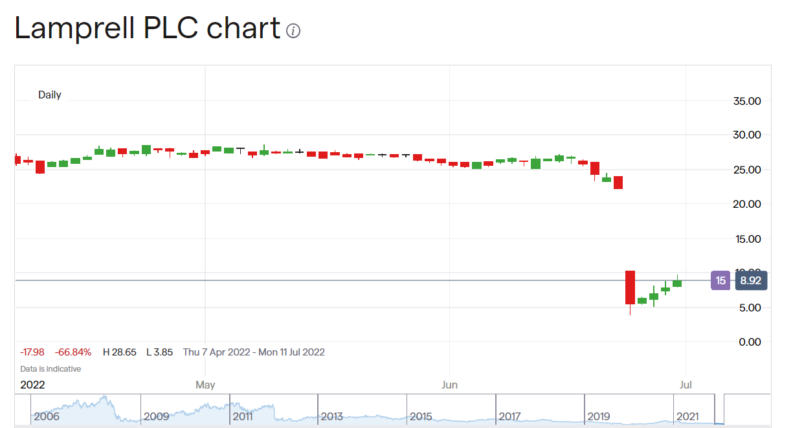 The underlying problem here for Lamprell shares is that the company is in the oil rig and offshore wind turbine business – supplying rigs and foundations and so on through its shipyard. This is what is known as a "lumpy" business. Tens of millions must be spent to get a contract or project to the stage where a payment is due from the customer. That's received, tens of millions, then on to building the next stage, another large payment and so on. This requires substantial working capital of course. Lamprell's base problem is that it simply doesn't have enough working capital. To the point that a recent announcement indicated they couldn't complete a contract to a payments stage and were therefore rather stuck.
One possibility is to borrow more but no one seems to want to lend that. Another is a takeover of the company with the new owner providing more capital. There is the possibility of this, as an announcement today says. " if Sami Al Angari or Al Gihaz Holding Company make an offer for Lamprell, they are required to offer a price of not less than 8.5 pence per share in cash in accordance with Rule 11.1 of the Code, being the highest price paid in the 12 month period prior to being named as a potential offeror." You must bid at least the highest price you've paid in the last 12 months.
But which is cheaper? To buy the business, contracts, debts and all? Or to await administration and buy out only the pieces desired leaving the debt behind? That's the calculation any bidder must make. And it's not obvious which way this goes either.
As to the suspension over the audit, without more working capital Lamprell possibly isn't within the definition of a "going concern". So it's probable – only probable – that the auditors are refusing to sign off for this reason, not because the sums don't work. A return to a listing will therefore only happen when there's a resolution of the capital question and thus the accounts can be signed off.