Key points:
The Energy Transfer (ET) stock price has fallen 18.1% from its June highs.
The stock is currently trading above a support zone and could head higher.
Should you buy ET stock? Read on to find out.
The Energy Transfer LP Unit (NYSE: ET) stock price has fallen 18.1% from June 8, 2022, amid a pullback in energy prices. ET stock is now trading at a crucial support level that has held firm in the past. So, is now an excellent time to buy ET stock?

The short answer is yes. From a technical analysis perspective, ET stock is a buy given that the $9.78 to $10.20 support zone has been respected, and the stock could head higher at any time. However, investors who buy at current levels should be ready to close their trades if ET stock drops below the $9.78 support and keeps falling.
Looking at fundamental factors, the summer peak oil demand season is here. However, while oil demand rises during summer, demand for gas tends to fall since many people do not need gas to heat their homes and offices, unlike in winter.
Therefore, while Energy Transfer LP has maintained its ambitious revenue targets for 2022, some analysts are now questioning whether the firm shall meet its targets as the summer season approaches.
Analysts predicting ET will meet its revenue targets base their argument on the higher gas production in the Permian basin as producers ramp up production as the US seeks to be entirely energy independent.
As I have argued in other articles, we will likely approach a period of stagnation in both oil and gas prices, albeit at the current high prices, as demand and supply reach a precarious balance. As a result, I do not foresee natural gas prices surging past their recent highs, especially since the summer season has begun.
However, we could get a spike in natural gas prices as summer ends and the autumn season begins. However, I think we could still get a rally higher from current prices, but not enough to print new all-time highs.
*This is not investment advice. Always do your due diligence before making investment decisions.
ET stock price.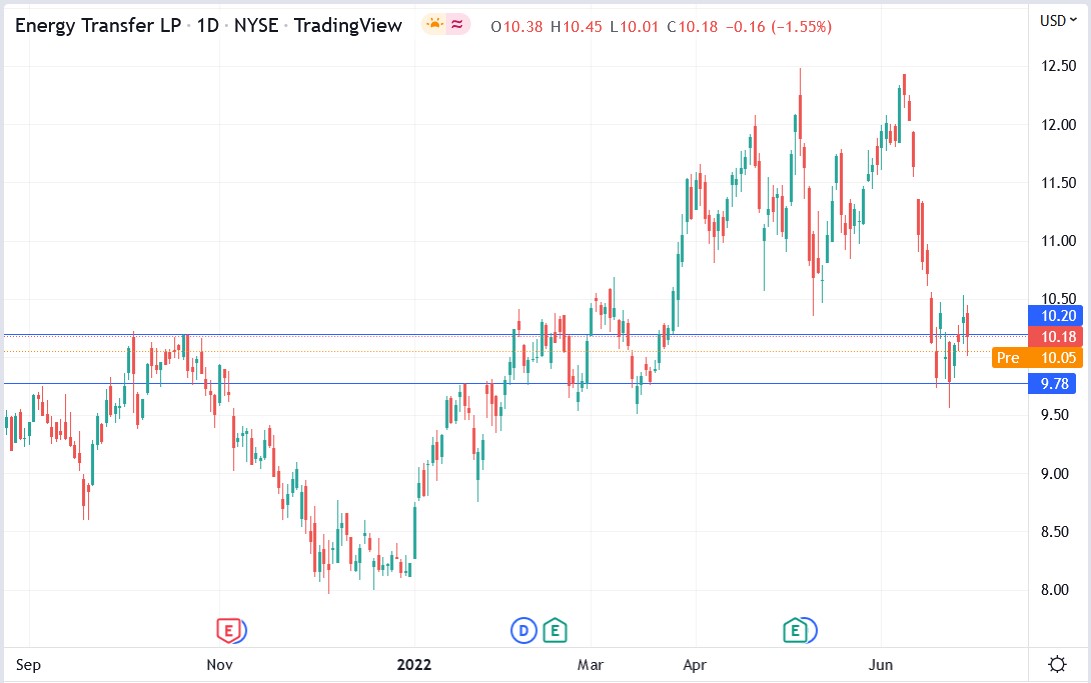 The ET stock price has fallen 18.10% from its June high of $12.43 to its current price of $10.18.