Key points:
The LHC Group stock rallied 11.2% on the $5.4bn United Health takeover offer.
The company will be acquired by Optum Health, one of United's subsidiaries.
Investors cheered the deal, but it still has to get shareholder approval.
The LHC Group, Inc. (NASDAQ: LHCG) stock price rallied by 11.2% after the quality in-home health care services provider accepted a takeover offer from Optum Health, a division of United Healthcare, valuing its shares at $170 apiece.

The deal is worth $5.4 billion and will allow Optum Health to offer LHC Group's high-quality in-home healthcare services to its over 4 million value-based clients to ensure that they get the best quality of care from the comfort of their homes.
LHC Group has 30,000 employees who provide over 12 million interventions to patients all across the country from the comfort of their homes and will be joining the Optum Group's current employees as part of the enlarged company.
The services provided by the LHC Group include home and community care, primary care, virtual care, ambulatory surgery and behavioral health. The group's quality of care scores ranks over one-third higher than industry standards.
Investors were happy to hear that the Optum Group would be retaining LHC Group's management going forward. Still, it is unclear whether this is a temporary move or a permanent one, given that Optum now owns the LHC Group.
Dr Wyatt Decker, Optum Health's CEO, said: "LHC Group's sophisticated care coordination capabilities and its warm, human touch is so important for home care and will greatly enhance the reach of Optum's value-based capabilities along the full continuum of care, including primary care, home and community care, virtual care, behavioral health and ambulatory surgery,"
Adding:
"We greatly admire how the people of LHC Group have created a culture that enables them to be a trusted health care partner to patients and their families when they need it the most, and we look forward to working with and learning from them."
Keith G. Myers, LHC Group's chairman and CEO, said: "Since our founding in 1994, 'it's all about helping people' has been the core of our mission, and as part of the Optum team and its value-based capabilities, we will be able to expand our patient-centered mission and help drive the best care practices across the country,"
Adding:
"Working together as organizations committed to caring for the most vulnerable in society will help us more effectively and efficiently deliver high quality and increasingly value-based care in the home."
The deal is expected to close in the second half of the year after approval by LHC Group's shareholders as well as regulatory approvals and customary closing conditions.
*This is not investment advice. Always do your due diligence before making investment decisions.
LHC Group stock price.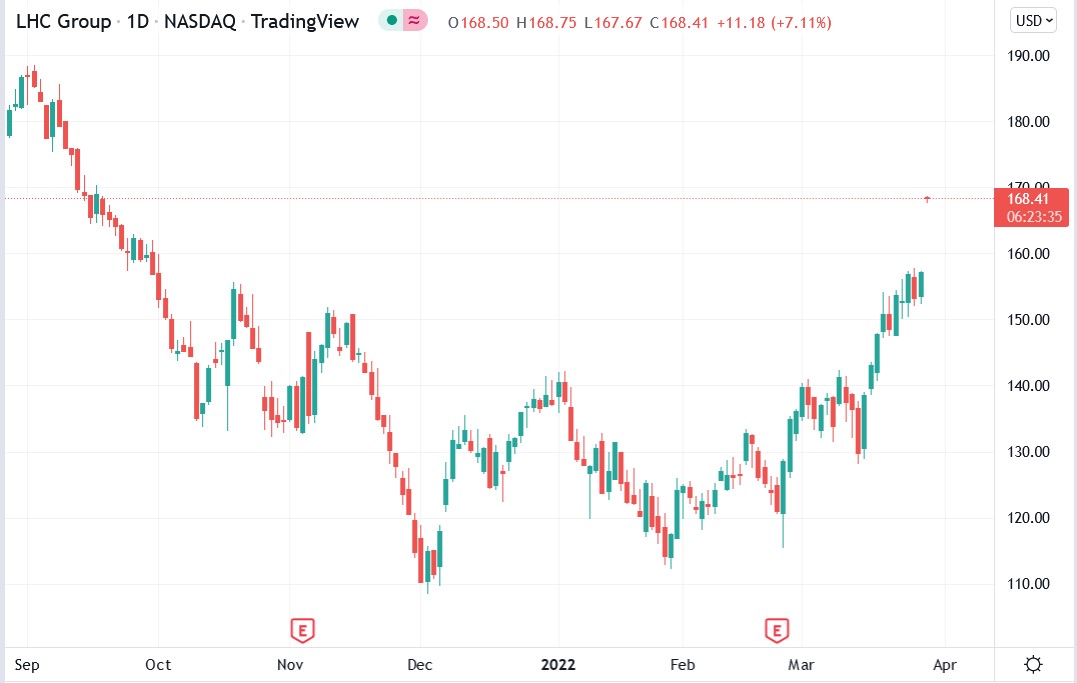 LHC Group's stock price soared 11.19% to trade at $168.42, rising from Monday's closing price of $157.23.