As it happens:
Latest

21:05


US Markets Close

Dow Jones -0.77% 26,379

S&P 500 -0.65% 3,218

Nasdaq  -1.27%  10,403

That's all from me for today. Have a good evening all!
20:40


Roku Shares

Roku shares are trading 4.31% lower today after bearish commentary from Morgan Stanley.

Morgan Stanley lowered its forecast on Roku, reiterating its underweight rating, stating that its current value seems excessive.

They set a price target of $110 for the stock which represents a potential 27.5% downside.
20:08


Tesla Stock

Tesla shares have fallen -2.56% today.

There has been a lot of news on the company so here is a quick roundup –
Reuters reported that Tesla is on a hiring spree in China as it prepares for its Model Y production.
Bernstein downgraded Tesla stock to underperform
According to an SEC filing, Tesla was granted relief in June for a one-year deferral in relation to its Gigafactory New York lease agreement.
Tesla's Gigafactory in Austin Texas is already under construction, while its Gigafactory in Berlin is still being built.
19:46


Virgin Galactic Shares

Virgin Galactic $SPCE shares are down -3.89% so far today.

Earlier today the company revealed the cabin interior of its first SpaceShipTwo on a Youtube live stream.
18:21


US Stock Performance

Let's take a look at my favourite graphic on how the US stocks are performing so far…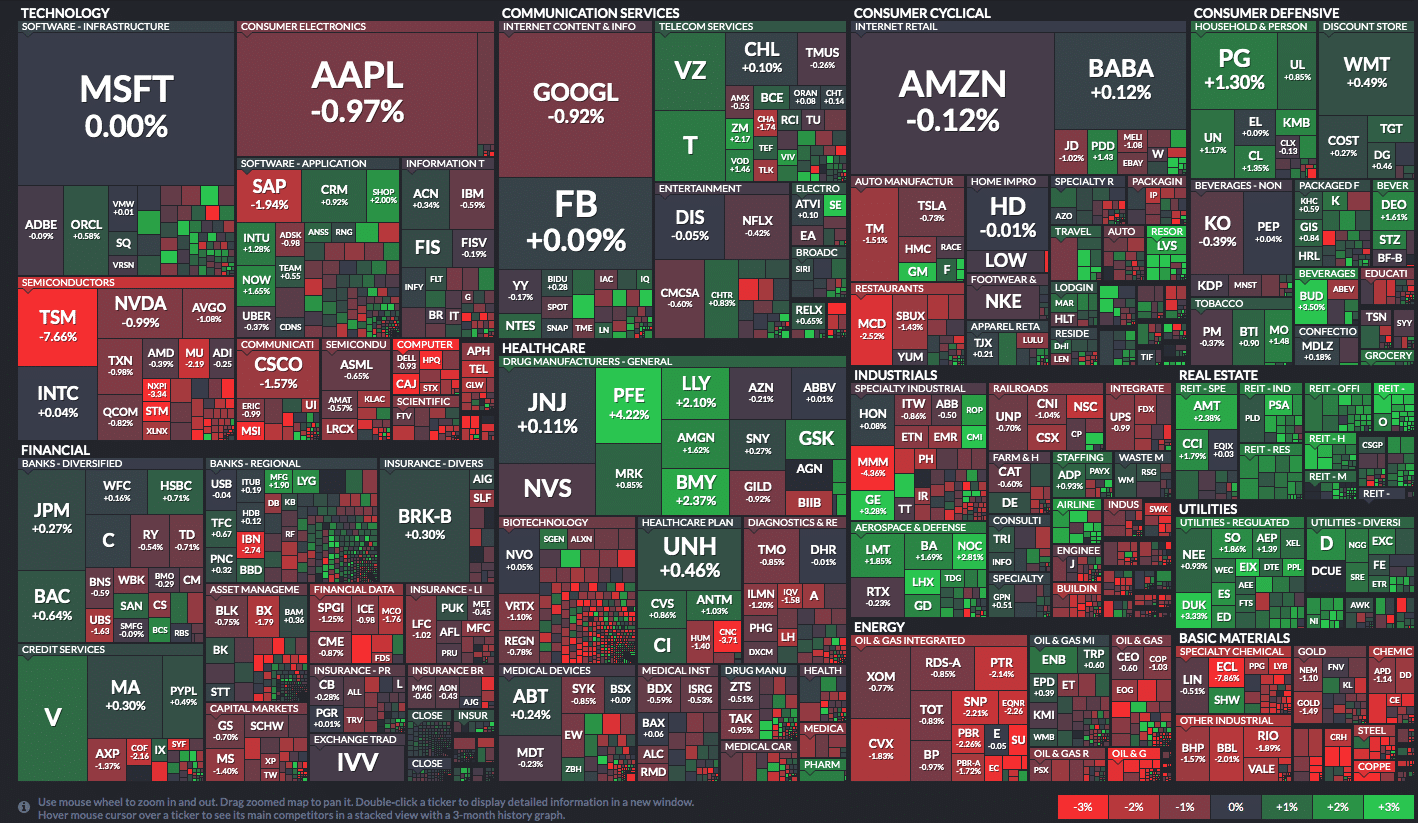 Via Finviz.com
17:16


Harley-Davidson Shares

Harley-Davidson shares are down 4.34% so far today after the company reported its Q2 earnings report.

Its EPS decreased 123.97% YoY to $0.35.

$HOG currently trading at $28.01.
16:35


European Equities Close

FTSE 100  +0.41%  6,129

DAX -0.02%  12,835

EURO STOXX 50  +0.03%  3,303

A little turnaround on the FTSE there, but overall a flat day in European indices.
16:32


Spectrum Pharma Shares Price

Spectrum Pharma $SPPI Shares have surged following a positive clinical readout in relation to its ZENITH20 Phase 2 trial on lung cancer patients.

Shares are up 24% at $4.01
15:00


Francesca Holdings

Francesca Holding's shares are trading over 90% higher after the company said it has reopened 674 out of its 702 boutiques and repaid $2 million of outstanding borrowings.
14:57


US Equities

Lets have a first look at the major US equities today…

Dow Jones – -0.66  26,409

S&P 500  -0.46% 3,224

Nasdaq  -0.66% 10,466

Red across the board, European equities are down as well.
13:21


Eastman Kodak Share Price

Shares of Eastman Kodak $KODK are continuing to rise…

Up 217% at $8.32 premarket
13:17


European Equities Lunchtime Look

A little later than usual, here is out lunchtime look at how some of the equity markets in Europe are performing so far today…

FTSE 100  -0.02% 6,103

DAX  -0.43%  12,783

EURO STOXX 50   -0.46%  3,287
12:08


McDonald's Earnings Report

Revenue – $3.76bn (est $3.70bn)

Adj EPS – $0.66 (est $0.74)
11:47


Pfizer Earnings Report

$PFE Pfizer has released its earnings report, here is a snippet…

Revenue – $11.8bn (est $11.73bn)

Adj EPS – $0.78 (est $0.69)
11:38


Tailored Brands Share Price Plummets

Tailored Brands share price has fallen 16.53% in premarket trading after a report by Bloomberg stated that the company is likely to file for bankruptcy.

Trading at $0.50 premarket.
11:04


Facebook

Another story on Facebook here…

According to reports, the company offered TikTok creators money to exclusively join its new service 'Reels'.
10:55


Micro Focus Share Price

Micro Focus International's share price is slightly higher this morning, up 1.04% to 283 GBX per share after UBS analysts set a price target of 350 GBX on the stock yesterday.
10:31


Highland Gold

Highland Gold Mining Shares are down by -0.48% so far today as spot gold trades lower.

Highland Gold's shares closed over 6% higher in Monday's session. It is currently trading at 288p
10:06


Google

$GOOGL

Orange and Google have announced a strategic partnership to help accelerate Orange's IT infrastructure and develop cloud services.
09:54


Facebook

According to a CNBC article, "Facebook is suing the European Commission for allegedly seeking information beyond what is necessary including highly personal details for their investigations."
09:50


Invinity Energy Systems (LON:IES)

Invinity Energy systems shares have continued to climb, now up 23% on the day.
08:56


EU Market Movers

Invinity Energy Systems +12%

Quartix Holdings +9%

Wasgau Produktions & Handels +9%

Bitcoin Group SE +6%

Science Group +5%

Peugeot +4%

Fiat Chrysler +3%
08:28


European Equities First Look

FTSE 100  +0.48%  6,133

DAX  +0.30%  12,877

EURO STOXX 50  +0.12%  3,306
07:28


Morning Market Preview

Good morning traders…
In the Asia-Pac session the Nikkei and ASX both fell, but Chinese bourses, along with the Hang Seng are all trading higher.
Gold futures touched the $2,000 level before selling off, while spot gold traded as high as $1,981
In FX markets the USD has made some gains against the other major currencies.
Apple has been given another month to unveil steps to correct anti-competitive practices
There is not much in today's economic calendar other than Spanish unemployment figures for Q2 at 8 am
Companies reporting earnings today include Pfizer, McDonald's, Starbucks, AMD, eBay, and Visa