Key points:
Marechale Capital is 19% up this morning
The Weardale Lithium project has been successfully financed at the next stage
This is all akin to the Cloudbreak Discovery business model
Marechale Capital (LON: MAC) is up 19% this morning in London on the back of news about Weardale Lithium. Which sounds sort of an odd thing but it does make sense. For Marechale is a corporate finance house and it works – as one of its sectors – with clean energy companies. One way we can think of this is that Marechale is in much the same line of business as Cloudbreak Discovery – but, if we wanted to be catty about it, successfully.

The specific news is that Marchale has been able to raise more finance for Weardale Lithium. As we know the world's crazy for lithium from which all those EV batteries can be built. There are deposits all over the place, Weardale is looking into one in County Durham. More money has been raised, at an attractive valuation, the project advances therefore. That's not quite the point though, for Marechale doesn't simply take a fee for its work. Instead, it both coinvests and also takes stakes in the companies it advises. Marechale has 8.5% of Weardeale for example. Owning 8.5% of something nicely funded is better than receiving a fee after all.
Now, whether lithium is going to be quite the money maker expected is another matter. It's possible to look around the world and see that there are many, many, lithium projects progressing toward fruition. So many that there are estimates that supply will outrun demand – as it did after the last lithium investment boom back in 2013. That may or may not happen, it's too soon to tell, but it's something to keep in mind.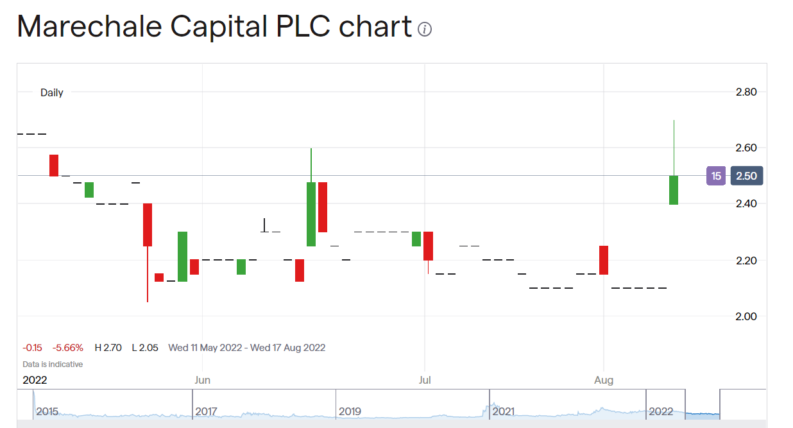 Also Read: The Best Lithium And Lithium Mining Stocks To Buy
The base business model here is very similar to that at Cloudbreak Discovery. Work as a corporate finance house, yes, in one or several closely related verticals, and take payment in shares rather than fees. Possibly even coinvest in the companies being financed through the business operations. This is akin to the older investment banking model before it all got replaced by paper shuffling. If we go back one stage further it's how the mining houses used to work. A network of experts who were able to get mines and deposits financed to the benefit of everyone involved.
This is what Cloudbreak says it is doing as a "natural resources project generator" but it's possible to wonder whether it's slightly losing direction – Namibian oil wells might be all very well but where's the value added? But here with Marechale it's possible to see things a little differently – that 8.5% of Wearside is a substantial holding, obviously.
Of course, the thing about the business model is that it does depend upon the pipeline of projects. Finance or bring to fruition one or many big hits and an impressive valuation will be built. Waste the capital on also rans and it won't be. In this it's rather like venture capital, the hits have to outweigh the failures.