Key points:
Nanoco shares surged 8.60% on favourable pre-trial rulings.
The firm's infringement case against Samsung will begin in September.
Nanoco shares are up 115.4% YTD. Should you buy them?
The Nanoco Group PLC (LON: NANO) share price surged 8.60% higher after the Honourable Judge Rodney Gilstrap ruled in its favour on a series of motions submitted by Samsung regarding the ongoing litigation between the two companies.

Nanoco is suing Samsung for willfully infringing on its patents for red quantum and green quantum dots found in most TV sets sold today. While the Judge did issue a summary judgement of non-infringement regarding red quantum dots, Nanoco was more focused on the infringement centred around green quantum dots.
Also read: 12 Best Shares To Buy As A Beginner.
The honourable Judge allowed Nanoco to field testimonies from leading experts such as Dr Brandi Cossairt, the company's lead technical expert. Other experts allowed to testify include Mr Credelle, Mr Weinstein, and Dr Allenby.
Most of the motions filed by Smausgn during the pre-trial conference were dismissed by the Judge, with Nanoco voicing its satisfaction with the event's outcome. The company is planning its trial strategy ahead of the trial, which is expected to begin on 12 September 2022, in the Eastern District of Texas.
Brian Tenner, Nanoco Group's CEO, said: "So we are going to trial. We are in a strong position: the net result of rulings on the pre-trial conference motions preserves all of Nanoco's damages models and their expert testimony, as well as the full testimony of our technical expert Dr Brandi Cossairt. The earlier rejection of Samsung's motion to re-open a Markman definition was also an important finding in Nanoco's favour. Being able to selectively choose the claims to bring to trial on the back of the emphatic win at PTAB has also undoubtedly added to this strength."
However, he warned that the company cannot afford to be complacent given that it still has to prove that Samsung willfully infringed on its patents to win the case and receive an appropriate damages award.
Investors cheered today's announcement, as evidenced by the rally in Nanoco's share price. Nanoco shares are up 115.46% this year and could rally higher if the firm wins the case against Samsung. However, I would wait for a significant pullback before buying Nanoco shares.
*This is not investment advice. Always do your due diligence before making investment decisions.
Nanoco share price.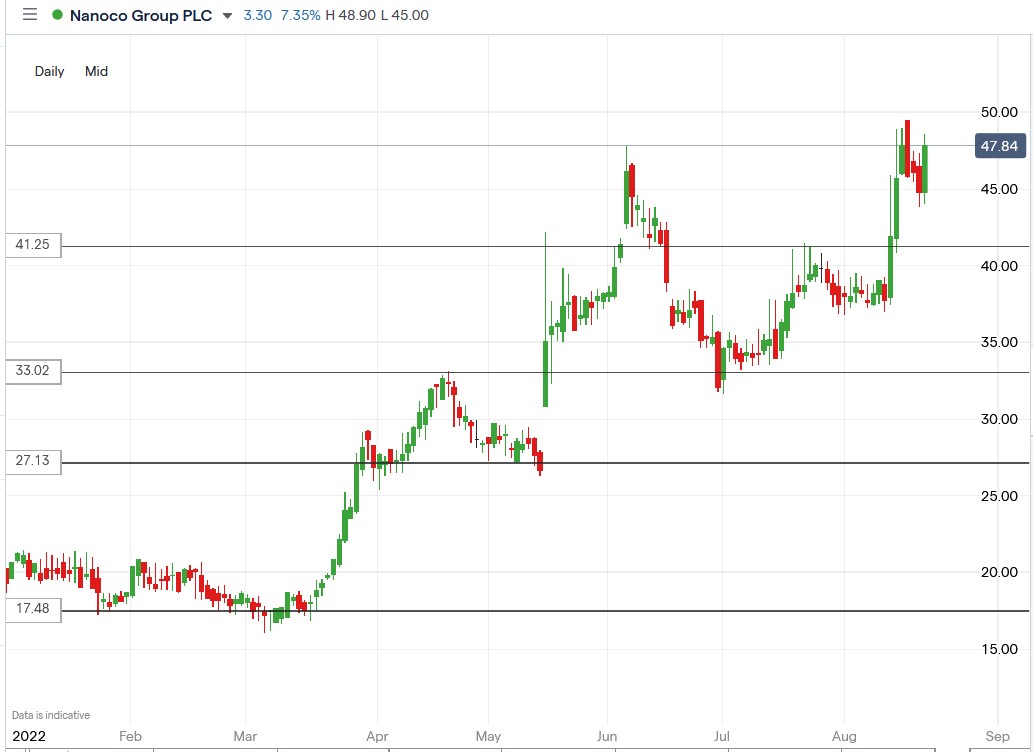 The Nanoco share price rallied 8.60% to trade at 48.60p, rising from Thursday's closing price of 44.75p.